N.H. businesses crowd Whole Foods supplier summit
Supermarket chain looks for local providers for new Nashua store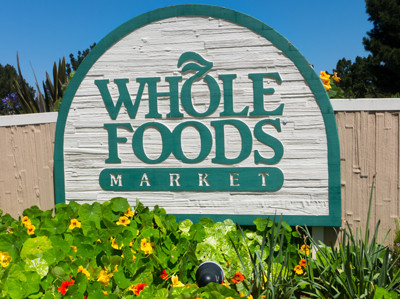 Shoppers aren't the only ones excited about the Aug. 19 opening in Nashua of New Hampshire's first Whole Foods Market.
An estimated 300 local businesses turned out June 11 in Concord for the supermarket chain's local supplier's summit in the hopes of becoming part of its network of providers.
Karen Goldthwaite, owner of Barkin' Biscuit LLC, a homemade, 100% natural dog treat company based in Bedford was one of the many businesspeople in the crowd. Though Goldthwaite has sold her treats through many other local businesses and a few Shaw's supermarkets, she sees the promise of a Whole Foods partnership to be unlike any other.
"I was very impressed with a couple of the presenters that came in with their stories and how they were able to grow quite quickly," she said. "I was taken by how much they're into providing help to us, the small suppliers, to grow into being more productive."
She added: "Their business is just in line with what our business wants to do, and our (truly all natural products) are just in line with what Whole Foods is looking for."
According to Heather McCready, Whole Foods' public relations manager for the North Atlantic region, the firm offers small businesses "experts who help them navigate the waters of getting into bigger retail. We want to see their dream and business grow."
McCready said the company seeks to "supply locally whenever possible."
In fact, one of the people at the event was Annie Laurie, the local forager for Whole Foods' North Atlantic Region, who organized the event.
The right products
For Jamie Robertson, one of the owners of Contoocook Creamery at Bohanan Farm in Contoocook, the most impressive part of the entire summit was the company's hands-on approach to finding the right products.
With the farm's glass-bottled milk already available in more than 30 stores around the state, Robertson is a seasoned veteran when it comes to working with chains, but looks forward to expanding his market.
"It was really neat that they had their local store purchaser there," he said. "That's really unique to find in chain stores, to be able to talk to a person that actually works at that branch of the chain. (And) with the customer base that Whole Foods has, we want to be there and be available to them."
McCready said the company has begun to plan partnerships with a few businesses that attended the summit, though she did not name which ones.
The number of local products that line the shelves varies from store to store in the Whole Foods chain, with no set quota required by company standards. Though it does import organic and natural products from all over the world.
Started in 1980 with one small store in Austin, Texas, the company has since grown to become a international brand, with stores in the United States, Canada and United Kingdom.
The Nashua store will be the first New Hampshire location for Whole Foods, though a second location in Portsmouth is also in the works.
"We're a company that's experiencing a lot of growth, so who's to say what will happen next?" said McCready. "(But) we've been looking to come to New Hampshire for such a long time, and we've been looking for the perfect location. I'm thrilled to say we've found two."