Moving to 'the next level'
TRM Microwave keeps focus on growing its business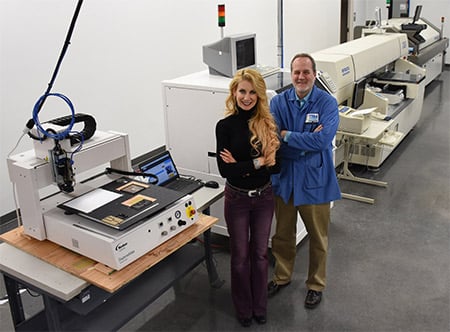 With nearly 50 years of experience developing radio frequency microwave components used for electronic warfare countermeasures and surveillance systems, TRM Microwave understands the significance of the tagline "Made in America."
Its components — often custom-made rather than manufactured in bulk — are used in systems that track the direction and speed of an incoming enemy plane or missile.
"Most of the parts we build here distribute energy as well as information that's on that energy," explains lead engineer Shaun Moore. By performing mathematical equations on the raw energy coming in, the components translate the energy into a form that system avionics can interpret to determine where a threat is coming from, says Moore.
Of course, TRM can't tell the public what broadband frequencies they operate at – that's top secret.
"Different frequencies have different applications," says Moore.
Much of TRM's work focuses on signal processing applications, including using antenna beamformers to track threats for the Department of Homeland Security and redistributing signals from one side of the satellite to the other in defense communications.
"There are literally thousands of applications that our parts can go into, depending on the exact system architecture of what the customer is looking for," says Moore.
"Our tag line is 'completing your ideas,'" says TRM CEO Wendy Tirollo. "If we haven't figured it out, we work with [the customer] until we get it right, until it's what they need."
Woman-owned business
Founder Anthony Tirollo created TRM Microwave in 1970 in North Andover, Mass., after winning a U.S. Supreme Court case against his employer over ownership of the new technology he had developed.
"He always used to joke and say that that put him on the map – when he got sued," says Tirollo of her late husband. The case received coverage from major news outlets, and he was flooded with phone calls. "That really is what catapulted him to the limelight."
The company moved to Bedford in 1992, and Wendy Tirollo joined TRM two years later as project administrator, managing the quality certification process before transitioning to human resources.
After 10 years as HR director, Tony Tirollo asked Wendy to consider managing the company. Wendy spent five years under Tony's mentorship; in 2010 she became CEO.
"Tony put me under his wing for all those years. He started mentoring me on the management side of things, and his advice was, 'You're not going to be able to be an expert in every department, but find a couple you really like'," says Tirollo. "I was gravitated toward sales and I come from HR because I love people and helping people with whatever challenges they have, and the finance end of things. I went to production meetings and engineering meetings, so I've been to all of them, and it's just given me a good flavor and a fundamental understanding of what business is, what it's capable of. I enjoy the management side of the business."
In 2015, TRM Microwave became a certified woman-owned business.
"Most businesses are mandated by the government to give a certain percentage of their contract work to small, disadvantaged businesses or women-owned businesses," says Tirollo. "We decided several years ago to get rid of our sales managers, if you will, and now we call them key account managers. We're focusing on our core customer group. What's been growing our businesses is drilling down into our existing customer base and really servicing them well."
Skills transfer
A banner above TRM's front entrance declares its selection as a Raytheon mentor protégé company. The program is funded by a $25 million line item in the federal government's annual budget.
"It's a three-year contract. We work with Raytheon, and they give us coaches and mentors and they help my executive staff and team on how to poise ourselves for excellent growth," says Tirollo. "We're already an outstanding company, but we want to go to the next level. So that has been invaluable for us."
TRM kicked off the program in January 2016.
"That's set up because the Department of Defense has data that says much of the technical innovation in the world has come from small companies, not from large companies," says Mark Schappler, TRM's chief operating officer and general manager. "They saw technical needs in what we're capable of doing that are going to be necessary for the defense of the country for years to come."
This focus on mentoring and training employees is not new to TRM. The firm, which has several workers who have been with the company 30 years, has a system to document each process and provides overlapping work experience with new employees and soon-to-be retirees to ensure skills transfer.
But there is still concern over the skills of future generations, something TRM would like to become more consistent in addressing. In fact, Tirollo testified about the issue last year at a hearing of the U.S Senate Committee on Small Business and Entrepreneurship.
"I mentioned that a lot of the Millennials want to go into the fun industries like computer programming and game design," said Tirollo. "We really need to put the word out there that this industry is also vitally important."