Morse voices doubts on N.H. jobless benefits hike
Senate president questions need for proposed 10% increase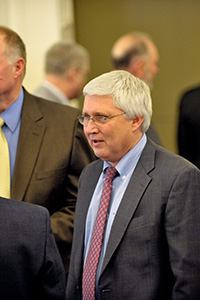 An average 10 percent increase in unemployment benefits that previously sailed through the New Hampshire House should have a tougher time in the Senate, based on the grilling Senate President Chuck Morse gave Department of Employment Security Commissioner George Copadis at a Senate Finance Committee hearing on Tuesday.
Copadis repeatedly described the increase proposed in House Bill 1499 – the first across-the-board hike for the unemployed in a dozen years – as a "modest" attempt to help laid-off workers keep up with the cost of living, as well as with the benefit level of others states.
Such a raise wouldn't increase unemployment taxes, he emphasized, because the state's unemployment trust fund is in good shape Indeed, he said, that tax rate has gone down, because the fund has recovered along with the economy.
And the latest 0.2 percent drop in the unemployment rate (to 4.5 percent), he said, will increase the size of the fund even further, triggering additional tax rate cuts in the future.
New Hampshire has one of the highest average weekly wages in the nation, he said, yet had the lowest benefit level in New England, save for Maine. It also lags behind the nation, ranking 31st, between Kentucky and Arkansas.
"We think we could do better," said Copadis. "It isn't going to hurt the trust fund and will help those in need."
During the recession, Employment Security increased the unemployment tax rate as an emergency measure to avoid having to borrow from the federal government at a high interest rate. Unemployed workers also sacrificed, losing their first check during the waiting period when they first could receive benefits.
But while the agency reversed that tax increase – saving businesses some $60 million a year – it has yet to reinstate that first check.
HB 1499 would study returning that check, as well whether to change the fund levels that trigger automatic tax cuts in light of the near depletion of the fund during the last recession.
It also would increase benefits by between $3 and $25 a week, an average of about 10 percent. That would cost the fund $4.8 million – less than a 12th of the amount realized through the recent tax cuts for businesses, pointed out Dan Feltes, who testified in favor of the bill on behalf of New Hampshire Legal Assistance.
"It's time to step up to the plate and do the right thing." summed up Copadis
But Morse, a Salem Republican, didn't see it that way. While the rates haven't changed, the average weekly wage they are based on has gone up, so workers benefits increase as well, he said.
And unemployment benefits aren't all the workers are getting. If you count other things like food stamps or housing assistance, "New Hampshire is doing pretty well," Morse said.
Finally, Morse argued that the recent reduction in the tax rate wasn't a gift, but returning money taken from businesses during an emergency.
Workers also gave up that first waiting period check, countered Sen. Sylvia Larsen, D-Concord, "and they are still waiting. They are keeping their part of the deal longer than business has."