Minimum wage, paycheck equity up for votes in Legislature
Prepaid fuel contracts, credit history measures also up for consideration this week in Concord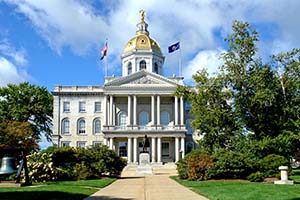 The death penalty. Casino gambling. A gas tax increase. These are the possible stories you'll see in the media during this busy week in the Legislature. But businesses might be interested in some other legislation: Minimum wage. Prepaid fuel contracts. Paycheck equity.
The House plans to take takes up House Bill 1403, which would reinstitute a state minimum wage and raise it above the federal wage of $7.25 an hour, first to $8.25 by January, then to $9 by 2016 – after which it would be indexed to the inflation rate.
Supporters say it would affect 76,000 workers, directly or indirectly. They emphasize that the majority of such workers are older than 20.
But opponents say a higher minimum wage will force employers to increase other wages to keep intact the differential, and that would force them to shrink payroll to do it.
The House Labor Committee narrowly endorsed the bill and it is expected to pass the House, which is controlled by Democrats, who have made raising the minimum wage a major issue on both the federal and state levels.

Paycheck equity
The Senate is expected on Thursday to vote on Senate Bill 207, which – although it pertains to paycheck equity – wouldn't significantly change existing law regarding employment discrimination based on gender.
The big change would prevent employers from forbidding workers from telling co­-workers what they earn, under the theory that if a worker is able to find out about pay discrimination, she would be able to do something about it. The House Labor Committee endorsed similar legislation over the objections of some who argued it would jeopardize employee privacy.

Prepaid fuel contracts
Lawmakers were about to give up trying to regulate these – until all the negative publicity surrounding Hudson-based Fred Fuller Oil, the state's largest oil dealer, and its ability to fulfill such contracts.
Thus the House Commerce Committee amended HB 1282. It wouldn't require dealers to put some of that prepaid money in an escrow account, a provision that most dealers have strongly opposed in the past.
Instead, it would:
• Prohibit residential contracts from being offered prior to May or later than October.
• Require that dealers who offer pre-buy contracts register with the secretary of state, along with an explanation in writing on how fuel is being secured.
• List failure to deliver prepaid fuel as a violation under the Consumer Protection Act, which includes triple damages.
Supporters of the amendment say that none of this would enable the state to squeeze heating oil out of an insolvent company, but it would be an improvement over the status quo.

Use of credit history in hiring
Employers would not be able to discriminate in hiring against those with a bad credit history under the original SB 295. The amended version passed by the Senate Commerce Committee provides a loophole exempting "any employer who reasonably believes that the lack of access to an employee's credit history at the time of hiring may adversely impact the employer's business, the welfare of other employees, or the welfare of other individuals associated with the employer or the employer's business."
The Senate Commerce Committee unanimously endorsed the compromise.

Network hearings
Both the House and the Senate appear to have rejected bills that would force health insurers from negotiating with all providers in creating a provider network under the health exchange.
But SB 340, which would require that the Insurance Department hold public hearings before approval of products to be sold on the exchange, may have a chance. Currently, health insurers don't discuss what they are offering until after it is approved, arguing that it would disclose trade secrets to competitors.

Paint recycling surcharge
Under HB 1570, retailers would only be able to buy paint from manufacturers that participate in a paint stewardship program. The bill aims to recycle some 278,000 gallons of paint that is not delivered or can't be accepted on hazardous waste days. Instead, the paint would be returned via the retailer to a nonprofit company.

In addition, the House is expected to consider:
• HB 1336, which would impose a $500 fee on landlords if they don't register an agent to be contacted
• HB 1281, which would require insurers to offer a health plan with chiropractic and physical therapist care at the same co-pay rates as primary care physicians
• HB 1193, which would require insurers to notify homeowners that their policy doesn't include flood insurance
• HB 1215, a bill for franchise owners' rights.