Milford High program brings businesses, students together
Next STEAM Night to take place on April 12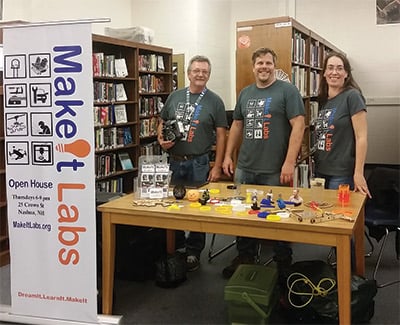 Cecilia Muller would not have become an engineer at Hitchiner Manufacturing if she hadn't learned about the profession from her father.
"My dad was an engineer," said Muller. "He was always explaining how things work."
A graduate of Milford High School, Muller thinks more students can become interested in STEM careers through exposure, "whether it's a parental figure or anyone you look up to."
That philosophy has driven businesses and educators to form partnerships that spark students' interest through STEM activities as well as inform them about career possibilities at businesses in New Hampshire.
Over the last few years, Frank Xydias, an engineering teacher at Milford High School, has been organizing a series of events called "STEAM Nights" (to include the "A" for art).
Businesses are invited to lead activity sessions or host a table where they can tell students and parents about career opportunities. Attendance has grown from 30 students to 210 at the latest session, held last October.
While held and organized by the high school, the evening events are geared toward 3rd- to 8th-graders because that's when their opinions of STEM are formed, organizers said.
Aida Maher, vice president of data management at Fidelity Investments and chair of Fidelity's volunteer-based Women in Technology group, which attended last October, has noticed the difference in engagement once students hit middle school.
"We see a very big difference in terms of female engagement. It's a huge drop when you hit that 6th, 7th grade age group," said Maher. "So that's what we're trying to do more of – get them engaged earlier and follow them through middle school and high school."
Milford High School has its own motives for targeting the younger cohort.
"We're hoping we get these kids excited in the technology center, and we'll see them when they get to the high school," said Don Jalbert, director of technical studies at Milford School and its Applied Technology Center.
Sparking an interest
Skip Marsh, president of V&A Cleaning Systems in Rindge and a representative of SME, the former Society of Manufacturing Engineers, enjoys encouraging the creativity and critical thinking skills students need for STEM fields.
"Usually I come in on a small cooler, it's called CruzinCooler.com and it's a driven cooler with three wheels and an electric motor, and when I ride into the school the kids say, 'Wow, I'd put a bigger motor on it.' Well a bigger motor means a bigger battery, if there's a battery it means a bigger frame, so you can see the process go," said Marsh, who manned a table at a STEAM Night last October.
Tom Doucet (right) with MakeIt Labs built this fully-operational R2-D2 that was roaming the halls of Milford High School last fall.
Bill Schongar, a board member of MakeIt Labs who has children in Milford schools, said kids light up when they see fellow member Tom Doucet's self-made, life-size R2-D2, the "Star Wars" robot.
"We tend to run into a lot of kids that say, 'I don't think I can do that,' and we like to say, 'You can do this. The only things you don't have are the tools and the training. It's not that you don't have the imagination or the drive.'"
Learning about a particular product or company can also inspire students.
"Usually I give a half-hour or 45-minute presentation to the students so I can show them way more applications that I think both students and parents don't realize," said Jennifer Rheaume, process engineer at Velcro. "The students, they open up their eyes. The really good questions come from parents that want to get more information to teach their children, depending on the ages of the children."
"We are a cohort working together to prepare our youth for careers that do not yet exist," said Xydias. "We rely on our business partners to bring in the latest technology, our college partners to talk about career pathways, our professional organizations to help us with networking/outreach and parents to help support these efforts."
Investing in young talent
Representatives of MakeIt Labs and Fidelity's Women in Technology initiative both visit schools to organize activities during school or after-school to build students' critical thinking skills and interest in STEM.
"The biggest response we get from the schools is they ask how much it costs and we say it's free – they get this shocked look on their face like 'How do you guys support yourselves?' said Schongar, the MakeIt Labs board member. "We're not a business; we're a nonprofit. We have no employees; we're all volunteers. Out of 200-plus members, at any time we have 15 employees out giving demonstrations, taking time off from work to help people."
If a school doesn't have a 3-D printer, MakeIt Labs will provide them for the activity, he said.
"You bring something that's more than a momentary 'Hey I got to see R2-D2,' but you get a 'I made this' and it lasts forever," said Schongar. "We get kids who have come to some of our previous programs and they will show up bringing their sisters, their brothers, their friends, with their parents, saying 'you have to see this thing.' That for us is the awesome part, that they not only remembered it, but they're interested enough to show someone else."
Aida Maher, vp of data management at Fidelity Investments and chair of Fidelity's volunteer-based Women in Technology Group, with her colleagues Sachi Nagada, Diana Walsworth, Peter Nguyen and Suneetha Garikipati.
Fidelity's Women in Technology partners with schools and organizations like TechWomen|TechGirls to lead customized events.
"It really depends on where the school is at with their STEM program," said Maher. Each year, Women in Technology organizes a girls-only after-school event in Londonderry.
"The age group dictates how we approach it. At the younger ages, it's more awareness that STEM is not just about coding or not just about one thing – it spans the whole gamut of technology and engineering," said Maher. "As they get older, we start focusing more on methodologies in product development, things like that."
Integrated learning
Leading one of the activities on a STEAM Night was Jessica Bouchard, an art teacher at Milford Middle School.
This past year, Bouchard collaborated with Xydias, an engineering teacher at the high school, bringing together middle schoolers and high schoolers to design and 3-D print bookmarks and fidget spinners.
The process provided students with opportunities to execute their critical thinking skills, said Bouchard.
"We had to talk about the design process because some fidget spinners would not spin if they were too long or too big. And then we also had to take into consideration the weight and the balance. If you didn't have the extra bearings on the side then it wouldn't spin by itself," said Bouchard. "It was a learning experience for me too, to combine the science part and the engineering with the design part."
Since then, Bouchard has also collaborated with a science teacher on a project students to make clay models of a cell structure.
Milford High is already organizing its lineup of businesses for its next STEAM Night, on April 12, which includes Hitchiner Manufacturing, Velcro, Raytheon, U.S. Army, Alene Candles, Amherst Label and others.
"We love the businesses that have come. There's buzz from them too," said Jalbert. "We don't want it to be all about engineering necessarily because it's not all engineering. We have culinary, we have computer programming, we have robots, all kinds of things going on. We have to grow those community partners in those other fields as well."