Merrimack scrubber at the center of Eversource's divestiture plan
Residents may win, businesses may lose in Eversource deal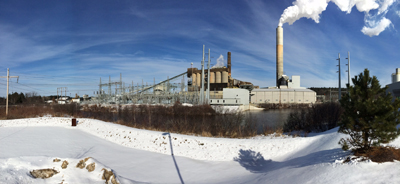 The grand bargain reached by Eversource Energy and New Hampshire officials over the sale of the former Public Service of New Hampshire's generating assets can be summed up in one sentence:
All of Eversource's New Hampshire customers are going to have to pay for about $500 million for a scrubber on a coal plant whose days may be numbered, but they'll get a great deal on financing that amount.
And while this deal might save most residential ratepayers some money, it will cost many businesses a lot of money, especially big businesses that primarily buy energy from competitive suppliers.
The overall savings touted by proponents of the deal is $300 million, primarily the difference between the 10 percent return ratepayers pay on Eversource's energy-producing assets and the 3 percent rate it would get to finance the loss taken on the sale.
It might be easier to understand in pennies, not millions of dollars.
Currently only those buying energy from Eversource are paying – underpaying actually – for the mercury emissions scrubber at the coal-burning Merrimack Station plant in Bow – about an extra penny per kilowatt-hour. Under the recently announced deal, at the start of 2016, they will start paying the scrubber's true costs: 2 cents per kWh, about a quarter of the energy portion of a residential bill.
After the assets are sold off, thanks to anticipated low financing costs, the scrubber payment would have dipped to under a penny per kWh if it was just being paid by PSNH energy customers. But the deal spreads out the costs, so it will only be about 0.4 cents per kWh. That means PSNH customers, mostly residents, will pay a little more than a half-penny less than they do now, and a penny and a half less than they will shortly start paying.
But the 87 percent of large commercial users, which buy their electricity elsewhere, will pay a little less than a half-penny more, once this deal is completed.
'A win-win'
But the deal involves more than the scrubber at Merrimack Station. Eversource has agreed to sell off all of its generating assets – seven hydroelectric facilities as well at two other fuel-burning stations, Schiller and Newington on the Seacoast.
In other words, Eversource will be getting out of the generation business altogether in roughly three years making it primarily a distribution utility, much like Unitil and Liberty Utilities. (It will keep some long-term contracts, however, including one at a wood-burning plant in Berlin that will cost ratepayers an estimated $125 million.)
Divestiture is the primary reason that many of Eversource's competitors are swallowing the deal, though some may seek to challenge or amend it.
"If Eversource no longer has a horse in the race, they will become much more of a facilitator, rather than an obstacle to more competition," said Emile Clavet, co-founder of ENH Power, an alternative supplier, with about 50,000 residential customers in New Hampshire.
But there are other reasons for supporting the deal:
• Eversource will freeze the distribution portion of its electric bill (also paid by all the ratepayers) for two years.
• Eversource will agree to pay a small portion ($25 million) of the scrubber's cost and chip in $5 million a year for energy-efficiency and renewable energy programs. The latter was a concession to environmental groups, though the Sierra Club would like to have seen more.
• The three-year window also allays the short-term fate of the 280 union workers employed at the plants. The agreement keeps their contract in place with yet-to-be-detailed additional protections, and it provides three years of payments in lieu of taxes to power plant communities if the purchase price is less than the municipality's assessed value of the asset.
• The deal requires the plants to remain open 18 months after the sale. Add that to the 18 months it would take to close a deal, and you have a three-year window – time enough, perhaps, for various energy infrastructure projects to be built, reassuring those in the state concerned about reliability.
In fact, acknowledges Eversource NH President Bill Quinlan, the possibility that they may be retired, "bolsters the case for critical infrastructure that is going to provide new diverse supplies of power and fuel into the region.
But Sen. Jeb Bradley, R-Wolfeboro, who brokered the deal, said he didn't expect the plants to be retired at all. "They are perfect sites for continued operation or to be repowered with natural gas," he said.
All in all, said Bradley, "It is a win-win for the company, a win-win for PSNH customers and in terms of our overall energy liability."
Stranded costs
For all the talk of selling all those assets, it is really the cost of the Merrimack scrubber that everybody is financing. Or, as Quinlan himself put it, "a large percentage of our net book is the scrubber itself."
According to an estimate commissioned by the New Hampshire Public Utilities Commission and prepared by La Capra Associates, only Merrimack and Schiller stations are overvalued assets. The others are expected to be sold at a relative profit. Even Schiller Station is only undervalued by $73 million.
Thus it is Merrimack Station that makes up most of the utility's "stranded costs," to be securitized by a 15-year bond to be paid by all ratepayers.
Merrimack Station is supposedly worth $500 million. The estimate said it would only fetch $10 million. All told, the difference between the book value of all the assets, and their expected sale price is about $400 million. Throw in the Berlin wood plant contract, and you have over $500 million.
The exact amount won't be known until the plants are sold, which at the very least won't happen for 18 months. By then, the market for the plants could change, one way or another.
For instance, the gas pinch of the previous winter has driven up local electric prices, making a coal plant more attractive. That has quadrupled the capacity payments – the amount paid to power plants for simply being there to deliver electricity at times of high demand – to $4 billion in New England.
But even under a high-gas-price scenario, Merrimack Station would only be worth $159 million, still leaving $350 million to be securitized, according to the estimate.
In any case, the big loss related to the Merrimack plant is almost totally due to the scrubber, a $424 million investment installed to keep the plant in compliance with tougher mercury emissions standards.
The Legislature agreed to the scrubber when it was first proposed at a cost of about $200 million, but it became a major bone of contention when the price skyrocketed in 2009.
Some large customers didn't want to pay it, and some environmentalists, like the Sierra Club and the Conservation Law Foundation, didn't want it to continue to emit carbon-based pollution, whether it was scrubbed of mercury or not.
Despite this, it didn't take long after the scrubber was installed before the parties were arguing on who was going to pay for it.
At the time, PSNH said that at least some of the costs should be passed on to all of its customers as a non-bypassable charge, since PSNH's default service provides a safe haven should electric prices spike, as it has in recent winters. But the PUC staff disagreed.
Others said that spending that much on a scrubber was not "prudent" and wanted stockholders in PSNH's parent company (then Northeast Utilities) to pay for it rather than PSNH.
As the parties argued, the cost of the scrubber increased from $422 million to $500 million. That's because the amount they were paying – 0.98 cents per kWh – wasn't enough to cover all of the interest. (The reason for the underpayments? The final price to be paid by ratepayers hadn't been settled yet.)
Critics speak
Meanwhile, the PUC had opened up another related docket question – whether PSNH should completely divest itself of its assets.
That process started during the "restructuring" movement in the 1990s, resulting in the sale of PSNH's interest in the Seabrook nuclear power plant, leading to Round 1 of stranded costs, about a 3 cents per kWh surcharge on everyone's electric bill.
"It was complicated, it was contentious, but you know what? It was very successful," said Bradley.
This time, the contentious issue is the scrubber, making Merrimack station a possibly very expensive boondoggle.
If the status quo continued, and only Eversource energy customers had to pay for it, more and more of the utility's customers would migrate away, leaving the remaining few customers a greater share of the cost, resulting in a "death spiral" that could spell the end of the utility.
The deal brokered by Bradley would put an end to the both the PUC's bypassable charge and scrubber dockets.
At a press conference announcing the deal, Bradley joked it was like an "old home reunion," with an overpriced coal plant rather than a nuclear plant at issue.
"That guy is a hero," said Clavet, referring to Bradley. "To be able to bring together stakeholders – this is a tremendous outcome."
But good feelings are not enough for the agreement to become a reality. The asset sale still has to be approved by the PUC and the Legislature still has to vote for the securitization.
Already, Doug Patch, a lobbyist for competitive energy supplier TransCanada is arguing that Eversource should rebate manufacturers the amount of the securitization costs, and that rebate – estimated to be about $5 million a year – should be charged to stockholders, not ratepayers.
But when August G. "Gus" Fromuth, managing director of Freedom Logistics, PNE and Resident Power, heard of that proposal, he replied, "I want a rebate to my customers too. This is a blanket tax on everybody to fix a problem created by PSNH."
Other Eversource foes are more critical of the utility.
"PSNH is walking away after driving these assets into the ground," said Jim Dannas, a member of Responsible Energy Action, which opposes the utility on the Northern Pass project.
He argued that the PUC shouldn't walk away from the matter either. "We were going to lose anyway so we are going to pay up? If they had no case, why is there a docket? Why were we paying a 10 percent return in the first place on assets declining in value?"
But Quinlan still contends that the scrubber was a good investment.
"Those assets continue to run well, and they deliver substantial benefits to New Hampshire customers," he said. "Last winter alone, those plants delivered $150 million of savings. Last month alone, $30 million of savings."
The point of the settlement is to put that debate, and the litigation surrounding it, behind us.
"The state made the decision for the scrubber, and we have to pay for it," said Meredith Hatfield, director of the Office of Energy and Planning. "We are just going to have to deal with it and move on."