Med malpractice 'early offer' changes die in conference
Also a victim: 10% hike in unemployment benefits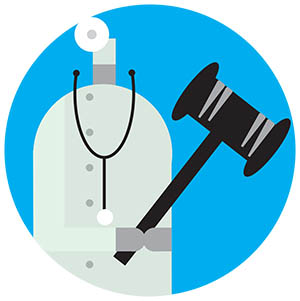 A bill that would have reformed New Hampshire "early offer" option in medical malpractice cases was among the casualties that emerged – or actually didn't emerge – from various legislative conference committees last week.
The idea behind early offers is to speed up medical malpractice cases before screening panels, which are supposed to be a cheaper alternative to litigation, but are being used less and less frequently.
Under the early offer law passed two years ago, the medical provider's insurance company can make a quick offer to a claimant. If accepted, both the panel hearing and a trial are avoided. But if refused, and the claimant eventually receives less than 125 percent of what was offered, the claimant would have to pay for the defendant's legal fees. The reform doesn't seem to have been applied very often, though figures aren't in yet.
This session's House Bill 582 started out by repealing the early offer law altogether, but the House passed a version that would have done away with the penalty for refusing the initial offer, as well as limits on the amount for which a claimant would be compensated (though pain and suffering and punitive damages would still be out).
The House, said Rep. Janet Wall, D-Madbury, thought that injured parties are at a disadvantage because they might desperately need the quick cash, even though they would be giving up their rights.
But Sen. Jeb Bradley, R-Wolfeboro, said, "My concern is that in two out of three tort cases, the plaintiff ends with nothing. And something is a lot better than nothing."
The Senate rejected the major House changes, agreeing only to some timing changes.
Another measure that didn't go anywhere was House Bill 1499, which would have increased weekly unemployment benefits by roughly 10 percent.
Supporters of the bill, which was proposed by the Department of Employment Security, said the raises would not affect the unemployment trust fund, which has grown so much that employers' unemployment compensation payroll taxes have been cut. The increase in benefits would have been the first since 2002, and wouldn't have gone into effect until 2015.
The Senate version would have just studied the issue. The House proposed postponing the increases until the trust fund reached $300 million, but the Senate rejected that proposal.
Also biting the dust was HB 1532, which would have required that a home seller tell potential buyers about a home's radon and arsenic levels.
The Senate version added more general language warning that radon and arsenic could be a problem. At conference, Senate representatives in particular balked at the requirement that the testing be conducted by companies certified by two particular organizations.