Mechanics sound off on VW scandal
Details remain sketchy on timeline for repairs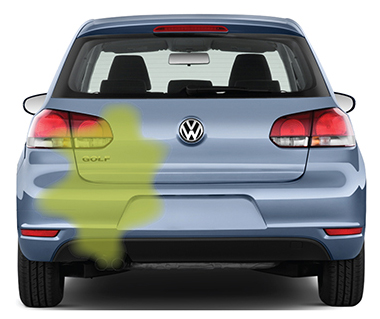 Anthony Perosino has been working on Volkswagen cars since he was 17 years old. He owns and is the lead technician at Status Auto Werks, a service facility located on Front Street in Exeter that specializes in Audi and Volkswagen cars.
"Are they polluting the atmosphere by the way they rigged this software? I don't know," said Perosino, when asked about the Sept. 22 announcement by the world's largest automaker that software in its diesel models purposely decreases emissions only during U.S. emissions testing.
The U.S. Environmental Protection Agency said the vehicles emit 10 to 40 times the legal limit of nitrogen oxide.
"Regardless, it's hurting me and hurting a lot of independents because people are scared of the product because the media is blowing it out of proportion."
"I don't [usually] get late-model cars that have those [engines]," said Bruce Willwerth, owner of Independent Volkswagen Services, a Volkswagen dealer and repair shop in Meredith. "I just bought one [a used 2009 Volkswagen Jetta TDI Diesel], and not three weeks later, they made the announcement, but nobody wants it at this point."
According to a press release from Kelley Blue Book, the average auction price for Volkswagen diesel models has dropped nearly 16 percent following the announcement of the models' emissions issue. On KBB.com, Volkswagen new-car shopping activity for affected TDI models has decreased by 2.4 percent on average.
"Some auctions are still holding off on selling the affected Volkswagen inventory," said Tim Fleming, analyst for Kelley Blue Book. "While Volkswagen diesel auction prices are in decline, we could see larger fluctuations depending on how this inventory is handled."
"The average price of Volkswagen diesels was $11,319 before Sept. 18 and $10,586 after Sept. 18," Aaron Lewis, spokesperson for edmunds.com, told NH Business Review.
"[Customers] are asking for our feedback, and truthfully, we have no idea what Volkswagen is going to do," said Kevin Lawler, service manager at Reflex Tuning in Hooksett.
How exactly Volkswagen will handle the debacle is still up in the air. After an internal investigation, Volkswagen announced that 11 million diesel-run vehicles worldwide are affected, 482,000 of them in the United States. The Audi A3 as well as Volkswagen brands Jetta, Beetle, Golf and Passat model years 2009-2015 have been impacted. (And that could expand to more models, as Volkswagen continues to examine other diesel engines, like the older EA 288.) Volkswagen announced it has set aside about $7.3 billion to cover recall costs, but there is speculation that it may require more.
According to Bloomberg, several industry analysts foresee Volkswagen selling off one or more of its 12 brands, such as the recently struggling Bentley or Italian motorcycle maker Ducati, to raise more funds.
Tight-lipped dealers
An employee who wished to be unnamed at Tulley Automotive Group in Nashua, which no longer sells Volkswagen after AutoFair Volkswagen in Nashua purchased its dealership, told NH Business Review they're no longer accepting Volkswagen trade-ins.
But VW dealerships themselves are tight-lipped about the impact of the announcement.
"We're still in business, and we're still selling cars. That's seeing positive reactions in the dealership," said Nancy at Seacoast Volkswagen in Greenland, who refused to comment further on customer reactions or provide her last name.
John at Quirk Volkswagen in Manchester said the dealership learned of the news the same way everyone else did. "We're waiting just like most of our customers [about how to remedy the situation]," he said. "It was just basically people calling in, obviously concerned."
Volkswagen's corporate U.S. office has implemented different programs to aid dealerships, although it's unknown whether any in New Hampshire have yet taken advantage of them.
According to Jeannine Ginivan, senior manager of corporate and internal communications at Volkswagen Group of America, the effort includes a compensation program of discretionary funds and relief from floor plan fees for impacted vehicles, a typical dealer fee.
"These programs were launched after many discussions with the National Dealer Council to address their immediate needs and concerns," Ginivan told NH Business Review. Volkswagen sales grew just 0.56 percent in September 2015, compared to September 2014. Year-to-date sales decreased 2.46 percent.
For consumers, there is currently a $2,000 loyalty bonus, which applies to existing Volkswagen owners seeking to purchase a 2015 or 2016 model.
But thus far this is no monetary compensation for owners of the affected vehicles.
According to the online blog, the "Consumerist," Volkswagen and Audi owners can file a complaint related to Volkswagen's deceptive advertising by visiting ftc.gov/complaint or calling 1-877-382-4357.
'Corporate fraud'
On behalf of an individual plaintiff, the Nashua law firm of Gottesman & Hollis filed a lawsuit on Sept. 24 in federal court in Concord seeking a class-action lawsuit in New Hampshire. It was recently amended to include a claim against Robert Bosch GmbH, a German multinational engineering and electronics company, that admits it provided the software to Volkswagen for years, knowing it did not comply with EPA standards.
There are several other owners interested in participating in the class-action lawsuit, said attorney Paul DeCarolis. Already, there are class-action suits filed in other states, including Vermont and California.
DeCarolis said he should know in a month or so if the class action is granted.
DeCarolis called the incident the "corporate fraud of the decade."
"All of the people I've spoken to so far, what they're really outraged about is they thought they were buying a fuel-efficient vehicle. They thought they were helping the environment and nothing could be further from the truth," DeCarolis explained.
Meanwhile, consumers will have to wait for their car's computer panel to be fixed to depict actual emission levels, which the head of Volkswagen's U.S. division, Michael Horn, told a congressional panel, could take a few years, with at least 10 hours spent on each car.
"The only thing that can be fixed is Volkswagen will have to rewrite the software, and the cars will burn more fuel," said Perosino.
It's likely less than eight miles per gallon will be sacrificed in the fix, John German, a senior fellow at the International Council on Clean Transportation, told the New York Times.
Perosino explains that while the diesel still has pollutants, the exhaust gas recirculation system makes the car run efficiently.
"As a mechanic, it's a great product – it still is," said Perosino. "I don't have any desire to work on any other cars really."