Maureen Beauregard, 2011 Outstanding Woman in Business
President, Families In Transition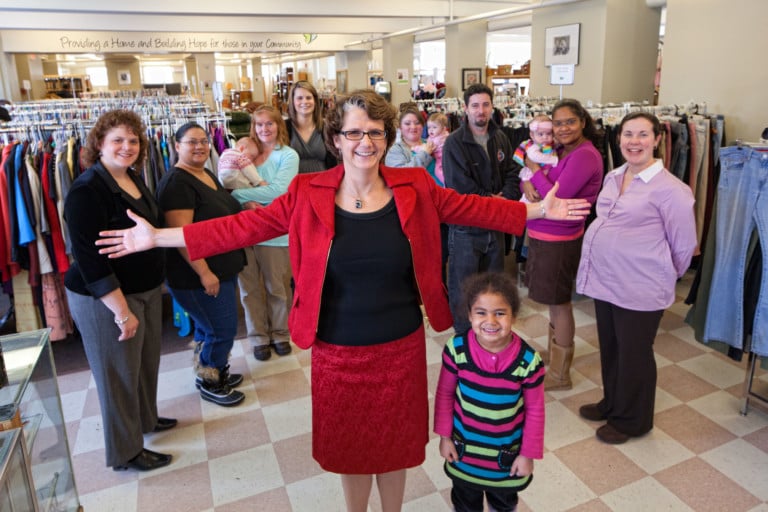 As president of Families in Transition, Maureen Beauregard stresses the "transition" concept to the families that come to the shelter. With the support of FIT, families can work their way out of a life of emotional and financial hardship.
Beauregard, a Strafford resident, wife and mother, has worked to create one of the most successful nonprofit agencies in New Hampshire. Under her hand, FIT has expanded from owning one housing unit in 1991 to more than 10 today. Staff has increased from three employees to 53, and FIT's annual budget has increased from $100,000 to $4.6 million.
And, with its innovative OutFITters thrift stores, FIT was one of the first nonprofits to create a retail outlet as a self-sustaining, revenue-raising arm for its mission.
Not surprisingly, others also have recognized Beauregard's selfless work. She has been honored with awards by the New Hampshire Commission on the Status of Women, the Pastoral Counseling Services of New Hampshire, and with NHBR's own Business Excellence Award in the Nonprofit category in 2004.
As Stephanie Savard, Beauregard's nominator, said, "Maureen has dedicated her life to ensuring that homeless mothers have the supports that they need to overcome their difficult pasts and create healthy, happy and rewarding lives for themselves and their children."
Q. What made you choose your career?
A. I just happened upon it. I thought I was going to be a teacher, but I had a hard time sitting still within four walls. I tried social services and became a substance abuse counselor and then worked in child protective services. I loved those jobs, but they were very stressful, and after a while, I needed something different.
Then I answered an ad to design a transitional housing program for homeless women and their children. Eventually, that program became FIT.
In 1991, there were five women, their children and myself. Today, we have 10 buildings, with two more under construction. When those are done, we'll have space for 170 individuals and their families at any given time.
The organization just keeps growing. It's like a rock in a pond, with concentric circles of services.

Q. Did you have a mentor, formal or informal?
A. Every board member we've ever had has really taught me about different aspects of being a nonprofit or being a leader, and also has helped me grow as an individual.
I'm also smart enough to know I don't know everything, so I hire those that do. I'm a person who's not afraid to move forward. At FIT, we attract board members and staff who are not afraid.

Q. How do you approach balance in your life?
A. Having worked in very stressful environments before, I wanted to go to work and be really happy and go home happy. I have a husband and twin 11-year-olds at home – they are my passion, my everything.

Q. What has been your biggest challenge on the road to achieving your success?
A. I think it was learning who I am at home is the same as who I am at work. I had to learn not take things personally.

Q. What advice would you give to young women just starting their careers?
A. Don't let fear stop you from moving forward. Fear keeps people stagnant. Keep looking up and out, move through fear, and keep asking, "Why?"