Massive tax fraud snares N.H. physicians
Income tax returns of at least 100 medical providers were falsely filed by others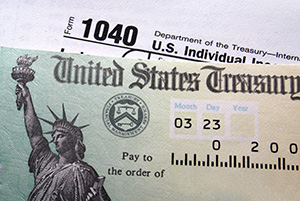 The U.S. Secret Service is investigating a tax fraud scheme that has affected at least 100 physicians in New Hampshire, and more than that in other states, in what may be a massive breach of medical providers' Social Security numbers.
"We are very concerned that this is very, very big," said Scott Colby, executive vice president of the New Hampshire Medical Society. "My sense is that we are just beginning to scratch the surface."
Colby said that at Monday's afternoon deadline some 111 physicians, physician assistants, dentists and nurse practitioners in New Hampshire have reported that someone else filed a tax return in their name, with their Social Security number, pocketing a refund from the Internal Revenue Service.
This delayed the affected providers from filing their own income tax return.
Colby said he contacted the state Department of Justice after reports started coming into his office "in droves," along with a similar report from his organization's counterpart in Indiana.
The DOJ turned the case over to the Secret Service, which is working with the IRS.
The IRS has recommended that the medical providers – out of an "abundance of caution" – place themselves on a 90-day credit fraud alert at experian.com/fraud that could slow or prevent further attempts of identity theft.
If they have been affected by the scam, or detect unusual or suspicious activity on their credit report, it should be reported to the New Hampshire Medical Society with their name, home address and phone number. The Medical Society will then forward the information to the Secret Service, Colby said.
On Friday, the society spread the word with a press release in New Hampshire and to other physician organizations and heard back from a few states. Thus far, there have been more than 100 false return reports in Indiana, 40 from Maine and 20 from Vermont.
Colby thinks that medical providers seem to be the target. The New Hampshire Hospital Association has issued a similar warning, but it was only doctors, not administrative staff, who have reported a problem.
There are about 3,600 doctors in New Hampshire, and there is no indication that all of their Social Security numbers have been compromised, Colby said.
Colby said that he would not speculate on how or where the breach might have occurred.
"It's not clear someone is picking on doctors," cautioned Brian Krebs, a former Washington Post reporter and now blogger at KrebsOnSecurity.com. He added that it "has become such a common crime," that there could be victims in any organization or industry.
Anecdotally, it does appear that the problem of false returns for refunds has become a bigger problem this year – and it was a $4 billion problem last year.
It could be a breach through the billing or prescription system or "it could be the bad guys got a lot of personal information, and a lot of it happens to be of doctors," Krebs said. "It's too soon to say. I expect it's multiple causes."