Mary Johanna Brown, 2018 Outstanding Woman in Business
Founder and president of Brown & Company Design in Portsmouth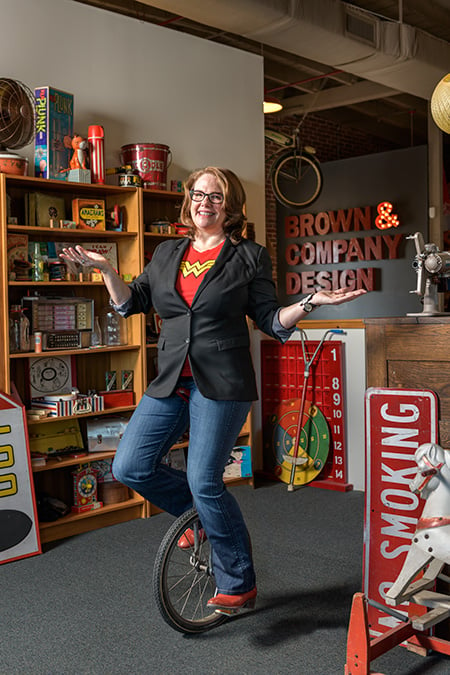 Mary Jo thought she was an unlikely champion for gender equality — that is, until she learned about women's low participation rates in business owner and executive roles.
Nearly fifteen years ago, Stefany Shaheen and Lori Chandler asked Mary Jo to join the state's Commission on the Status of Women.
Having worked closely with nonprofits in the area of women's equality through her successful strategic design firm, Mary Jo noticed an opportunity to consolidate efforts to have a greater impact.
Over the next 12 years, Mary Jo led a series of actions that consolidated New Hampshire's dispersed women's organizations, eventually merging the Commission with the NH Women's Lobby and the New Hampshire Women's Policy Institute into the New Hampshire Women's Initiative, later adding the Women's Fund of New Hampshire to create the New Hampshire Women's Foundation. Mary Jo became became the first chair of the organization, which fulfills the dream of Mary Jo and so many other New Hampshire women for a unified voice for women and girls.
Q. What encouraged you to merge the five separate organizations into the New Hampshire Women's Foundation?
A. After becoming engaged and on the Commission, I knew there was a lot of confusion and overlap with these various organizations. I felt having all of the tools to champion equality would make for a better foundation to have real impact. Philanthropy and advocacy should be working together. That is the beauty of that merger. It's interesting, I believe in policy as a conduit to change but I absolutely believe change happens through dialogue, through education and programming, through philanthropy.
Q. How might change occur through dialogue?
A. It was prior to the #MeToo movement in a different political environment, but we held listening sessions around the state and people would share private stories about their relationships, their work lives, and so we documented all of those and then we held a specific, smaller group of them later to inform our agenda. Equal pay was among the highest ranking in the state of New Hampshire so we decided to do a deeper dive on equal pay. And then we had a second series on wage gap alone. It's a real honor to know we've heard from so many people around the state about what that conversation means to them. And I've seen those conversations change lives. And it's changed me; it's helped me to understand how I do and don't negotiate effectively.
Q. Did you also hold listening sessions with men?
A. In that first year, when we ran all of these listening sessions, my favorite was held by Joe Reilly at the Manchester Chamber of Commerce with all men, somewhere between 12 and 20, all of which were executives at banks or insurance companies. There were male CEOs and we talked about the wage gap and I know the two hours we spent there had a huge impact. I firmly believe this movement requires an expansion of the tent. Even if it's made up of a bunch of tiny umbrellas, we have to be under the tent. The inclusion of men, both political parties and business, is absolutely critical to move gender equality forward.
Q. How did you develop your leadership style?
A. By surrounding myself with people I admired and listening carefully to them. I've always believed in having mentors and listening to those mentors around me. It happened in a relatively structured and delivered matter when I set up Brown & Company. I would seek out people who could teach me about certain facets of business, which was a deliberate way in which I learned.
Q. What challenge have you faced and overcome?
A. When I was considering becoming chair of the Women's Initiative I was not convinced I possessed the skills or leadership capacity to chair. I questioned whether I was the right fit. [State Rep.] Marjorie Smith, Mary Rauh and Pat Yosha took me to lunch and said I could do this. I said I thought I could do it perhaps with help, and they said, 'You can do this, and you can do this on your own'. Maybe it's taught me I can do more than I think I can do.
Video by Edify Multimedia Group