Mary DeVeau, 2010 Outstanding Woman in Business
President and CEO, Concord Regional Visiting Nurse Association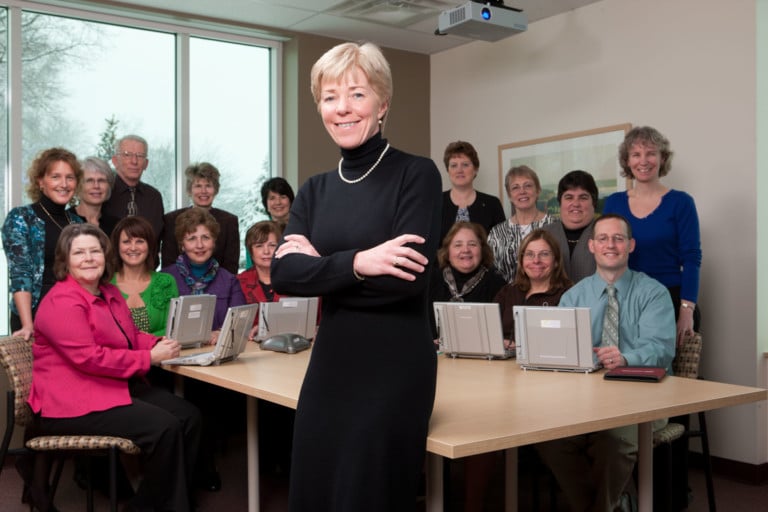 Mary DeVeau has been president and chief executive of the Concord Regional Visiting Nurse Association for the past 12 years. CRVNA provides comprehensive home care services and end-of-life care to residents in all of Merrimack County and several towns in Hillsborough County.
Under her leadership, CRVNA has been guided through a significant technology program, which includes development of an electronic medical records system along with scheduling, payroll and financial management systems, and she directed the planning and construction of CRVNA's offices to their current location at 30 Pillsbury St. Street in Concord — no small feat for an organization with 327 employees.
As the largest home health and hospice agency in New Hampshire, CRVNA had revenues of over $20 million in 2009, with an operating margin of 7.99 percent and a total margin of 10.35 percent.
DeVeau's support of her employees in both their education and empowerment is so deep that the organization's nurse turnover rate is 5 percent — far below the industry average of 21 percent.
DeVeau also serves as a board member of several agencies, including the Visiting Nurse Associations of America, New England Life Care and the Community Provider Network of Central New Hampshire, among others.
Q. What was your first job, and what did you learn from it that prepared you for the future?
A. My first job out of college was at New England Baptist Hospital. Even though it was a teaching hospital and I was caring for a variety of patients, I didn't feel I was learning as much as I wanted. I then went to New England Medical Center. It had such a dynamic learning environment. I was there for 10 years, and made so many relationships.

Q. What do you love most about your career?
A. I love doing what I can do every day — and that it makes a difference. That could be teaching staff how to handle difficult situations ? we?re now taking care of patients at home who used to be in hospital beds — or helping staff to balance their lives. Many times caregivers have tough lives themselves.
I'm passionate about providing benefits, education, good pay, opportunities for advancement, but I'm also passionate about helping people to realize they have a personal life that needs to be taken care of too.

Q. What has been your biggest challenge on the road to achieving your success?
A. My husband was diagnosed with cancer six months after we were married. When I realized that I wouldn't be having children, I had to change my career goals. I really wanted to help other people. I realized that if I managed others, I could help even more people than just the one patient I was caring for.

Q. What advice would you give to young women just starting their careers?
A. Make sure to build relationships — learn how to network. Also, learn the financial side of whatever business you're in. Keep exercising and live a healthy lifestyle. And learn how to play golf — you can learn a lot about another person in four hours!