Maria Ryan, 2017 Outstanding Woman in Business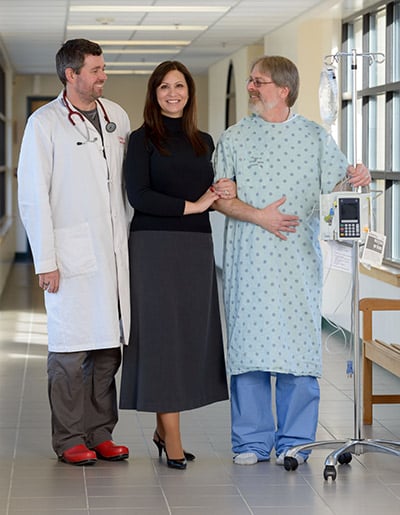 Starting out at age 16 as a certified nursing assistant, Dr. Maria Ryan's upward-bound career led her across the country, working in hospitals in New Mexico, Tennessee and Virginia, before she joined Cottage Hospital in Woodsville as chief operating officer and chief nursing officer.
In 2010, she became CEO and focused on providing low-cost, high-quality care – what some would think has become an oxymoron in the field. But she put energy into initiative, and under her management, Cottage Hospital – which covers 26 economically depressed communities in New Hampshire and Vermont – has caught national attention.
Ryan is a regular speaker at health care conferences. In 2015, she was asked by the American Heart Association to visit Washington, D.C. on Advocacy Day, speaking with New Hampshire's congressional delegation regarding the Medicare Access and CHIP Reauthorization Act.
Q. As CEO, you closed the birthing center in 2014 and this fall opened up the Ray of Hope Geriatric Behavioral Health unit. How has this change better suited the region's needs?
A. The only population growing in New Hampshire is our aging population, and this is the population that has the biggest barriers to health care. It could be a neurological/behavioral issue like Parkinson's or depression, or after a stroke they have some behavioral problems. The elderly have some of the highest suicide rates, but it's not talked about.
We hit the nail on the head with this strategic plan. It's overwhelming how many people need help. We've taken patients who were living in assisted living facilities or with family requiring around-the-clock care, and we've discharged them to an independent lifestyle. We're really making a difference, that these people in their golden years can have dignity and live self-sufficiently in certain cases.
Q. You're pretty involved in the community.
A. Personally, I sit on five nonprofit boards across the state. As an acute care facility, we knew we had to go beyond our walls to really impact the health of our communities. Harvard did some great studies on the link between bad dental health and how that leads to poor overall health, specifically cardiovascular disease. We work with different outreach projects to deliver toothbrushes and dental education to the children of our community. We're trying to educate early so they grow up with good habits.
Q. Maryanne Aldrich at Cottage Hospital said you are a mentor to her.
A. Maryanne would tell you that some of the reason the staff follow me is because I am also clinician. Periodically, I am the provider in the emergency department. I think it is my diversity of thought and my passion to create high-functioning teams in a positive culture. I have a deep understanding of people as individuals. I'll adapt my teaching style to them, and typically that person responds and develops. Maryanne has seen the evolution of Cottage and its positive culture and she is a part of that.
Q. Early in your career, did you anticipate becoming CEO?
A. I didn't really have someone say, 'You have these innate talents,' and I didn't seem to yearn for it, but I worked with a for-profit hospital company and noticed for the first time in my life a difference between the way men and woman were treated in the workforce.
I was a chief nursing officer in a large hospital, so the budget, service lines and personnel you are responsible for are the largest segment of the health care system. You're over everything that makes or loses money. You have to be financially and business-savvy.
I also knew I had a visionary talent, that my skills were really at the CEO level. But when I expressed my desire to become a CEO they were perplexed. They didn't have a program to help chief nursing officers become a CEO, but they did have a program that took people fresh out of a four-year degree, typically a male, and make them a COO with a track to become a CEO. The company totally ignored the wealth of experience a CNO brings to the table. That particular company did not value my talent the way I thought they should so I moved on to make my own destiny.
Q. What advice do you have for young women starting out in their careers?
A. My biggest advice is if your company does not see your value, put yourself out there and go somewhere else.
People to do not succeed and reach career goals because it was given to them. There is hard work involved. You need to ask a lot of questions and do not just go to one person. Put yourself in places where you lack experience and knowledge and seek to understand the process. Don't let anyone tell you, you can't do something – because you can!
Here's what others have to say about this very deserving Outstanding Woman in Business recipient: