Margherita Verani, 2019 Outstanding Woman in Business
Chief Executive Officer of Berkshire Hathaway HomeServices Verani Realty in Londonderry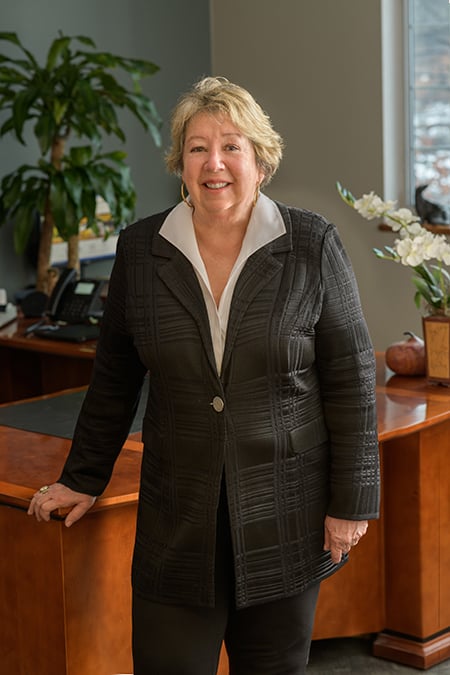 Margherita Verani took over her father's local real estate company and built it into a regional, multimillion-dollar business.
But that level of success was not achieved overnight. It was the result of a long journey, especially for a young woman entering real estate in the 1970s.
Verani began her career as a receptionist at her dad's small company, quickly learning and enjoying all facets of real estate with her mentor by her side.
After graduating from the University of New Hampshire in 1974, Verani made continuing her education a priority, leading her to become a successful developer with an eye for finding, purchasing and developing raw land. By doing so she not only gained the respect of her peers, but also became one of the few women in the field.
In 1979, Verani was president of the family business and, in 1987, Verani Realty became a member of the Prudential Real Estate Affiiliates, later aquired by Berkshire Hathaway. Upon her father's passing in 1997, Verani became CEO of the firm, leading it through the hard times of the Great Recession.
Today, Verani Realty has grown to more than 500 agents with a majority of its leadership positions held by women Verani has personally mentored.
Q. How did your father impact your career development?
A. My father was one of my greatest mentors, and from a very young age he engrained a lot of lessons in me that have carried throughout my life and career. Looking back, some of his most substantial lessons were ones I didn't even know were being taught at the time. He was an immigrant from Italy, so when he got to this country he hit the ground running. He was a hard worker with a mantra of not walking away from a task until it was finished. As an entrepreneur he would sometimes be doing the work of multiple people, but he would do it and he would do it well. My father was also the person who gave me the idea that girls can do anything a boy can do. He would never coddle or excuse me from anything because I was a girl; I was able and expected to do everything a boy would.
Q. Having quickly played a significant role in the management of your family business, how did this influence the workplace culture and type of employees Verani Realty attracts and hires?
A. I have worn many hats within this business, from secretary to agent to CEO, and in doing so I know that no job title or person is better than another. Everyone plays an instrumental part in the success of the business. That mindset has certainly rolled over into our hiring process, we employ people who are willing to collaborate with one another, people who support others, and people who realize that when you all chip in to achieve a common goal, everyone can thrive. These days it's easy to become timid and fearful to speak your mind, so I strive to have an open and collaborative work environment. I want to hear everyone's ideas and I want them to feel comfortable sharing them with me.
Q. How is the New Hampshire real estate market doing? Are there any trends or insight you could share?
A. There is a lot of demand in the New Hampshire housing market right now. As the millennial generation is growing up, they are now starting to buy their first homes. This surge of home buyers is causing a shortage of housing. It is also becoming increasingly expensive to build new homes due to zoning regulations, which makes homeownership less achievable for some. Another surprising trend that we are seeing is people in metro markets, like Boston, buying their second or vacation homes before purchasing their primary home. This is because homes where they live and work are very highly priced, and vacation homes are more attractively priced and have the potential to bring in rental income.
Q. How can business culture be more inclusive of women and families?
A. At Verani, we not only care for our employees but their entire family. We don't want them to feel like they have to seperate a work life and a home life, and we try to meld the two together so they feel the company is their extended family. I used to have BBQs at my home every year for our staff, agents and their families, until we grew to be so large that not everyone could fit. Some of my fondest memories are from those days, and we continue that tradition today. We have picnics, office BBQs, holiday get-togethers and a 'Family Fun Day' where employees are not only welcome to bring their families, but are encouraged to bring them. When you work here, your family is our family, and we are their family.
Q. What advice do you have for young women just starting their careers?
A. Women have come a long way not only in the real estate industry, but also in the working world as a whole. I believe the key to success anywhere is working hard and being yourself. Never be afraid to seek mentorship, ask questions and lean on others for support. You can't do it all on your own, you're only as strong as your team, so make it a 'we' environment, not a 'me' environment. Most importantly, remember as you travel through your career to be mindful of the legacy you want to leave behind and carry yourself accordingly.