Manufacturing Week focuses on training
All seven communities colleges will open their doors to the public on Oct. 1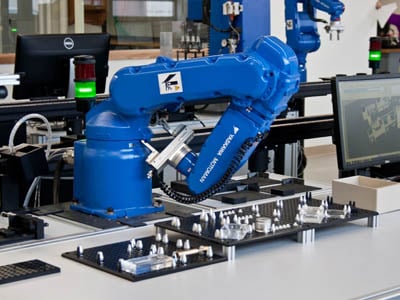 There are jobs in New Hampshire, well-paying jobs, that are intellectually stimulating and attainable, with from nine months to two years of postsecondary schooling. They're in manufacturing.
On average, manufacturing workers earn $77,000 annually, often earning nearly $60,000 at the onset, yet only 17 percent of people view manufacturing as a top career choice, according to the state's Manufacturing Extension Partnership.
Manufacturing gets a bad rap among high school students and young adults, conjuring thoughts of dark, dirty places.
Au contraire, says Phil Przybyszewski, project coordinator of Advanced Manufacturing TAACCCT (Trade Adjustment Assistance Community College and Career Training) Grant at Manchester Community College. "The floors are so clean you could eat off of them."
Przybyszewski stands in the new robotics lab at Manchester Community College. The lab opened in January 2013, and displays $850,000 of equipment used to train students. All of it will be on display to the public from 4 to 7 p.m. on Tuesday, Oct. 1, as part of Manufacturing Week.
The concept of a robotics lab didn't even exist in New Hampshire until 2011, when the state received a $19.97 million grant from the Department of Labor to build infrastructure for advanced manufacturing. The funding came from the TAACCCT program, which was authorized by the American Recovery and Reinvestment Act.
In 2010, when President Obama signed the Health Care and Education Reconciliation Act, it provided $2 billion over four years to fund the TAACCCT program.
Each of New Hampshire's seven community colleges received funding to build new labs or expand existing labs that would bridge the skill gap in manufacturing.
With 77 percent of baby boomers expected to retire in 2030, manufacturers anticipate a severe skills gap. Already, in 2011, the National Association of Manufacturers found that 67 percent of manufacturers reported a shortage of qualified skilled employees, and 56 percent said they expect that number to grow.
The community colleges surveyed their surrounding business community to determine what curriculum and equipment was needed to fit workforce demands.
With Albany International and Safran Aerospace Composites nearby, Great Bay Community College built a new composites lab in Rochester. River Valley Community College created new machining labs in Keene and Claremont. White Mountains Community College in Berlin upgraded its lab to include high-tech precision and welding equipment as well as a new mobile welding lab. Lakes Region Community College upgraded its mechanical machining equipment, as did Nashua Community College. And New Hampshire Technical Institute in Concord upgraded its automation and process control equipment.
Jobs in robotics
Manchester received $2 million out of that $20 million, to build its robotics lab, creating a robotics certificate and mechatronics certificate as well as expanding its CAD, computer-aided design program.
Mechatronics includes a combination of electrical, mechanical, computer and control engineering. As Przybyszewski explains, "the epitome of mechatronics would be the Segway."
Five out of the six students in the first mechatronics program received jobs. Corfin Industries in Salem hired two students in March and one more in May.
"The whole goal of the grant is to get people in here and out of here and get them a job or better job," says Przybyszewski.
And are there jobs in robotics in New Hampshire?
"There are several companies, some may be surprising to folks, that are using robotics extensively or gravitating toward it," Przybyszewski says.
For instance, Corfin Industries, GE Aviation in Hooksett, Osram Sylvania in Exeter, and Safran and Albany in Rochester all use robotics for certain tasks. Hitchiner Manufacturing in Milford also is gravitating toward robotics, creating an automation technician position. Przybyszewski says the company sent seven employees to be trained.
Ed Ely, advanced technologies and CAD professor at MCC, agrees. "A lot of the companies want to advance, but they can't get the skilled people so they're moving along at a slow pace."
The school's robotics lab features a small assembly line of five different robotic arms that take on different tasks, such as engraving the MCC logo on anodized aluminum. Students use the machines to make penholders from an acrylic block and brass rod with the decorative anodized aluminum piece. The project may not sound exciting, but it's the process of making them that teaches students essential skills for larger projects.
"All of these devices have mistakes built into them," says Przybyszewski, enabling students to develop the problem-solving and critical thinking skills they'll need when a machine goes down. Other manually operated machines are used to cut down and sand the bulk materials students use, forcing them to use some math in their measurements.
The students are from all walks of life, high-skilled and under-skilled workers as well as returning veterans, seeking a better career. With funding from the Workforce Investment Act, WorkReadyNH helped a middle-aged woman who was a bus driver become a CNC operator at Corfin Industries.
As the program grows, Przybyszewski hopes to strengthen relationships with companies in order to provide workers who suit their needs. "We'll always be looking for more partnerships. The goal is to make this programs sustainable after the grant is over [next year.]"
"We might be a small state, but we have big ideas … we really are innovators, and you see that in this advanced manufacturing industry," says Desiree Crossley, marketing coordinator for Advanced Manufacturing Partnerships in Education in New Hampshire, or AMPedNH, which promotes the new labs and equipment.
"We can tell you how cool this stuff is, but you really need to come in and see."