Manufacturing awareness
School-business career partnerships grow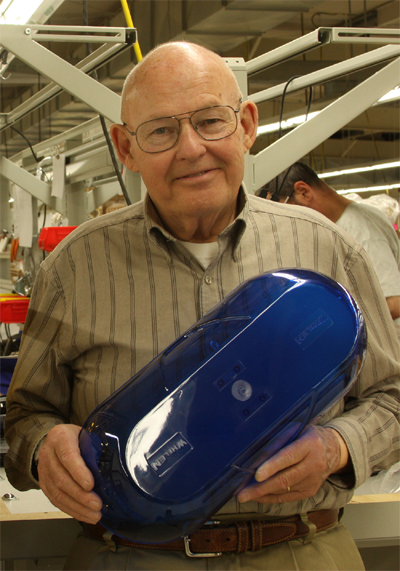 Jacqueline Guillette is a catalyst when it comes to bridging the state's education sector and advanced manufacturing industry to increase students' awareness of career opportunities in the field.
Guillette, former superintendent of Claremont- based School Administrative Unit 6, said the flame was ignited when she met John Olson, president of Charlestown-based Whelen Engineering Co., at the Governor's Advanced Manufacturing Education Advisory
Council meetings.
"John was a visionary. When he heard I was quote unquote retiring in 2011, he told me 'You're too young to retire. I have something on my bucket list. Come work for me'," said Guillette. "He wanted me to help write curriculum for classes that could be held at a manufacturing facility for high school students. The idea wasn't to create workers per se, but to show them, and their parents, the multitude of career opportunities and jobs manufacturers employ today."
Guillette teamed up with Scott Pope, who teaches manufacturing and engineering at Sugar River Valley Regional Technical Center in Claremont, to write the curriculum. Before retiring, she presented the concept to the administration of Stevens High School in Claremont and worked with the curriculum council and the school board to get it approved.
As a result, the Little League of Manufacturing, a program consisting of about 15 high school students from Stevens and Fall Mountain Regional High School in Langdon, launched in November 2011.
Students spent an hour a day for nine weeks at Whelen, where Pope taught the course at the facility with help from staff. Students learned about programming machines, reading plans and measuring the tolerance of materials, as well as "soft skills," like professional attire and attitude.
By the fall of 2012, the program expanded to a second level, at the request of students eager to continue learning.
Whelen also funded the production of hundreds of CDs describing the program, which Guillette distributes across the country. She's given away nearly 400.
"Claremont was the testing ground for the concept. It was the starting point, but the intention was all along that I worked with everybody and anybody anywhere that is interested in creating these education and business partnerships," she said. "John's belief is it is Whelen's corporate responsibility to reengage youth in advanced manufacturing."
Proof of concept
Sure enough, the concept inspired a similar program at Contoocook Valley Regional High School in Peterborough that launched this past January.
Beginning in 2012, ConVal hashad a committee of educators and local manufacturers focused on increasing awareness of manufacturing career pathways, first by speaking to chambers of commerce and Rotary clubs as well as collaborating with regional groups like RCAM, the Regional Center for Advanced Manufacturing, an alliance of the Greater Keene Chamber of Commerce, the Keene School District, RiverValley Community College and Keene State College.
"In the summer of 2014, Whelen, along with Guillette, ran a workshop at the plant for school systems and manufacturers interested in doing what they did," said David DeWitt, a former manufacturer and CEO of Phase65, which aims to create partnerships between industry and education. DeWitt joined the ConVal committee in 2012.
"We found out about it in our committee, and five or six of the ConVal staff (teachers, counselors and administrators) [attended]. One of them happened to be Beth Wallace who was the teacher of the [future ConVal] course."
Wallace, a physics teacher at ConVal, had worked in electronics manufacturing earlier in her career. With the help of Sheila O'Brien at New Hampshire Ball Bearings in Peterborough, the committee started to draft the course that fall.
As part of the course, the students had two days of classroom time before spending two days observing the manufacturing process at the plant, with Fridays saved for field trips to different manufacters or community colleges. Throughout the semester, students worked on final projects focused on making a process more efficient with little or no waste, as part of lean principals.
"The lean manufacturing part of the course came at the end, and my recommendation is to move it to the middle," said Dewitt, who said the committee will meet this fall to discuss tweaks before offering it again in January.
School counselors will also be involved in more committee meetings, said Mary Lou O'Neil, school-to-career coordinator at ConVal, who will meet soon with the director of school counseling at ConVal to recruit more students as well as spread the word through teachers in the science department.
"I'll be honest — it was a struggle to get students signed up to take it. We really need to do a better sales job — to teachers, parents and school counselors — because I think they don't know a lot about it. They don't see all of the benefits for students and the community," said O'Neil. "Dave DeWitt is always saying we have five world-class manufacturers within 15 miles of ConVal, and I would like people to know how that impacts the community in terms of how many payroll dollars and how many people it supports, which is far more than, say, the school district or the hospital or the other employers around here."
Curriculum approval
DeWitt said one of the biggest challenges companies and schools face in these partnerships is finding a way to reduce the length of time it takes to get curriculum approved.
"If you want a course that's in the course catalog for the school, it's quite a big process," he explained. "It would be nice if the school systems could figure out how to shorten that, because we were chomping at the bit to get going."
That's one of the reasons the principal decided to have awareness meetings, he said.
The offsite meetings involved educators who were given a presentation about how the advanced manufacturing program works.
"Some of the people who were there were able to say, as teachers and educators, 'Yes that really works well and it worked [in Claremont].' They helped us sell to the rest of the staff," said DeWitt.
"I speak education. I know how the system works," said Guillette. "So I'm able to help assist educators thinking about what they have to do to accomplish something new in ways I have either done or learned from educators that have worked."
Guillette is currently working with Hypertherm and the Lebanon School District to implement a middle school STEM camp during February break next year. In addition, Guillette and Pope already have written advanced manufacturing and STEM classroom curriculum for 4th through 8th grades in Claremont area schools.
"It's not adding to what people would want to teach their children, it's putting it in context of careers and the world of work and experiential learning opportunities," said Guillette. "It will either give people a pathway they can follow or it will give them a starting place and they can change it as it fits their context."
Liisa Rajala can be reached at lrajala@nhbr.com