Manufacturers harness the power of NH industrial design firms
Global companies seek consumer research, product development and prototyping in the Granite State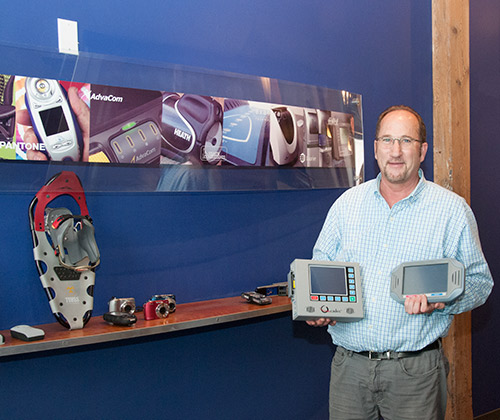 From an Aircast to a Kodak camera, a variety of products sold across the nation and around the world are designed to some extent in New Hampshire.
Startups, mid-size firms and Fortune 100 corporations contract out to industrial design and engineering firms in the state for complete or various aspects of product design.
"Aircast came to Farm to help develop the first pneumatic walking boot with an inflatable air bladder to help with certain types of foot and ankle injuries," says Robert Charles, design and engineering manager at the Hollis-based medical device product development company, which was purchased by San Jose, Calif.-based Flextronics last year.
Farm was involved in the initial work on the Aircast XP pneumatic walking boot, incorporating new features, including a pneumatic pump, better ventilation and designing the aesthetics, which has the look of a ski boot instead of a bulky cast.
Ten years later, Aircast returned to Farm to develop the next generation, the Aircast AirSelect walking boot.
"We looked at the shape of the sole to assess how easy it was for patients to walk in. People would complain they would still have to limp, and we realized the shape, the curvature of the sole, would not help you carry your momentum forward as you were walking. So we did some testing, and computerized motion path analysis, and reshaped the sole to make it easier to walk with a more natural gait," says Charles.
Medical device product development company Farm was involved in the design of the Aircast XP pneumatic walking boot and the second generation Aircast Airselect. (Courtesy photo)
The result was the new Aircast AirSelect, which weighs 20 percent less than the previous version, with an attached compression pump rather than a separate air pump.
"We took it from the beginning to the end, working with our client, making sure we were taking into account the users' needs, the needs of the caregivers as well as the requirements for the company so the product would be successful for them," he says.
What the customer wants
In Manchester, Helix Design stresses the power of industrial design to sell a product.
Manchester-based company Cadec Global Inc. (now PeopleNetin) approached the firm when its first commercial vehicle electronic dashboard device failed to sell. The device connected through the semi-trailer's electronic systems, tracking the driver's speed and logging miles, in order to prevent fraudulent accident reports.
"You'd think it would be a great savior for the industry, but they couldn't sell one," says Joe Schappler, Helix's founder. "A driver said, 'If you saw the inside of my truck it's as nice as any Mercedes-Benz, and I'm not putting that ugly thing in there.' We redesigned it to look like a GPS unit so it looked nicer and we took 40 percent of the enclosures costs out of it so they made more money."
Similarly, Helix helped Pantone Inc. redesign its ColorCue 2 spectrometer, geared toward interior designers, graphic designers and painters. The device matches a scanned color to the closest Pantone color, but the long, gray device didn't sit well with consumers, and the product didn't sell.
"A woman in her mid-50s said, 'If you think I'm pulling something that shape out of my purse, you're mistaken'," says Schappler. "We redesigned it to look like a little mouse, and they were back-ordered for 24 months before they caught up. Same technology. We did improve the interface."
A successful product evolves through consumer and design research. Helix utilizes another New Hampshire-based company, Storyline, located in Exeter, to find out what consumers are looking for.
"Companies often develop a concept based on what they can do, not necessarily on what they should do. And that's where our design research methodologies prove really valuable, because they reveal what matters most to the consumer," says founder Peter Kotsonis.
"We'll walk into these places where people live, work and play and bring designers and engineers along with us to discover new opportunities. We'll stay for two to three hours at a time and soak up as much as we can about their world, through their eyes. What's really driving their attitude and behavior towards a given product or service?" explains Kotsonis.
Helix Design was asked to redesign Pantone's original version (left) of the ColorCue 2 spectrometer after the product didn't sell. The redesigned mouse version (right) was back-ordered for 24 months due to demand from interior designers, graphic designers and painters.
By the end of the session, he adds, "these folks are really into it. Normally the extent of their involvement in a development process is a survey or a focus group, and that's usually for the testing of a concept that's already been envisioned. With us, they're saying, 'This is incredible, you're getting to know us first? What are you going to make? What are you going to build?'," says Kotsonis.
Through Kotsonis' 15-year career in the field of design research with firms like Altitude and Philips Design Consulting, he says he's established a network of consumers and international partners to generate meaningful insight.
"Because of the nature of a design research engagement, consumers continue to say to us, 'If you do this again, can you keep me in mind because I'd love to do this again.' It's blossomed into a rich experience consumers want to be a part of," says Kotsonis.
Whether working with large corporations like Bose or small businesses like Patton Veterinary Hospital in Pennsylvania, Kotsonis encourages clients in charge of the project to attend the engagements as well.
"The reality is it's more impactful if that story is experienced first-hand by our clients and internalized in their own way. That way they can own it," he says.
The smaller the company, the more immediate the impact design research can have, he says.
"Small businesses already have so much on their plate, they don't have the time to really get to know their customers," says Kotsonis. "We're tailoring our services to meet those needs, building tools for small businesses to make them more agile."
Seizing opportunity
Schappler is currently teaching an industrial design class at the NH Institute of Technology in Concord, which last year launched a two-year industrial design technology program.
Lynn Szymanski, the program's coordinator, was initially hired to promote NHTI's advanced manufacturing programs and spent a lot of time speaking with manufacturers across the state.
About 10 years ago, Helix redesigned Heath's Remote Methane Leak Detector, which, along with a cord and backpack, is used to detect gas leaks in neighborhoods. "The design was more like a gun," says Schappler. "Think about that — six hours later, the fatigue you get in your wrist. So we [conducted] a bunch of ergonomic studies, and we figured out by flipping it back this way, with a shoulder strap on it, in between neighborhoods he can rest [it on his forearm] and stretch his fingers out. The letters they got — the company — was amazing, thanking them for saving their jobs so to speak because it was so bad."
"I saw an opportunity to develop a program focused on the early stages of product development and the prototyping stage," says Szymanski. "Companies can now rapidly and inexpensively communicate their need for products, so I saw an increased need for people with those type of skills."
She says she "saw a space to help build a design community here in New Hampshire, so I wanted to be able to get their design education here, at least their first two years."
The first students to enroll are mechanical engineering and visual arts students who transferred into the program to learn how to be proficient in sketching, rendering and modeling as well as how to be a good presenter.
Traditional PDF-formatted reports and PowerPoint presentations are being substituted for more engaging formats, such as illustrations, storyboarding in a comic strip style as well as podcasts, as Storyline has done.
"It's not about conveying analytics, it's about telling the story. For us, illustration is a much more powerful tool. That content is being bought up by the big research firms. It's breaking through the white noise of corporate communication and it's getting attention," says Kotsonis.
3D printing also has improved and quickened prototype development and the presentation of the product.
"Sometimes until you actually have it in front of you or hold it in your hand, you can't appreciate the form factor," says Schappler. "It's hard for some people to visualize a line sketch or a color sketch, so when I have a physical object in front of them, it makes all of the difference in the world. They'll ignore the sketches and go right to the 3D prototypes."