Manchester's tech ecosystem takes shape
The goal is to 'create clusters of activity that become self-perpetuating over time'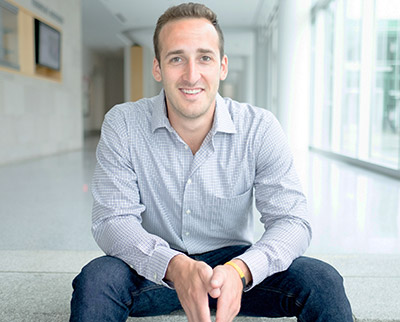 Two months ago, Ithaca, N.Y.-based Eversound moved to Manchester to be closer to its prototype design firm, Helix Design.
"As an early-stage company, it's important that your whole team be together," says CEO Jake Reisch, who founded Eversound at the eLab Business Accelerator at Cornell University.
Reisch is preparing a commercial rollout of the Eversound SLS, a multi-headphone wireless listening system for the hearing impaired.
"When you're shipping prototypes back and forth, you're adding three days at multiple points," says Reisch. "So we actually moved into the same building with our product development firm."
The office space is 2,500 square feet – more than enough room for six employees (three from New York and three new management-level professionals hired in Manchester). Reisch says there is room to play T-ball and take part in other activities that allow employees, working long hours, to unwind.
But Eversound also has a desk at the downtown incubator Alpha Loft, where it holds meetings in the conference rooms.
"It's good to get out of the office sometimes, and Alpha Loft is a community," says Reisch. "When you're building a company, surrounding yourself with good people is really important. And being at Alpha Loft gives you more of a social structure."
Reisch encourages employees to work from Alpha Loft, which he says has a "cool energy."
"What I think is really cool about Manchester, it has somewhat centralized the entrepreneurship scene in New Hampshire," says Reisch. "Seems like a lot of people are doing things here."
The scene
Manchester's tech scene has grown slowly but shows promise.
"I would say that creating a more vibrant startup economy and ecosystem is a long ball game," says Alpha Loft CEO Mark Kaplan. "Part of what we're trying to do is create clusters of activity and they become self-perpetuating over time."
Manchester, and New Hampshire as a whole, is not there yet, says Kaplan. The tech sector is broad, without specific subsets of tech growing substantially, but the more startups are attracted to Manchester and elsewhere in the state, the more young people will choose to live and work in the area, establishing the desired high-skilled workforce.
"There are more people thinking of being in startups," says venture capitalist TK Kuegler, founder of Wasabi Ventures and Launch Angels. "I'm talking to more and more people, sort of in the New Hampshire ecosystem, where they're saying, 'Hey, you know I saw something you wrote or something you said, and I ran into this person who is doing a startup, and let me tell you my background and why I should start a startup.'"
The problem in New Hampshire, says Kuegler, is startup founders are older and less able to take risk. And without a large research university like UNH in the city, it hurts the flow of younger workers to the city, like you might see in a place like Fort Collins, Colo. where Colorado State University is nearby.
Game Assembly, a video game incubator that opened at 1117 Elm St. in Manchester has the potential to change that.
Neal Laurenza and other members of Game Assembly work at their new location.
"There's definitely an interest in video games," says Neal Laurenza, co-founder of Game Assembly. "When we first started the IGDA [International Game Developers Association] meetings, we had maybe 15 people. That was probably a year ago, and it was cool to see it was a small community, but what we didn't realize was how many professional developers were already in the area that were not coming out of the woodwork. Our IDGA went from 15 to at one point over 100 people."
Now, with 25 members at the incubator, Laurenza questions whether Game Assembly will have enough space to meet demand in a few months. He's working to make the current space work, which is more inviting to the public with its sliding glass doors.
"[New Hampshire is] not like Boston, where everything's happening in one place," says Laurenza. "There's all of these tiny hubs all over the place, and to build connections between those hubs means more opportunity for businesses to be working together, to fight for infrastructure, to even just network."
Laurenza says expanded public transportation would help connect car-less millennials to Nashua, Manchester, Concord and Portsmouth.
While he had never heard of the proposal to bring commuter rail to Manchester, and possibly Concord, he perked up at the "really exciting idea."
"I think there's so many reasons why it would be worth it. I know there are a lot of people that commute down to Boston for work every day from New Hampshire – that's going to cut traffic big time," says Laurenza. "But also for people – like game developers in Boston – to have the opportunity to come north to New Hampshire and see what we have going on here, where most of them don't have cars, is huge."
Another investment is building fiber-optic networks, which Verizon has built in Massachusetts.
"Game developers love fiber optic networks and Manchester doesn't have any," says Laurenza. "If we get bigger, then we might be more worried about having access to reliable, affordable Internet. We're hoping someone hears the pleas of the New Hampshire tech scene because that's something we've all been really pushing for."
Access to capital
Manchester's proximity to Boston is a major selling point to tech ventures. Reisch, for instance, said Eversound wanted to be closer to Boston, to seek capital.
"In my opinion, there is improved activity in Manchester and in New Hampshire around startups," says Kaplan. "By improved, I mean that founders are getting more support, getting more visibility, and some of them are finding more success raising money."
But not all of them are.
"In the next year, you will see us focusing more attention on the access to capital issue," says Liz Gray, director of the Live Free and Start advisory committee. The first step is the educational Angel Investing in the Granite State Conference, which will be held Tuesday, Nov. 17, at UNH Manchester. There are already 150 attendees signed up who are active or prospective investors.
Gray says many Granite Staters think first of giving to philanthropy, but, says Gray, "there are other ways you can invest that will provide returns."
Workforce development
Tech startups, if they grow to maturity, spur more startups.
Matt Cookson, executive director of the NH High Tech Council, points to maturing companies like Dyn that encourage employees to start their own companies, like former chief technology officer Cory von Wallenstein, who is now CEO of mobile loyalty experience app Adored.
Likewise, Laurenza says the cycle of video game companies – scaling quickly, employing workers for three years before shrinking back after a video game hits – spurs new companies as former employees remain in the city and start all over again, building the talent pool.
Andrew Harthcock tests out the VIVE virtual reality headset from HTC at Game Assembly, the video game incubator located near the Bridge Street Café.
Sensors on the headset and hand controllers correlates with two devices mounted on the wall, giving the player the visual that he or she is moving around in a kitchen, selecting ingredients for meals.
Cookson actually thinks the state has done too good of a job encouraging employers to move to New Hampshire, and there needs to be more work to attract young, high-skilled workers.
"The ratio of jobs being advertised versus jobs being filled was relatively stable until January of this year," says Cookson. "And then we saw the number of jobs being advertised significantly outstripped the jobs being filled by a 2-1 ratio."
The data is statewide, but Manchester, Nashua and Portsmouth cover 81 percent of the area where tech jobs are located in the state, says Cookson.
Jobs that are high in demand are software developers and applications, computer systems analysts, Web developers and systems software engineers.
"We need to have very clear data from our employment sector for not only what are those jobs but what are those skills and what do they predict them to be in the next five to seven years," says Cookson.
Over the next six months, the Tech Council will be looking for grant funds to enable it to develop a solid trajectory of the tech field in New Hampshire.
Cookson discussed forming a steering committee or advisory group, which will include the Greater Manchester Chamber of Commerce, Alpha Loft, the University System of New Hampshire and other stakeholders to ensure work is being aligned with the state Department of Resources and Economic Development.
Already, the tech sector is talking to higher education institutions about expanding computer science programs, and the advanced manufacturing sector is in need of skills that can be addressed at the community college level, says Cookson.
"We really are a tech-savvy state already," says Cookson. "On a per capita basis, we're 33 percent above the national average in tech workers here. And it's my strong feeling we need to do a better job promoting ourselves as a tech state."