Manchester firm connects at the Hannover Messe
State makes first foray to international tech fair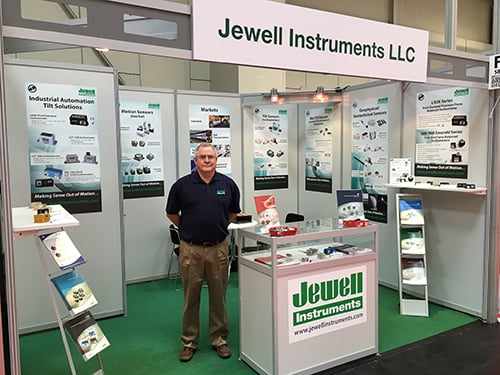 The timing of the state of New Hampshire's first trip to the global industrial technology trade fair Hannover Messe was impeccable for Manchester-based Jewell Instruments.
The event was held April 25-29 in Hannover, Germany, but nearly two months earlier, Jewell Instruments had received European electrotechnical standardization certification for its MEMS Accelerometer, a micro machine technology that measures acceleration and deceleration in metro trains. Spending the last year and a half developing the new product, Jewell was eager to promote it, especially at a trade show geared toward the industrial automation marketplace, Brian Ward, the firm's director of business development, told NH Business Review.
"Jewell Instruments wanted to get a chance for some European market exposure, and it was great because the [NH Office of International Commerce] helped us with some of the trade show cost in order to be able to participate in this exhibition," said Ward. "The MEMS technology has been around a while, but for us to come out with a new product with this technology is new for Jewell. It's an industrial designed unit that has multiple options, with single, dual and triple axis models available as well as PTC heater option capability."
In the accelerometer, the MEMS (which stands for microelectromechanical system) sensor is manufactured into an integrated circuit package. It is then assembled onto a printed circuit board.
"We take this IC MEMS package and assemble it onto our PC board with our proprietary electronics and circuits, we then calibrate and test the final assembly in order to make the accelerometer sensor a more precise instrument [that measures acceleration and deceleration]," said Ward.
The equipment is used in aircraft testing and OEM flight recorder applications in the aerospace industry, wind turbine vibration monitoring on turbine shafts in the energy industry and in the rail transportation industry.
"If you could imagine an inner-city metro train, it accelerates and decelerates for each stop, that utilizes our accelerometer. They call it an automated train control system," said Ward.
Export support
Ward said he had several meetings throughout the week at Hannover Messe, often touching base with established representatives with whom Jewell is already conducting business, but also meeting face-to-face with new distributors and sales reps from countries Jewell has not conducted business with, such as Israel.
Connecting in person is key, since selling to the rail transportation marketplace is not a quick process, he said, taking from nine to 12 months, and often 24 months for military orders.
"Most of our inquiries were outside of Europe, in China and India," he said. "When we get an inquiry, it's someone who's really interested in our product."
While Jewell had set up some of its own meetings, the Office of International Commerce, or OIC, under the state Department of Resources and Economic Development, helped introduce them to potential new customers.
Economic Development Director Carmen Lorentz and Tina Kasim, program manager for the Office of International Commerce, represent New Hampshire at the show. The U.S. was the highlighted trade partner this year.
"Very organized, the way they had their meetings with us," said Ward. "They had the itinerary up way in advance."
The U.S. Commercial Service, under the U.S. Department of Commerce, was also present, arranging meetings for other firms.
"If you're a new company trying to break into Europe, they can be very helpful to get a third party sales channel developed and a whole bunch of things," Ward said of the federal Gold Key Matching Service.
Tina Kasim, program manager of the OIC, said "we're constantly reaching out" to businesses to gauge interest in trade shows. "Often it comes down to timing and what they have going on, if this fits into their business plans."
Kasim said the trip to Hannover Messe was an attempt to "test the waters" in terms of promoting New Hampshire as a foreign trade destination at the enormous trade show. Traditionally the office has attended smaller, industry-specific shows. At this year's Hannover Messe, the U.S. was the highlighted trade partner, and had a big presence, with additional officials from the U.S. Department of Commerce assisting businesses in matchmaking, and a meeting between President Barack Obama and German Chancellor Angela Merkel.
Kasim said there are multiple industries and areas of the world where New Hampshire businesses can grow their sales.
"Each sector is a little different in terms of where there are more opportunities," said Kasim. "For example, if you're talking safety and security, look at the Middle East and Africa."
"When New Hampshire companies first started to get into exporting, we could look at this market as upcoming, [but] New Hampshire companies are so diverse now. It's hard to put a finger on a single market that would appeal to such an array of companies," she said.
New markets
A couple of years ago, the OIC, the Granite State District Export Council and U.S. Commercial Service came together to create a fund to help cover the cost of customized market research for New Hampshire companies. Currently, the OIC is partnering with The Provident Bank to provide a total of $25,000 for market research.
"It's encouraging companies to look at new markets with no cost to them," said Kasim.
For instance, if a New Hampshire business receives an inquiry from a distributor in Australia, by giving Kasim a call she can set up the Commercial Service to reach out to colleagues in Australia to build an international company profile to ensure the distributor is legitimate, reputable and in the appropriate market.
Over the past year, 24 New Hampshire companies utilized $25,000 and went into 21 markets, including Singapore, Peru, Ghana, Nigeria, Germany and Brazil.
Most of the funding, $20,000, comes from the State Trade and Export Promotion grant, also referred to as STEP.
New Hampshire has received four awards in four STEP grant cycles, which is not the case for many states, noted Kasim.
She said U.S. Sen. Jeanne Shaheen is "a big driver of STEP," said Kasim, and successfully pushed for Congress to reauthorize the program to 2020.
STEP funding assists not only with market research, but also helping trim the costs of attending trade shows, including booth space and marketing materials.
Free resources
Companies that have been exporting for a while know what markets they're interested in researching and entering, but Kasim suggests businesses new to exporting look to Canada and Mexico first, where business styles and methods are similar to the U.S.
"Those new to exports would be those who have a product that they have successfully sold domestically and are ready to go internationally" and are starting to get inquiries, said Kasim. "They've got the commitment of the leaders and decision-makers of the company to start looking at new markets."
In addition, businesses early on will often work with the Small Business Development Center.
"It requires patience and acquiring the knowledge through these free resources that are out there in New Hampshire," said Seth Goodall, New England regional administrator of the U.S. Small Business Administration.
The OIC is currently offering free webinars about export controls and compliance, export credit insurance and financing, and other aspects of exporting and subcontracting, said Kasim.
As noted in a April 2015 report by Deloitte Consulting, small and medium-sized businesses in New England have the opportunity to develop a manufacturing revolution in the region, producing precision tools for prototypes and a supply chain for prime contractors, but companies need to be knowledgeable about export controls and compliance in order to seriously attract companies like BAE Systems, said Kasim.
One of the first questions a prime contractor will ask is if a small- or medium-sized business is financially sound, reliable and aware of export compliance, said Kasim. "Getting an understanding and grasp on that is worth the investment."
Liisa Rajala can be reached at lrajala@nhbr.com.