Manchester Connects invigorated by $19k grant
Recently announced steering committee, initiatives direct organization's mission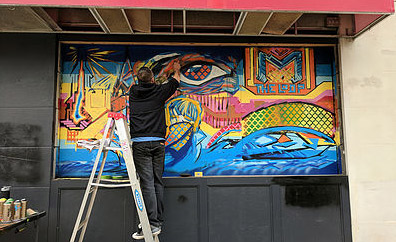 Manchester Connects, the non-partisan, grassroots community action group focused on beautifying the City of Manchester, has been granted $19,660 from the AARP Community Challenge grant program.
Manchester Connects is the only New Hampshire grantee this year. Their winning grant proposal seeks to create a riverside gathering space in Manchester's Arms Park through installation of tables, planters and more – thereby connecting the area to walkable and bikeable pathways.
"AARP is excited to provide funding to Manchester Connects to help them jumpstart progress on this exciting project," said AARP New Hampshire State Director Todd Fahey, in a press release. "This grant will help them continue their important work on building a livable community for people of all ages by providing funding for key improvements to Manchester's iconic Arms Park and the innovative vision of Manchester Connects."
"Receiving a grant from a national organization such as AARP is a great form of validation for Manchester Connects," said the organization's Co-Chair Sarah Jacobs. "We have ambitious goals as we strive to make Manchester a more vital community, and this is a grand step on that path."
Manchester Connects also recently formed its steering committee, which includes co-chairs Sarah Jacobs and Harry Malone. Real estate development attorney Nicholas Lazos will oversee legal and regulatory issues; state Representative Patrick Long and Economic Development Specialist Chris Wellington will handle resource identification and coordination; and marketing specialist Marlana Trombley and longtime Union Leader columnist John Clayton from the Manchester Historic Association will focus on branding and communications.
The organization has also selected individuals to head up four initiatives outlined in a detailed report prepared by Civic Moxie. US FIRST executive Dia Stolnitz and City Parks Planner Chris Sullivan will direct the creative place-making effort; Derek Shooster, a regional and city planner with the Southern New Hampshire Planning Commission will chair the parking solutions committee; Matthew Low, director of engineering operations for Hoyle, Tanner & Associates, Inc., will co-chair the pedestrian bridge effort along with Lauren Collins-Cline, director of communications and public relations at Catholic Medical Center; and Anne Ketterer, a senior architect with Lavallee Brensinger Architects, will co-chair the Riverwalk Expansion committee with Steve Hebsch, a project designer at Lavallee Brensinger.
"We were so pleased by the caliber of individuals who want to be active partners in this on-going venture," said Jacobs and Malone, "as well as by the wide range of skills they represent as we strive to make Manchester even more vital than it is today."