Manchester Community Music School's Billie Tooley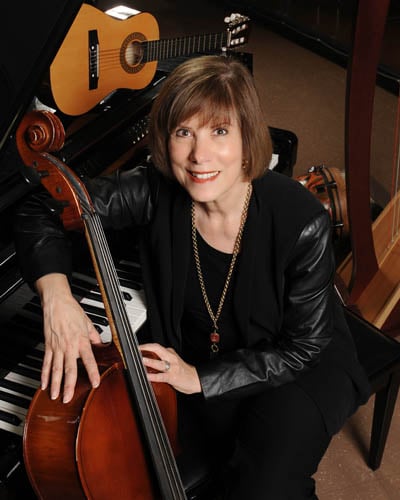 For the last few months, Billie Tooley, the new CEO of the Manchester Community Music School, has been a student herself, learning the tricks of her new trade.
With a background in marketing and public relations after managing her own firm, Tooley has worked with various nonprofit organizations throughout the state, including the American Red Cross, Strawbery Banke and the New Hampshire Art Association. She says that she has been using all the skills she's gained as a solid foundation for her new career.
The school, which serves an average of 1,300 students a year, provides them with private and group lessons for a variety of instruments and voice, as well as music therapy sessions. Students of all ages attend the classes, from six months old to the ripe young age of 80 or 90.
Students who attend aren't just limited to New Hampshire. In fact, they come from around New England to take classes at the Community Music School.
Though important for teaching classical music, Tooley says that the skills gained by learning to become a musician or singer can be used in any career or life path, making the school a vital part of the community.
Q. How have you found working at the school so far?
A. I started here June 1. I kind of really spent the summer learning all things MCMS and getting to know every facet of it as I could. It's brimming with so much going for it. With the faculty, the staff, it couldn't be better. It's going to be a solid year before I can say, "Yes, I got it."
Q. What made you want to work at the Manchester Community Music School?
A. I have an arts background, no doubt about that, but I grew up with music. Both my parents were opera singers, and my husband studied classical guitar. I understand music, I love music, and I think that was enough.
I don't think I had to know anything more than that to be an advocate for it. I think, for me, knowing the arts as I do, I have an understanding of how incredibly important it is to a student's entire education. It really rounds them out and gives them skill sets that they will use the rest of their lives.
Q. What do you think students get out of their experience at the school, and how do they use that in their life after MCMS?
A. I recently read an article about people in the corporate world, and they were all talking about how they thought arts played an important part in education. They are bringing in employees who have had that education. When you read that kind of information, it just says, "Yes, we are on the right track, we are doing the right thing."
Q. What do you think makes the school special?
A. It's sort of like a hidden gem in the community. It's been around since 1983 and educated more than 50,000 students. It has really heightened the awareness of the school on a more regional basis, people know what we are and what we do.
In the future, we're going to be expanding our music therapy and Suzuki programs. We'll also work on staying in touch with what's going on the community and helping out.
We do a lot of work now in our community outreach program, working with schools and social services. We're really stressing the point of how music education is important to entire education.