Making training mobile
Retrieve Technologies' platform wins fans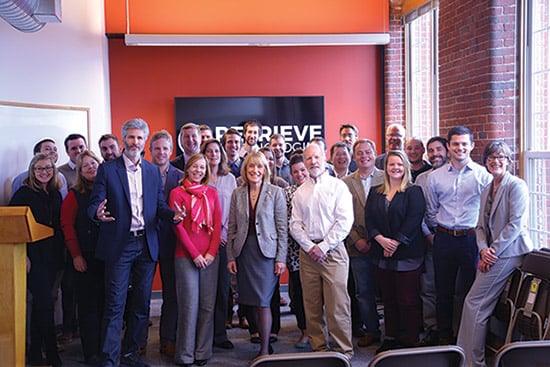 In 2016, businesses want to communicate via video and mobile, beyond just engaging customers on social media. They want to change the way they communicate with their employees, suppliers and partners, and that's where Manchester-based Retrieve Technologies sees itself playing a key part.
With customers like the U.S. Department of Agriculture, U.S. Air Force and locally based Autodesk, Retrieve is providing businesses with a professional platform to distribute training videos and send videos in real time.
"You think of all the benefits of YouTube as a consumer, and there's a lot. It's a great imagery platform for broad volume use, but it's not very good for a company or business use," says Jude McColgan, Retrieve's president.
One problem is that distribution cannot be controlled, since YouTube is a public format. The other is that subject matter in a video is not easily searchable to find the exact content you need.
Making video content searchable is something founder and CEO Dave Arnold considered several years ago, but "we were kind of waiting for technology to catch up.
Everybody had to have a device, the cloud needed to exist, [and] the ability to have access to this anywhere at anytime."
Arnold is the founder of Softdesk, a New Hampshire-based architecture engineering and construction software company that he sold to Autodesk in the late 1990s. Last summer, Retrieve received funding, and Arnold and his team started building out the company.
Voice technology
Utilizing Dragon voice software from Nuance Communications, Retrieve creates a text file from the video, time-stamping each word. It then creates a table of contents that brings viewers to certain sections of the video, but also allows viewers to search the video and find the point they're looking for.
The voice technology is similar to that used on your smartphone, but McColgan says Retrieve improves on the process by training the person in the video to enunciate properly, what they call voice modeling, which increases word recognition. Retrieve also has an employee overlook the text file to correct spelling variances.
Once the video and text file are uploaded into the cloud, a business or government can distribute it via their internal network to a desktop computer or through a mobile app.
"We found most people can't accomplish a task — not because they weren't trained — but it's a day, a week, a month later, and they forgot one piece, one step of it, and that's what they need to accomplish the task," says Arnold. That's what makes searchable videos critical.
Microlearning
The U.S. Department of Agriculture saw the advantage of searchable training videos, he says.
The agency, says Arnold "had 1,500 people in 30 offices that needed to be trained on a product. Live-classroom instruction would have taken three weeks to do. The cost to teach all of those people with a live instructor was excessive. It was not only the cost; it was the time it would take to send an instructor to 30 offices. So what they did is use our technology to have the instructor teach the camera, now we've reproduced that instructor, put it into our system and we're able to have apps for everyday training distributed to those 1,500 people."
That includes training videos on state and federal regulations compliance, sharing the latest information on drugs for those in the health care industry, point of sale training and help desk support.
McColgan says he's seen a shift in businesses moving away from daylong training events to microlearning, providing shorter units of video content (some interactive) that employees can refer back to on their mobile device.
That includes certificate training, such as for commercial insurance agents, who can then refer back to a class on their mobile device to find the answer to a client's question.
In the food and retail industry, where there is high turnover among teenage workers, the videos can be accessible references.
"What we find is that businesses want to be innovating faster on mobile," says McColgan. "If you're a manufacturing company, and you've got a 100 people working across 15 different machines, you can use a QR code that an individual person can scan to get the relevant information on that particular machinery really quickly."
Cross-the-border talent
The same can work for consumers. Instead of calling a 1-800 number or chatting online with a customer service representative, customers could use their mobile device to scan a QR code on their new TV (telling the company which make and model the customer owns) and communicate via video to learn they have the wrong jack and which one to purchase.
Retrieve thinks sending video communication through their mobile app will help resolve these situations faster and more efficiently for both the customer and manufacturer.
For instance, the manufacturer can build a video catalog of frequently asked questions to send to applicable situations. There will also be audio and text options through the app, since video is not always the preferred method.
Retrieve is currently working with a national gun manufacturer and talking to an international office printer manufacturer about this technology, the company said.
Businesses unfamiliar with video production can work with Retrieve at their studio, but McColgan compares the learning experience to how businesses needed help first creating a website. Once they are shown the ropes, they can produce the videos on their own.
The concept is definitely not foreign to Retrieve's young employees. The company has grown from eight people to 38.
"They've submitted YouTube videos their whole life. It's like second nature to them," says Arnold. "What we're finding is a lot of talent is coming from across the border, from Massachusetts. They've lived there because they couldn't find a challenging enough job, but they'd rather live here. Now that's not everyone, but it's enough people where we're not having a problem finding very talented people."