Maintaining its focus helps Hudson lens manufacturer thrive
Computer Optics is one of the few optics companies in the country that does it all, from design stage to completion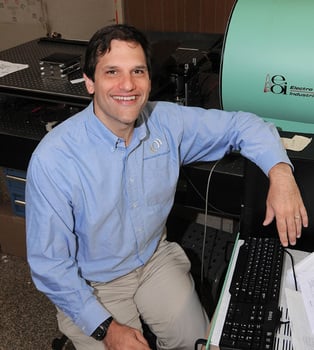 Some of the optical technologies designed and manufactured at New Hampshire-based Computer Optics Inc. are literally out of this world, having rocketed into the atmosphere aboard the Hubble Space Telescope and other spacecraft.
The company's optical lenses have also been critical components in devices that help American combat soldiers to spot and avoid improvised explosive devices. They've been in cameras filming Hollywood blockbusters, and props in the movies themselves.
It's a broad reach for the small manufacturing business that has occupied the same nondescript facility in Hudson for decades.
Computer Optics Inc. was founded in 1985 by Gordon Kane, who bought the Hudson factory from his former employer, Angenieux — a France-based lens manufacturer — after it went bankrupt. In those early years, Computer Optics focused primarily on manufacturing lenses for commercial markets, like film and machine vision.
Twenty-six years later, the company has expanded its offerings and carved itself a niche of custom-manufacturing high-end, precision optics for a huge number of applications in a wide range of industries. It's completed more than 7,000 projects for such customers as BAE Systems, Raytheon, Lockheed Martin, NASA, along with countless smaller companies.
While plenty of companies offer machining, coating or polishing, Computer Optics is one of the few optics companies in the country that does it all, from design stage to completion.
"We do all the manufacturing here on-site, and that's our little niche," said Dr. Jonathan Kane, the founder's son and company president. He came on board in 1996, just as the market for machine vision projects was shrinking, but demand for infrared technology for use in night-vision cameras was rising.
Responding quickly to this market shift helped Computer Optics win lucrative defense contracts and established it firmly in the high-end market, said Kane. All of the firm's competitors from that period — unable to keep up with the rapidly changing market tide — went out of business, he said.
"You have to stay nimble," said Kane. "I believe the reason we're still around is that we are extremely flexible."
Because the company is small — it employs about 20 workers, including engineers and machinists — it doesn't have huge overhead and can adapt quickly to customers' needs, often working on extremely tight deadlines.
'An early adopter'
On top of its custom manufacturing business, the company also designs and markets its own products through irZoom.com, its commercial division, which sells infrared zoom lenses direct to customers around the globe.
Launching that consumer site in 2002 was a huge gamble for the company, since the lenses cost thousands of dollars to produce, and there was no way to measure consumer demand. To Kane's knowledge, no other company in the world sold commercial zoom lenses off the shelf at the time.
"To spend $100,000 for products to potentially sit on a shelf and have nobody to buy them — that's very frightening for businesses," said Kane. "Had it failed, we would have lost the company."
But demand was there, and "that allowed us to be an early adopter and early winner," he said. Now, with 12 products in stock, IRZoom sells to everyone from forestry professionals and ornithologists to police departments and news organizations, which use the infrared products for traffic reports.
With ever-increasing global competition honing in on the zoom lens market, Computer Optics is working to become more of a global company itself. Since beginning to export last year, it's already sold to customers in Belgium, Switzerland and France and will likely soon break into the markets in England and India.
Seeking international customers is a good strategy for the company, said Mike Gonzales, Citizens Bank's relationship manager for Computer Optics. "The opportunity for them to grow is in the global market, and they're certainly well positioned to do that," he said.
The company is also working on ramping up its bread and butter, which is and will remain custom work in the United States. Current projects include developing technology for boroscopes — medical devices that look inside the body — telescopes, and 360-degree vision systems, similar to those that Google uses for Street View.
One of the company's biggest challenges is global competition, but Kane is not ready to throw in the towel on American manufacturing — something his company has done for 26 years.
"We think that ultimately, the U.S. has to get back in the business of making things," said Kane. "The reason I'm still doing it is that I believe that companies such as mine can succeed."