Macy Industries launches Pilot Innovations as advanced composites spinoff
LAL-18 retractable ladder first of carbon fiber product line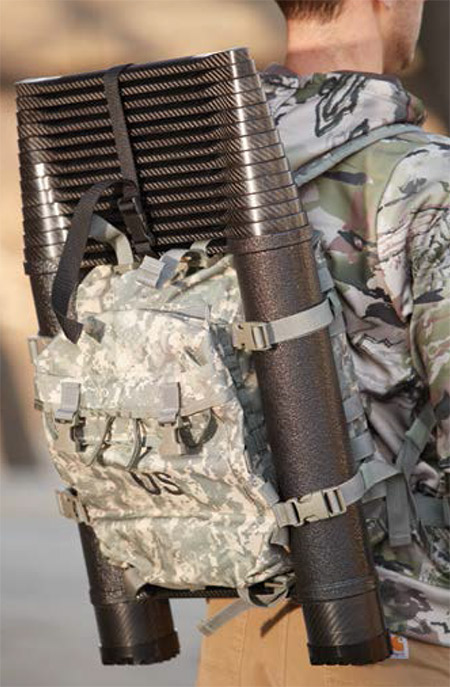 Macy Industries – a second generation-owned metal fabricator in Hooksett – announced this month it has launched Pilot Innovations, a high-tech spinoff focused on advanced composites manufacturing.
The spinoff results from innovative work Macy conducted after being approached by the U.S. government in 2010 to create a durable ladder with certain height and weight requirements to be used by Special Forces operators.
A competitor had attempted to build a titanium version, which was far too heavy to be strapped to an operator's back; the government was unsure of what material to use.
Founded by Marcel Mercier in 1975, Macy's background was in metals, but CEO Nick Mercier and Macy's engineering team decided to innovate using carbon fiber and hiring a subcontractor.
By 2016, the LAL-18 – a light weight, retractable carbon fiber ladder – was approved and sold in two dozen units to the U.S. Special Forces. Not only that, but Macy developed its own patented process of wrapping carbon fiber, eliminating the need to cut, which undermines the strength of the material.
"We have maximized the strength to weight ratio of carbon fiber so as to take on complicated geometric shapes," says Quigley.
The 18-foot ladder weighs 25 pounds, but can withhold the strength of 1,000 pounds.
With the addition of another building down the street, Macy is bringing its advanced composites manufacturing in-house, with the expectation of hiring 15 to 25 highly skilled workers in the continued support, engineering and manufacturing of carbon fiber products.
"When the U.S. government has given you the indication that they are going to purchase well over $5 million of this single product, and 'by the way, we're now going to look to you for more carbon fiber development,' we [decided to] create Pilot Innovations," says Martin Quigley, business manager at Macy Industries and director of business development for Pilot Innovations.
Pilot Innovations falls in line with Macy founder Marcel Mercier's niche as a solutionist for corporations including GE Aviation, Saint Gobain, Elliot Hospital and even the City of Boston, says Quigley.
"Under this roof, there isn't just the metal fabrication group, you have the engineering group, you have a facility services group – because over the years, Macy came to be relied on for its technicians, not just its products, but 'can you get us an electrician, we want to borrow your guys.' Half of the employees at Macy Industries don't report to work at Macy Industries, they're out in the field, they're at GE Aviation as one half of their maintenance department."
Macy will be presenting the LAL-18 and its ability to do rapid prototyping and serial production of advanced composites at the Special Operations Forces Industry Conference in Tampa in mid-May.
In addition to working with the U.S. government, Quigley expects increased sales from private military companies and friendly foreign governments, such as Israel, Norway and Australia.