Lockheed Martin, Sen. Hassan highlight F-35's impact in the Granite State
Approximately 55 suppliers and over 900 direct jobs supported by defense program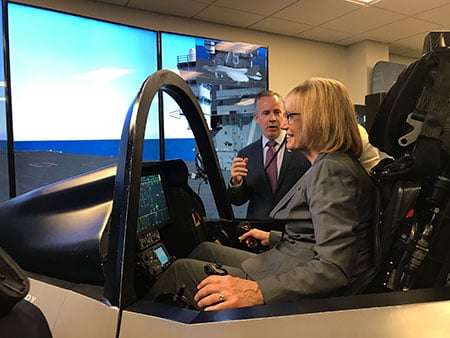 Sen. Maggie Hassan and representatives from Lockheed Martin arrived at Gentex Corporation's Manchester office on Thursday morning to highlight the National Defense Authorization Act of 2018's impact on New Hampshire, particularly regarding the manufacturing of the military's greatest fighter plane yet, the F-35 Joint Strike Fighter.
Nationally, the F-35 program supports 1,400 suppliers working with government contractors Lockheed Martin, Northrop Grumman, BAE Systems and aerospace engine manufacturer Pratt & Whitney, directly employing 45,000 Americans and generating $25 billion in economic impact.
In New Hampshire, the F-35 program supports 55 suppliers – 35 of which are small businesses – and over 900 direct jobs, much of them located at BAE Systems in Nashua. The F-35 program generates over $481 million in economic impact in the state.
Gentex served as a unique manufacturer to highlight, demonstrating the breadth of technology and components that comprise the F-35. The Manchester location, which has over 80 employees, manufactures the helmet active noise reduction system platform for F-35 aircrew and digital active noise reduction triple hearing protection system for aircraft maintainers that block out engine noise, allowing for clear communication.
Robert McCay, vice president of aircrew systems at Gentex, told NH Business Review the F-35 is the noisiest jet yet, reaching 140 decibels, making legacy headsets ineffective. Gentex started manufacturing the new headsets and expanded noise reduction capabilities six years ago.
"To meet the goals of the program, Gentex, using human factors engineering, is delivering a helmet system platform that is modular and scalable so air crew can easily and cost effectively add current and future capabilities without compromising the industry leading protection our helmet provides," McCay, told the crowd.
"This airplane compared to the fourth generation airplane that it's replacing, is a lot like it was with a flip phone versus a smart phone today," said Robert Rubino, deputy director of the F-35 program at Lockheed Martin, to the crowd. "The amount of information that it gathers, with its advance sensors and advance avionics, when it gets airborne, is phenomenal. It provides a complete awareness to the pilot of what's going around he or she in the battle space area, but it also has the ability to take that information and translate it to ships on the sea, ground troops, other aircraft, and it makes everybody more aware and more capable. It's truly a force multiplier."
Serving as a reminder of the importance of defense technology in the 21st century, Rubino told the crowd, "The next war is going to be won by who has the most information."
The F-35 has the ability to go into heavily defended areas and not be seen on radar, providing access "that fourth generation airplanes, the F-16s, F-18s can't do today," said Rubino.
Furthermore, the plane can carry 22,000 pounds of weapons.
Rubino said there are currently over 240 F-35s today on 12 bases in the U.S. and abroad, with seven international partners flying F-35s. The U.S. Airforce and Marines are currently flying F-35s, with the Navy expected to go operational in the next year or so, said Rubino.
This year, 66 F-35s are expected to be completed, but that production will ramp up to 90 next year and over 150 planes in 2020.
"That is a key component to affordability on this airplane, as we go up in rate, we get the airplane to what we believe, and we've committed to the U.S. government, to an $80 or $85 million-dollar airplane. That is the same cost you can buy a fourth-gen airplane today but you still get tremendous capability the fifth generation provides," said Rubino. (During sequestration in 2013, Congress debated the value of the F-35, due to its high cost.)
Sen. Hassan called Gentex "the kind of innovative business that is creating really good jobs here in New Hampshire and moving our economy forward while also creating innovative products and technology that are critical for our national defense."
Speaking to Gentex's employees, Hassan told them "You're helping to ensure America maintains air superiority over our adversaries. You're helping to send a strong message of deterrence to any nation who seeks to do us harm, and you're giving our war fighters the full powers of the most sophisticated aircraft the world has ever seen."
When asked afterward by NH Business Review about the climate on Capitol Hill regarding defense expenditures at a time when budget cuts in other areas are being discussed, Sen. Hassan stressed there was bipartisan support.
"I think there is strong bipartisan support not only for our military but making sure the United States of America maintains its leadership in the international community, and right now that requires considerable military strength," said Sen. Hassan. "There's also bipartisan support for making sure we're spending taxpayer dollars efficiently and investing in technology that will serve us well into the future, and that's one of the reasons why the F-35 and the scaling up of production of the F-35 enable us to use those resources as efficiently as possible."