List of Marketing Services
Marketing companies in New Hampshire that offer services like branding, SEO optimization, social media and more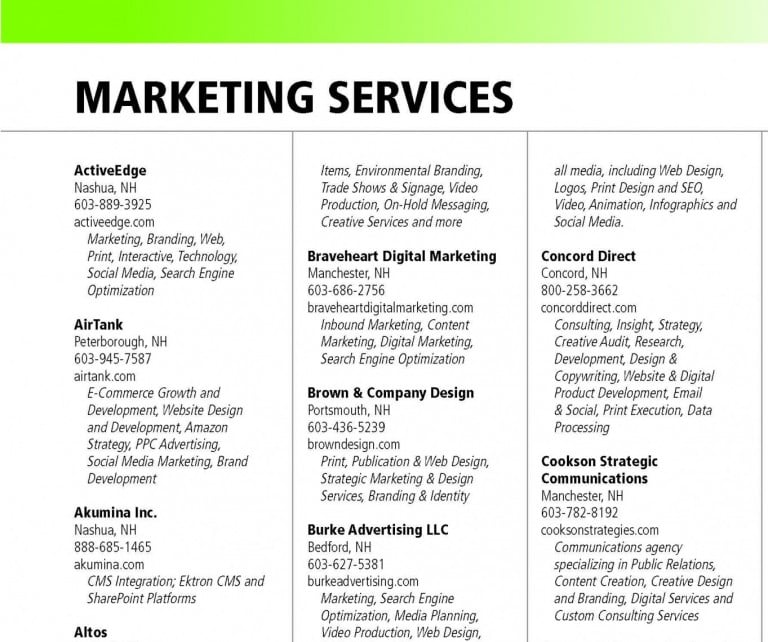 ActiveEdge
3 Pitford Way
Nashua, NH 03063
603-889-3925
activeedge.com
info@activeedge.com
Deepak Gursahaney
Marketing, Branding, Web, Print, Interactive, Technology, Social Media, Search Engine Optimization
AirTank
45 Main Street, Suite 316
Peterborough, NH 03458
603-945-7587
airtank.com
info@airtank.com
Patrice Hampson
E-Commerce Growth and Development, Website Design and Development, Amazon Strategy, PPC Advertising, Social Media Marketing, Brand Development
Akumina Inc.
30 Temple Street, Suite 401
Nashua, NH 03060
888-685-1465
akumina.com
info@akumina.com
Edward Rogers
CMS Integration; Ektron CMS and SharePoint Platforms
Altos
15 Constitution Drive, Suite 1A
Bedford, NH 03110
603-945-4175
altosagency.com
connect@altosagency.com
Kathy Sevigny
Digital Marketing, Website Design & Development, Search Engine Optimization, Social Media
Strategy, Email Marketing
Big Hit Media LLC
644 Franklin Pierce Highway
Barrington, NH 03825
603-834-6300
603-994-0366
bighitmedia.com
info@bighitmedia.com
Scot D. Villeneuve
Full-Service Digital Marketing, Branding and Website Development, Print Advertising
Boldwerks
871 Islington Street, L5
Portsmouth, NH 03801
603-436-2065
boldwerks.com
info@boldwerks.com
Matthias Roberge
Web Development, Branding, Marketing, Copywriting, Content Creation, Advertising, Social Media
and Public Relations
Böwst
3 Market Square
Portsmouth, NH 03801
603-766-8600
bowst.com
info@bowst.com
Adam Vicinus
Mobile App Development, Website Development, and Design Experience and Expertise with Drupal Content Strategy
Brandit Marketing Solutions
15 Zapora Drive
Hooksett, NH 03106
603-645-2500
branditms.com
info@branditms.com
Scott Chalifour
Web Development & Digital Marketing, Online Stores, Corporate Apparel, Promo Items, Environmental Branding, Trade Shows & Signage, Video Production, On-Hold Messaging, Creative Services and more
Braveheart Digital Marketing
66 Hanover Street, Suite 200
Manchester, NH 03101
603-686-2756
braveheartdigitalmarketing.com
tammi@braveheartdigitalmarketing.com
David Wilson, Tamara Wilson
Inbound Marketing, Content Marketing, Digital Marketing, Search Engine Optimization
Brown & Company Design
801 Islington Street, Suite 35
Portsmouth, NH 03801
603-436-5239
browndesign.com
info@browndesign.com
Mary Jo Brown
Print, Publication & Web Design, Strategic Marketing & Design Services, Branding & Identity
Burke Advertising LLC
9 Cedarwood Drive, Suite 11
Bedford, NH 03110
603-627-5381
burkeadvertising.com
hello@burkeadvertising.com
Chris Cooper
Marketing, Search Engine Optimization, Media Planning, Video Production, Web Design, Digital Advertising
Call Design
8 Little John Court
Merrimack, NH 03054
603-429-2701
603-429-3769
calldesign.net
mike@calldesign.net
Mike Call
Branding Strategy, Website Design, Print Design, Logo Design, HTML Email Design, Trade Show/Event Support, Copywriting and Content Development, Photography and Video Production
Cantin Design Inc.
34 Cabernet Drive #4
Concord, NH 03303
603-724-9204
cantindesign.com
paul@cantindesign.com
Paul Cantin
Creative Design & Marketing Firm: Brand Strategies, Logo Design & Corporate Identity, Advertising,
Marketing, Print Services & Direct Mail, Publications, Elements of Web Design, Trade Show Graphics
Cline Design, LLC
42 Shaw Hill Road
Andover, NH 03216
603-648-2110
clinedesign.com
lorraine@clinedesign.com
Lorraine C. Cline
Inbound Marketing, Content Marketing, Web Creation, Social Media, Branding and Graphic
Design Services for Construction Industry
Clover Creative Group LLC
234 Camp Road
Plainfield, NH 03781
603-677-7032
clovercreativegroup.com
shawn@clovercreativegroup.com
Shawn R. Dixon
Digital Branding Specialists, Custom Solutions for Websites & Marketing. Design services for
all media, including Web Design, Logos, Print Design and SEO, Video, Animation, Infographics and
Social Media.
Concord Direct
92 Old Turnpike Road
Concord, NH 03301
800-258-3662
concorddirect.com
sales@concorddirect.com
Tom Cook
Consulting, Insight, Strategy, Creative Audit, Research, Development, Design & Copywriting, Website & Digital Product Development, Email & Social, Print Execution, Data Processing
Cookson Strategic Communications
36 Lowell Street, 2nd Floor
Manchester, NH 03101
603-782-8192
cooksonstrategies.com
matt@cooksonstrategies.com
Matt Cookson
Communications agency specializing in Public Relations, Content Creation, Creative Design
and Branding, Digital Services and Custom Consulting Services
Corporate Communications, Inc.
65 Seavey Street, PO Box 854
North Conway Village, NH 03860
603-356-7011
corporatecommunication.net
corpcommkb@yahoo.com
Kimberly Beals
Full-Service Advertising, Marketing and Public Relations Company. Publisher of Tourist Maps, Guides
and Related Websites.
CPorter Designs
35 Sunset Road, PO Box 456
Fitzwilliam, NH 03447
603-585-9803
cporterdesigns.com
coni@cporterdesigns.com
Coni Porter
Identity Branding and Marketing Design, Illustration, Publication Design for Print and Web
CrystalVision, Innovative Web & eMarketing Solutions
15 Rye Street, Suite 200
Portsmouth, NH 03801
603-433-9546
cvwp.com
info@cvwp.com
Deb Brewer
Custom Application Development, Mobile Development, E-Commerce/Security, Social Media, Search
Engine Optimization, eMarketing, Hosting
Drive Brand Studio
170 Kearsarge Road, PO Box 2838
North Conway, NH 03860
603-356-3030
drivebrandstudio.com
shift@drivebrandstudio.com
Nancy Clark
Branding, Strategic Marketing, Traditional & Digital Advertising, Public Relations, Collateral, Website Design & Development, Product Design & Packaging
eDriven Marketing
72 Whittier Highway
Moultonborough, NH 03254
603-960-0454
edrivenmarketing.com
cjs@edrivenmarketing.com
Charles J. Sayegh
Full-Service Design and Marketing Agency: Drone Marketing, Music and Video Production, SEO, Website Design, Digital Consultancy
Epiphanies Inc.
50 Deer Run Lane
Gilford, NH 03249
603-524-5248
epiphaniesinc.com
allen@epiphaniesinc.com
Allen Voivod
Social Media Strategy, Digital Marketing, Content Strategy, Facebook for Business, Group Training, Speaking/Workshops
EVR Advertising
155 Dow Street, Suite 300
Manchester, NH 03101
603-932-7103
evradvertising.com
info@evradvertising.com
Jeff Eisenberg
Social Media, Brand Strategies, Content Marketing, Website Development, Hospital Marketing,
Design and Production, Traditional and Digital Media
FIREHORSE Creative, LLC
2 1/2 Beacon Street, Suite 226
Concord, NH 03301
603-225-2334
firehorsecreative.com
info@firehorsecreative.com
Stephen Smith
Responsive Website Design, Graphic Design, Web Development/Programming, Content Management Systems, Brand Development, Social Media Marketing, SEO
Flyer Communications
20 Lee Street
Nashua, NH 03064
603-494-8480
flyercommunications.com
pfflyer@flyercommunications.com
Paula Frank
Website Management: Manage, host, maintain and update WordPress websites. SEO Knowledge. Freelance Graphic Design Production Artist, PowerPoint, InDesign, Photoshop, Illustrator.
Fourae Graphic & Design Company
16 Birch Drive
Newmarket, NH 03857
603-661-8380
fourae.com
chris@fourae.com
Christian Archila
Award-winning Advertising, Marketing Communications and Graphic Design Services for Corporate, Industrial, High Technology, Real Estate, Municipal, Healthcare, Financial and Emerging Technologies
Girard Advertising
604 DW Highway, Suite 105
Merrimack, NH 03054
603-429-0100
girardadvertising.com
advertise@girardadvertising.com
Karen Girard
Strategic Marketing Planning, Media Buying, Graphic Design & Illustration, Television & Multimedia Production, Website Development, Public Relations, Social Media
Good Idea Design
18 Harding Road
Portsmouth, NH 03801
603-431-3090
goodideadesign.me
info@goodideadesign.me
Nikki Savramis
Specializing in design and marketing for restaurants, colleges and small businesses
GYK Antler
175 Canal Street
Manchester, NH 03101
603-625-5713
gykantler.com
marketing@gykantler.com
Travis York
An integrated marketing company that strategizes creative and media, including Video Production and Broadcast, Digital Design and Development, Social Media, Media Planning and Buying, Data and
Analytics
Hannaford Design
36 Hickory Lane
Bedford, NH 03110
603-472-2823
hannaforddesign@comcast.net
Joe Hannaford
Visual Communications Design
Harbour Light Strategic Marketing Inc.
3 Congress Street, Suite A
Portsmouth, NH 03801
603-427-2821
harbourlight.com
info@harbourlight.com
Ned Savoie
Full-Service Strategic Marketing, Award-Winning Web Design and Advertising Services, Brand
Marketing, Logos, Copywriting, Print Advertising, SEO
Heartwood Media Inc.
83 Hanover Street, Suite 42
Manchester, NH 03101
603-665-9191
heartwoodmedia.com
info@heartwoodmedia.com
Chris Conroy
Award-Winning, Full-Service, Video Production Company specializing in Marketing, Branding,
Development, Recruitment, Education, Training and Public Relations
Holmes Lewis Inc.
PO Box 4139
Concord, NH 03302
603-485-9672
lakesregion.org/listings/holmes-lewisinc-
advertising-and-design/
holmeslewiswj@comcast.net
Warren Journay
Tourism & Corporate Marketing/Design
i4Market LLC
680 Brent Street
Manchester, NH 03103
603-566-1727
603-218-6057
i4market.com
lboilard@i4market.com
Louri Boilard
Website Design, Online Marketing, SEO, SEM, Graphics, Full Online Solutions Hosting, Market
Research, Media Planning and Buying, Website Graphic Design and Print, Hosting Solutions,
Colocation Services, Email Marketing
Ideabenders
6 Manchester Street
Nashua, NH 03064
603-886-8448
866-286-3840
ideabenders.com
info@ideabenders.com
Casey Holt
Marketing Consulting & Brand Direction, Advertising Concepts, Copy, Design & Production in all formats, Direct Mail, Small Space Print, Outdoor & Radio, Speech Writing
Image 4
7 Perimeter Road
Manchester, NH 03103
603-644-0077
603-644-5810
image4.com
sales@image4.com
Jeffrey Baker
Trade Show & Retail Displays, Branded Environments, Display Graphics
Industrial Traffic
383 Central Avenue, Suite 232
Dover, NH 03820
603-623-8006
industrialtraffic.com
hello@industrialtraffic.com
Michael St. Laurent
Online Marketing, Branding, Design, Development, Content Strategy, Digital Marketing
Isosceles Design
1800 Elm Street, 2nd Floor
Manchester, NH 03104
603-647-1277
603-647-1380
isoscelesdesign.com
info@isoscelesdesign.com
Dan Schultz
Full-Service Graphic Design Firm specializing in Corporate Identity Systems, Print Advertising,
Newsletters, Brochures, Annual Reports, Package Design, Direct Mail and Web Design
J.C. Signs
17 Grove Street, PO Box 1085
Wolfeboro, NH 03894
603-569-5335
jcsigns.com
info@jcsigns.com
Jerome Holden
Creative, Custom Business Signage and Vehicle Lettering
Just Flow Events & Marketing
814 Elm Street, Suite 510
Manchester, NH 03101
603-301-5181
justflownh.com
info@justflownh.com
Ami D'Amelio
Marketing Campaigns, Brand Development, Corporate Communications, Website Development, Social Media Management, Graphic Design, Copywriting, Event Planning, Fundraising and everything in between.
Kent Creative
PO Box 8003
Portsmouth, NH 03802
603-742-0800
603-436-7778
kentcreativeweb.com
crystal@kentcreativeweb.com
Crystal Ward Kent
Copywriting, Print Design, Web Design, Marketing, Exhibits, Speech Writing, Video Scripts, Medical,
Environmental, Food, Nonprofits
LTD Company
169 South River Road, Suite 8
Bedford, NH 03110
603-623-7699
603-623-5987
ideasfromsparktofinish.com
info@ltdspark.com
Lorrie T. Determann
Full-Service Ad Agency, Marketing, Digital, Public Relations, Special Events, Graphic Design,
Web Design & Interactive Ad Campaigns, Social Media, Copywriting, Content Creators
The Long Group LLC
22 Greeley Street, 2 Medallion Center
Merrimack, NH 03054
603-424-5664
603-424-4153
longgrouponline.com
tomlong@longgrouponline.com
Tom Long
Financial Services, Analytics, Research, Marketing & Strategic Planning
Loud Canvas Media
383 Central Avenue, Suite 232
Dover, NH 03820
833-568-3226
loudcanvas.com
hello@loudcanvas.com
Sean Dempsey
Website Design, Support and Hosting, Search Engine Optimization, Social Media Management, Digital Marketing, Web and Mobile App Development, Branding, Video and Photography
Louis Karno & Company
31 Warren Street
Concord, NH 03301
603-224-5566
603-224-9039
lkarno.com
info@lkarno.com
Jayme Simoes
Strategic Communications, Public Relations, Social Media, Crisis Communications, News Distribution
m5 Marketing Communications
PO Box 5152
Manchester, NH 03108
m5.ca
info@m5.ca
Susan Clarke
Strategic Marketing, Advertising, Web Development, Interactive, Public Relations, Branding, Social
Marketing, Digital and Direct Marketing, Web Development, Audio/Visual Production, Event
Planning and Media Buying
MarketReach Inc.
410 Amherst Street, Unit 110
Nashua, NH 03063
603-645-1300
603-579-4760
mreach.com
inquiry@mreach.com
Greg Hooven, Rod Griffith
As one of the leading B2B marketing firms in the nation, we create essential marketing programs, campaigns and tools for technology companies.
Matter Communications
20 Ladd Street, Suite 200
Portsmouth, NH 03801
603-431-0816
matternow.com
info@matternow.com
Scott Signore
Design Marketing, Public Relations, Graphic Design, Social Media, Crisis Communications, Website
Development, Video, Animation, Brand Identity, SEO and more
MESH Interactive Agency
540 N. Commercial Street, Suite 308
Manchester, NH 03101
603-809-4164
302-361-3807
meshagency.com
marketing@meshagency.com
Bill Schick, Jennifer Kamerman
Full-Service Interactive Marketing and Consulting Firm serving Biotech, Medtech, Healthcare,
Saas, and Hardware Companies to Increase Customer, Customer-of-Customer, Patient, and Stakeholder Engagement and Acquisition
Millennium Agency
500 N. Commercial Street, Suite 502P
Manchester, NH 03101
877-873-7445
mill.agency
lfanaras@mill.agency
Linda A. Fanaras
Millennium Agency is a nationally recognized boutique Creative Branding, Content/PR and Data Analytics firm with a passion for accelerating your business growth.
Montagne Powers
814 Elm Street, Suite 205
Manchester, NH 03101
603-644-3200
603-644-3216
montagnepowers.com
scott@montagnepowers.com
Scott Tranchemontagne
Full-service Strategic
Communications firm specializing in Public Relations, Media and Community Relations, Crisis
Communications, Social Media and Experiential Marketing
Moriah Design Agency LLC
241 State Route 2
Shelburne, NH 03581
603-466-2363
moriahdesignagency.com
dr@moriahdesignagency.com
Debbie Ryan
Tourism Publications, Graphic Design, Logos, Rack Cards and Brochures, Web Design and Production, SEO, Social Media, Web Hosting
Olive Development
1 Middle Street, Suite 220
Portsmouth, NH 03801
603-430-6287
olivedevelopment.com
info@olivedevelopment.com
Chip Pappas
Web Development, specializing in Content Management for Websites & Extranets
Pannos Marketing
57 Market Street
Manchester, NH 03101
603-625-2443
pannosmarketing.com
info@pannosmarketing.com
Jim Pannos
Strategic Marketing Partner for Financial Institutions working to deliver Branding, Custom Websites,
Content Marketing and more
Paragon Digital Marketing
34 Court Street
Keene, NH 03431
603-399-6400
paragondigital.com
info@paragondigital.com
Zach Luse
Email Marketing, Website Development, Social Media, Search Engine Optimization and Digital
Advertising, Website Analytics
Parkerhill Reality Labs
286 Parker Hill Road
Lyman, NH 03585
603-303-5529
parkerhill.com
info@parkerhill.com
Jonathan Linowes
An immersive media development company with a history of high-quality VR and AR games and non-gaming applications, educational publications and agile management practices.
PixelMEDIA LLC
75 New Hampshire Avenue, Suite 100
Portsmouth, NH 03801
603-430-2033
pixelmedia.com
sales@pixelmedia.com
Erik Dodier
Strategy, Design & Implementation Services for E-Commerce Businesses
Proforma Piper Printing
600 Laconia Road, Unit 2, Suite 4
Tilton, NH 03276
603-934-5055
603-934-6500
piperprinting.com
craig.shufelt@proforma.com
Craig Shufelt
Direct Marketing for Small Businesses & Nonprofits, 4-color Printing, Targeted Mailing Lists,
Promotional Products, Business Forms, Custom Labels, Banners, Logo Apparel, Advertising Specialties
Radar Marketing Group
46 NH-101A, PO Box 1090
Amherst, NH 03031
603-554-8765
radarmarketinggroup.com
info@radarmarketinggroup.com
William Smith III
Full-Service Creative Marketing Agency offering Strategic Marketing, Web Design and Development, Print Services
Rumbletree
216 Lafayette Road
North Hampton, NH 03862
603-433-6214
rumbletree.com
info@rumbletree.com
Jessica Kellogg
Full-Service Agency specializing in Branding, Content Strategy, Media Buying, Visual and Digital Design, UI/UX Design, Animation, Video, Recruitment Marketing
Scattergood Advertising
49 Hale True Road
Chester, NH 03036
603-553-2761
scattergoodadvertising.com
joescattergood@gmail.com
Joe Scattergood
Printing Solutions, Communications, Design, Consulting, Real Estate
Scribble Creative Group LLC
3 Executive Park Drive, Suite 290
Bedford, NH 03110
603-623-3933
nhmarketingcompany.com
greatideas@nhmarketingcompany.com
Craig Hayes
Advertising, Web Development, Package Design, Branding, Graphic Design
SilverTech Inc.
196 Bridge Street
Manchester, NH 03104
603-669-6600
silvertech.com
info@silvertech.com
Jeff McPherson
Digital Transformation, Digital Marketing and Advertising, User Experience and Design, Web
Development and Integration, Hosting and Managed Services
StoreyManseau LLC
603 Upper Straw Road
Hopkinton, NH 03229
603-856-7647
storeymanseau.com
info@storeymanseau.com
Laurie J. Storey-Manseau
Marketing and Pubic Relations Consultation and Strategy, Crisis Communications, Media Training,
Branding, Reputation Management
Sullivan Creative
181 Maple Street
PO Box 475
Bethlehem, NH 03574
6B Hills Avenue
Concord, NH 03301
603-228-0836
sullivancreative.com
team@sullivancreative.com
Pamela Sullivan
Event Marketing and Management, Tourism Development Marketing Plans, Web Design, Graphic
Design, Copy, Social Media, Video Production, Digital and Print Services, Interior and Exterior
Graphics, PR and Media Relations
Sullivan+Wolf Design LLC
163A Pleasant Street
Bristol, NH 03222
603-536-5505
sullivanandwolf.com
brian.sullivan@sullivanandwolf.com
Brian Sullivan
Website Development, Corporate Branding, Digital Marketing, SEO/SEM, Photography, Social Media,
Print Design
Susanna Fier Consulting, LLC
5 Oak Lane
Stratham, NH 03885
603-568-0383
susannafierconsulting.com
info@fierconsulting.com
Susanna Fier
Public Relations, Marketing, Website Development
Swanson Advertising
215 South Broadway, Suite 339
Salem, NH 03079
603-893-8946
swansonadv.com
info@swansonadv.com
Kim Cesati
Design & Production of Print Ads, Corporate Identities, Brochures, Catalogs, Direct Mail, Point of
Purchase, Packaging, Trade Shows, Website Design and Media Planning & Management
Ten20 Strategic Communications
109 Riverwalk Way
Manchester, NH 03101
603-566-9399
ten20nh.com
solutions@ten20nh.com
Mike DeBlasi
Marketing, Advertising, Public Relations, Branding, Strategic Campaigns, Design, Website Build, Consulting, Media Training, Video Production, Content Creation
Tidal Media Group
155 Fleet Street
Portsmouth, NH 03801
603-766-4680
603-766-4729
tidalmediagroup.com
info@tidalmediagroup.com
Ryan Roskilly
Website Design, Application Development, Website and Email Hosting, Digital Marketing, Creative Services, Technology Integration
Tiny Bully
655 Portsmouth Avenue
Greenland, NH 03840
603-430-1110
603-431-5111
tinybullyagency.com
info@tinybullyagency.com
Peter Getman
Full-Service Agency for Brand and Corporate Strategies, Media Buying, Email Marketing, Social Media, SEO, Concept Development, Packaging Design, Graphic Design, Video Production, Animation, Photography, Content Development, Copywriting, Website Design and Development
True Marketing Communications
383 Central Avenue, Suite 232
Dover, NH 03820
603-742-0488
truemarcom.com
info@truemarcom.com
Kevin Duffy
Brand Strategy & Development, Digital Marketing, Marketing Strategy, Visual Identity and Logo
Design, Website Design and Development, Social Media, Print Collateral and Promo Items
VirgoDesign
17 Grove Street
Wolfeboro, NH 03894
603-569-0078
virgodesignstudio.com
j@virgodesignstudio.com
Jeannette D'Onofrio
Over 25 years of Professional Creative Artwork for Marketing Communications, specializing in
Logo, Sign and Print Design.
WaLa! Web-Tech & Design Group
PO Box 570
Bristol, NH 03222
877-424-0821
wala-marketing.com
info@wala-marketing.com
Michael Bednaz
Custom E-Commerce Storefront Development, Custom B2B/B2C Website Development, Print/Online
Advertising & Graphic Design, Direct Mail & Email Marketing, SEO & Creative Copywriting, Packaging & Product Design, Vehicle & Billboard Graphics Design, Trade Show Exhibit Design & Show Management
Web-Kare LLP
74 Main Street, PO Box 959
Raymond, NH 03077
877-351-1769
508- 471-3126
web-kare.com
leads@web-kare.com
Mary Ann Wells, Knute Klefos
Specializing in Industrial Branding, Website Design and Development, Online Promotion, Sales Materials, Digital Asset Management, Marketing Automation
WebAction Group LLC
PO Box 245
Hudson, NH 03051
603-881-8047
webactiongroup.com
takeaction@webactiongroup.com
Steven Forkey
Search Engine Optimization, Local Search Marketing, Social Media Management & Marketing, Mobile
Websites
WebAgency — a division of Mouseclicks LLC
71 Spit Brook Road, Suite 209
Nashua, NH 03060
603-891-0304
webagency.com
info@webagency.com
Jeremy Milani
Digital Strategy, Digital Marketing, Digital Experience
wedü Inc.
20 Market Street
Manchester, NH 03101
603-647-9338
wedu.com
info@wedu.com
Sean M. Owen
Brand Promotion, Strategy, Public Relations, Creative, Experiential Marketing, Digital Marketing,
Website Design, Multimedia and Internet-Based Applications
White Birch Communications Group
29 School Street, Suite 200
Concord, NH 03301
603-228-3322
603-228-0713
dupontgroup.com
wbirch@dupontgroup.com
James Monahan
Public Relations, News Media Campaigns, Marketing and Communications Services for Businesses and Nonprofits
Windhill Design LLC
7227 Pleasant Street
Loudon, NH 03307
603-581-2675
windhill.com
info@windhill.com
Link Moser
Website Design, Search Engine Optimization, Website Hosting, Online Marketing & Promotion
Source: NHBR Survey