List of Printers and Print Services
Short- and long-run printers in New Hampshire, offering graphic design, branding, and other visual services.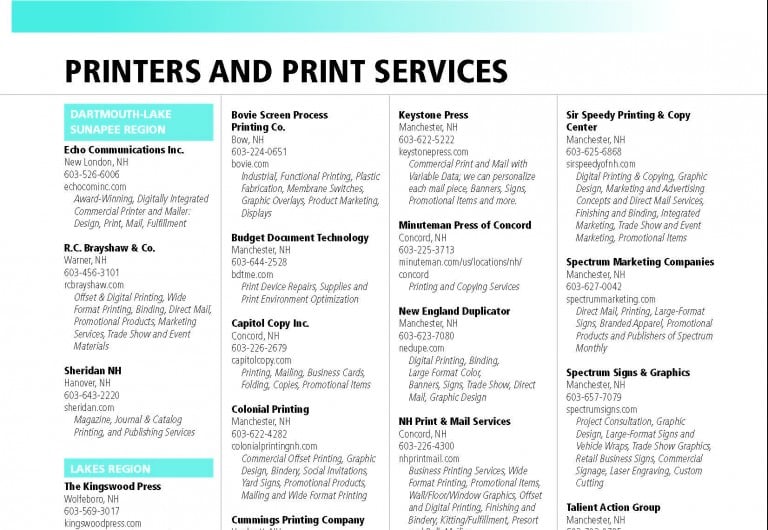 DARTMOUTH-LAKE
SUNAPEE REGION
Echo Communications Inc.
59 Pleasant Street, PO Box 2300
New London, NH 03257
603-526-6006/603-526-6062
echocominc.com
mark@echocominc.com
Mark Belden
Award-Winning, Digitally Integrated Commercial Printer and Mailer: Design, Print, Mail, Fulfillment
R.C. Brayshaw & Co.
45 Waterloo Street
Warner, NH 03278
603-456-3101
603-456-3105
rcbrayshaw.com
tbrayshaw@rcbrayshaw.com
Thomas Brayshaw
Offset & Digital Printing, Wide Format Printing, Binding, Direct Mail, Promotional Products, Marketing Services, Trade Show and Event Materials
Sheridan NH
69 Lyme Road
Hanover, NH 03755
603-643-2220
sheridan.com
paulbozuwa@sheridan.com
Paul Bozuwa
Magazine, Journal & Catalog Printing, and Publishing Services
LAKES REGION
The Kingswood Press
26 Mill Street, PO Box 506
Wolfeboro, NH 03894
603-569-3017
603-569-3132
kingswoodpress.com
kingswoodpress@gmail.com
William Swaffield
Commercial Job Printing featuring Digital Color, Full Bindery, Digital Prepress
MERRIMACK VALLEY
REGION
Allegra Marketing Print Mail
128 South River Road, Suite 2
Bedford, NH 03110
888-452-2251
allegrabedford.com
info@allegrabedford.com
Steve Chaisson
Marketing communications provider offering Print & Mailing Services, Banners & Posters, Ad
Specialties & Online Solutions
Alphagraphics
97 Main Street
Nashua, NH 03060
603-595-1444
603-881-5557
alphagraphics.com/us-new-hampshire-nashua-us277
us277@alphagraphics.com
David Orpin
Business and Marketing Printing, Marketing Services, Signs and Large Graphics, Branded Apparel
BIGraphics Inc.
472 Amherst Street #18
Nashua, NH 03063
603-594-8686
603-578-9794
bigraphicsinc.com
info@bigraphicsinc.com
Joseph Dumont
Large Format Digital Printing & Exhibit Materials Provider, Vehicle Graphics
Bovie Screen Process Printing Co.
4 Northeast Avenue
Bow, NH 03304
603-224-0651
603-224-4908
bovie.com
info@bovie.com
David Gintzler, Gary Shirk
Industrial, Functional Printing, Plastic Fabrication, Membrane Switches, Graphic Overlays, Product Marketing, Displays
Budget Document Technology
542 Harvey Road
Manchester, NH 03103
603-644-2528
bdtme.com
info@bdtme.com
Tom Ouellette
Print Device Repairs, Supplies and Print Environment Optimization
Capitol Copy Inc.
1 Eagle Square
Concord, NH 03301
603-226-2679
capitolcopy.com
production@capitolcopy.com
Ken Kreis
Printing, Mailing, Business Cards, Folding, Copies, Promotional Items
Colonial Printing
143 Middle Street
Manchester, NH 03101
603-622-4282
colonialprintingnh.com
sales@colonialprintingnh.com
Jeffrey Boles
Commercial Offset Printing, Graphic Design, Bindery, Social Invitations, Yard Signs, Promotional Products, Mailing and Wide Format Printing
Cummings Printing Company
4 Peters Brook Drive, PO Box 16495
Hooksett, NH 03106
800-647-0035
603-623-5132
cummingsprinting.com
info@cummingsprinting.com
John Foss
Publication Printing, Mailing, Bindery and Digital Magazines
Granite Image
Epsom Circle Shoppes, 940 Suncook
Valley Hwy. #17, PO Box 683
Epsom, NH 03234
603-736-6056
603-736-6089
granite-image.com
print@granite-image.com
Denise Robinson
Commercial Printing and Copies, Banners, Full-Color Printing, Wedding Invitations, Business Cards
Graphic Consumer Services
PO Box 368
Candia, NH 03034
603-483-5355
graphicsnh.com
promotions@graphicsnh.com
Rick Bouthiette
Printing & Promotional Products
Harris Trophy
61 Stark Street
Manchester, NH 03101
603-669-3984
603-669-4984
harristrophy.com
awards@harristrophy.com
Frank Fraitzl, Lisa Fraitzl
Corporate Awards, Sports Awards, Plaques, Medals, Engraving, Copying, Business Cards, Rubber Stamps
Kase Printing, Inc.
13 Hampshire Drive, Unit 12
Hudson, NH 03051
603-883-9223
603-883-9232
kaseprinting.com
sales@kaseprinting.com
Mike Ribaudo
40" Offset & Digital Printed Catalogs, Newsletters, Mailing, Binding, Hard- and Soft-Cover Books, Technical Journals and more
Keystone Press
9 Old Falls Road
Manchester, NH 03103
603-622-5222
603-622-9432
keystonepress.com
sales@keystonepress.com
Daniel Biron
Commercial Print and Mail with Variable Data; we can personalize each mail piece, Banners, Signs,
Promotional Items and more.
Minuteman Press of Concord
93 Storrs Street
Concord, NH 03301
603-225-3713
603-225-9916
minuteman.com/us/locations/nh/concord
concord-nh@minutemanpress.com
Sue & Ray Beland
Printing and Copying Services
New England Duplicator
8030 South Willow Street
Manchester, NH 03103
603-623-7080
nedupe.com
info@nedupe.com
Aidan Wheeler
Digital Printing, Binding, Large Format Color, Banners, Signs, Trade Show, Direct Mail, Graphic Design
NH Print & Mail Services
30 Terrill Park Drive
Concord, NH 03301
603-226-4300
nhprintmail.com
info@nhprintmail.com
Kevin Boyarsky
Business Printing Services, Wide Format Printing, Promotional Items, Wall/Floor/Window Graphics, Offset and Digital Printing, Finishing and Bindery, Kitting/Fulfillment, Presort and Bulk Mailing
Optimum Bindery
120 Northeastern Boulevard, Unit 1
Nashua, NH 03062
603-886-3889
603-595-4387
optimumbindery.com
info@optimumbindery.com
Cheryl Newell
Bookbinding and Finishing Services
Papergraphics
4 John Tyler Street
Merrimack, NH 03054
800-499-1835
603-880-1751
papergraphicsonline.com
info@papergraphics.biz
Karen L. Hall, Frank Lagana
Commercial printers providing best in quality and service with Offset and Digital Printing, Promotional Items, Direct Mail and Fulfillment
Premier Printing & Embroidery
3 School Street, PO Box 2069
Hillsborough, NH 03244
603-464-5321
603-464-5859
speedyprintingnh.com
info@premierprintingnh.com
Bonita Hadley
Copying, Printing, Oversized Copies, Custom Embroidery and Screen Printing, Offset and Digital Printing, Binding and Finishing
Puritan Press Inc.
95 Runnells Bridge Road
Hollis, NH 03049
603-889-4500
603-889-6551
puritanpress.com
print@puritanpress.com
Jay W. Stewart
Digital and Offset Printing, Fine Art Books, Art Prints, Mailing
Sir Speedy Printing & Copy Center
41 Elm Street
Manchester, NH 03101
603-625-6868
603-624-8327
sirspeedyofnh.com
info@sirspeedyofnh.com
Richard Stonner
Digital Printing & Copying, Graphic Design, Marketing and Advertising Concepts and Direct Mail Services, Finishing and Binding, Integrated Marketing, Trade Show and Event Marketing, Promotional Items
Spectrum Marketing Companies
95 Eddy Road, Suite 101
Manchester, NH 03102
603-627-0042
603-627-1637
spectrummarketing.com
inquiries@spectrummarketing.com
Kevin Lash
Direct Mail, Printing, Large-Format Signs, Branded Apparel, Promotional Products and Publishers of Spectrum Monthly
Spectrum Signs & Graphics
97 Eddy Road #4
Manchester, NH 03102
603-657-7079
spectrumsigns.com
info@spectrumsigns.com
Project Consultation, Graphic Design, Large-Format Signs and Vehicle Wraps, Trade Show Graphics,
Retail Business Signs, Commercial Signage, Laser Engraving, Custom Cutting
Talient Action Group
105 Faltin Drive
Manchester, NH 03103
603-703-0795
talientactiongroup.com
orders@talientaction.com
Sean Owen
Digital Printing, Variable Data Printing, Mail Services, Web2Print Portals, Large Format, Promotional Items
Wharf Industries Printing Inc.
3 Lexington Road, Unit 2, PO Box 367
Windham, NH 03087
603-421-2566
603-421-1807
wharfindustries.com
sales@wharfindustries.com
Michael Comeau
Digital & Offset Printing, Pick & Pack/Warehousing, Direct Mail & Marketing, Graphic Design and PrePress, Banners, Posters, Specialty Items
MONADNOCK REGION
Savron Graphics LLC
32 Fitzgerald Drive, Suite 1
PO Box 250
Jaffrey, NH 03452
603-532-7726
603-532-4460
savron.com
savron@savron.com
Rob Crowley
Offset and General Printing, Color Copying, Faxing
Sterling Business Print & Mail
206 Concord Street
Peterborough, NH 03458
603-924-9401
603-924-9247
sbc@sbcnh.com
George Sterling
Business Logo, 4-Color Printing Mailings, Color Copies, Envelopes, Stationery, Promotional Items
SEACOAST REGION
AMI Graphics
223 Drake Hill Road, PO Box 157
Strafford, NH 03884
603-664-7174
amigraphics.com
info@amigraphics.com
Melissa Falzone
Large & Grand Format Printing, Banners, Billboards, Retail POP Signs, Vehicle Graphics & Wraps, Trade Show Graphics and more
Allegra Marketing Print Mail
222 International Drive, Suite 140
Portsmouth, NH 03801
603-294-4679
allegraportsmouth.com
info@allegraportsmouth.com
Steve Chaisson
Print & Mailing Services, Banners & Posters, Graphic Design, Promotional Products, Direct Mail Marketing, Ad Specialties & Online Solutions
Galligher Printing Services
PO Box 1096
Exeter, NH 03833
603-672-4540
galligherprinting.com
GPS@galligherprinting.com
Dennis Galligher
Print Production Services, Mailing and Distribution
ImageWise, Design & Printing Services
113 Lafayette Road
Hampton Falls, NH 03844
603-926-6742
603-926-4644
imagewisegraphics.com
sales@imagewisegraphics.com
Eric Lindsay
Digital and Offset Printing, Graphic Design, Promotional Items, Online Storefronts
Kelley Solutions Inc.
210 West Road, Unit 7
Portsmouth, NH 03801
877-535-5393
603-430-6855
kelleysolutions.com
sales@kelleysolutions.com
Shawn Kelley
Creative Design Services, Strategic Sourcing, Web-Based Ordering, Direct Mail, Warehouse/Distribution, Integrated Marketing, Tradeshow Solutions, Promotional Products, Holiday and Greeting Cards, Laserband, Food Gifts
Lilac Printing
189 Wakefield Street
Rochester, NH 03867
603-332-0511
877-577-7241
lilacprinting.com
lilacprinting@yahoo.com
Marlene Graves
Offset & Digital Printing, Signs & Banners, Mailing Services, Campaigns Signs, Presentation Folders, Business Cards
New England Printing & Copying
599 Lafayette Road #4
Portsmouth, NH 03801
603-431-0142
603-431-1024
newenglandprinting.com
info@newenglandprinting.com
Alan Higginbotham
Print & Digital Copying Services, Graphic Design, Large-Format Printing, Finishing and Binding, Real Estate Marketing Materials, Catalogs, Business Cards
Phineas Graphics
108 Penhallow Street
Portsmouth, NH 03801
603-436-4402
603-436-1052
phineasgraphics.com
info@phineasgraphics.com
Susan Kress Hamilton
Branding, Publication, Web, Exhibition Design and Printed Materials for the Business, Professional and Nonprofit Community
RAM Printing Inc.
5 Commerce Park Drive
PO Box 900
East Hampstead, NH 03826
603-382-7045
603-382-7629
ramprinting.com
info@ramprinting.com
Wally Zaremba
Digital & Offset Commercial Printing, Large Format Graphics, Vehicle Wraps, Promotional Items
Relyco Sales Inc.
121 Broadway, PO Box 1229
Dover, NH 03820
800-777-7359
603-742-0999
relyco.com
info@relyco.com
Michael Steinberg
Business Printing and Payment Solutions
WHITE MOUNTAIN REGION
Minuteman Press of North Conway
1305 White Mountain Highway, Rte.
16, PO Box 1830
North Conway, NH 03860
603-356-2010
minuteman.com/us/locations/nh/north-conway
minuteman@ncmmp.com
Patrick Kittle
Offset Printing, Banners, Brochures, Stationery, Mailing Services, Graphic Design, High-Speed Copying, Book Binding, Promotional Products
Minuteman Press of Plymouth
44 Main Street
Plymouth, NH 03264
603-536-2410
plymouth-nh.minutemanpress.com
plymouth@minutemanpress.com
Susan Fitzgerald Reichert
All printing needs including Wide-Format Printing, Banners, Marketing, Mailing Services, Promotional Products and more
Source: NHBR Survey