Lisa Maria-Booth, 2018 Outstanding Woman in Business
CEO and co-owner of Fortitude Health and Training, FortCycle and Green Bike Organic Smoothies in Manchester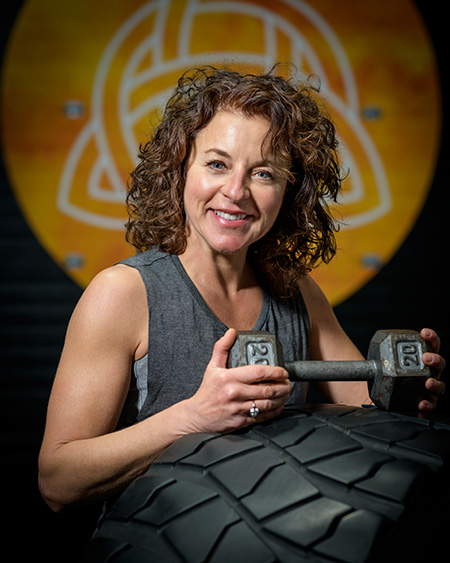 While working as a stockbroker, Lisa Maria-Booth would use her lunch breaks to teach aerobics at the gym nearby. But what started as a hobby became a passion and full-fledged business.
After working for several years as an independent contractor, conducting personal training and group training sessions around central New Hampshire, Maria-Booth and her business partner Danielle Bicknell founded Fortitude Health and Training in 2012.
By then, the two co-owners had built up quite a following thanks to their dedication to relationship-based training, working shoulder to shoulder with clientele ranging from beginners to marathoners.
In 2016, they expanded their footprint with two additional businesses: Green Bike Organic Smoothies and FortCycle, central New Hampshire's only indoor cycle studio.
Offering 9,000 services to 38,000 participants – these businesses were not following a traditional gym model, but the variety of programs generated revenue in each of the businesses that grew from zero to seven figures within six fiscal years.In addition to running the gym, Maria-Booth actively teaches her clients in a holistic manner, whether it's providing good nutrition habits to a group of teen female athletes or coaching her nephew with Down's Syndrome, who has secured a sought after spot on the Special Olympics team.
Fortitude – the guts and tenacity to face life's challenges – embodies its name.
Q. What have you learned about the connection between physical and mental strength?
A. It's all connected. I start most of my classes and trainings with an inspiring quote and my all-time favorite one is from Henry Ford, the car inventor and he said, "Whether you think you can or whether you think you cannot, you're probably right." That's fueled me in my career. It's really believing in yourself, being realistic about what you can do, setting your mind to it and doing it. Feeling confident about your physical capabilities, mastering them is fuel for other parts of your life. And the success in the other parts in your life gives you the motivation to keep going physically. I think it's all connected; it's a happy conundrum.
Q. Have you found employers are seeking your services to broaden their wellness programs?
A. There are many businesses in the area that use us for corporate wellness. Companies understand a happy employee increases productivity; camaraderie amongst employees increases productivity. We offer anything from a one-time Olympics event where we bring in a bunch of staff to fifteen classes a week onsite. We just took over the group exercise program for SNHU, so we go onsite for their students and run all of their classes. It could be a coach to 5K or a weight loss healthy lifestyle clinic or a stretching and distressing clinic or women's self defense. We're happy to work with the company and cook up something that's a nice benefit for their staff.
Q. How have you developed your leadership style?
A. I've got a big personality that's for sure. We've been moving people around for almost 30 years now. So in this room, in a boot camp class I may have 35 people and you have to be able to command a room, and I'm a small person so sometimes it's like "PEOPLE AT THE GYM." You have to use your words wisely. Being organized, being in control, making sure you're delivering instruction, information that's useful and that's going to be respected. If you're talking garble d gook, people start to know. But also being approachable and friendly at the same time, being able to joke around.
Q. What advice do you have for young women just starting their careers?
A. Before you embark on starting a business, make sure you know everything about your business, inside and out, because if you don't it's probably not going to work out. Make sure you start small, be realistic about what you can achieve. Some people start without thinking about the commitment and time, financial, expertise, is this really my passion? Is this something I really want to be doing in five years? Really think through all of those questions before you start. And make sure your biz practices are clean and fair. I've had to make a lot of decisions and I've been asked to bend the rules or make exceptions, and I say, 'How is this fair to the next person?' Once they think it through, I think people can't disrespect that and you will avoid problems when everything is organized, clearly stated, consistent, I think that's important for somebody starting their business.
Video by Edify Multimedia Group