Linda Fanaras, 2014 Outstanding Woman in Business
President, Millennium Integrated Marketing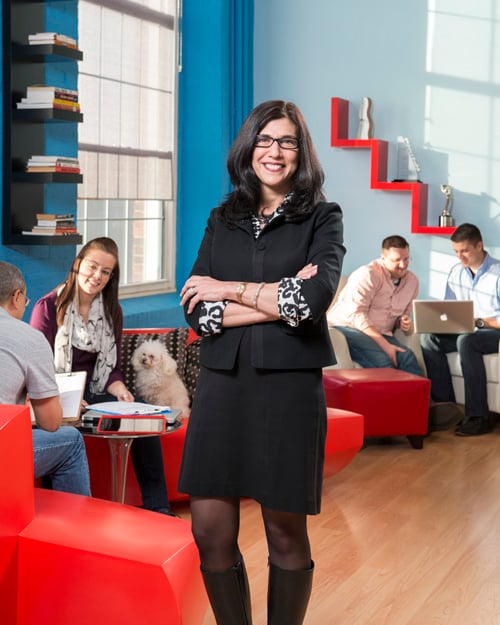 Like many people, Linda Fanaras didn't discover her dream career on her first try. After graduating from Franklin Pierce University with a bachelor's degree in computer science, Fanaras landed a job in technical support at RealWorld Corp. – now part of Microsoft – but soon realized that processing complaints and resolving software issues did not her dream job make.
So when a position opened in the company's marketing department, she jumped into it, and worked her way up until she became its vice president of marketing.
Armed with that marketing experience, Fanaras decided to strike out on her own in 1996, launching what was then known as Millennium Advertising as a part-time business out of her home. This humble start gave her the time to work independently and still care for her family, but over time the company grew into what it is today – Millennium Integrated Marketing, a full-service marketing firm that represents hundreds of clients from its headquarters in the Manchester Millyard and a satellite office in Boston's financial district.
Millennium has expanded so steadily that it has relocated twice to accommodate employee and client needs. Fanaras has used this growth to provide training, educational reimbursement and flexible hours for her employees, in order to help them achieve balance in their personal and professional lives.
Recognizing changes in the industry that are moving mainly toward digital marketing solutions, Fanaras launched a new division of her agency – DIGImarketing – which offers services such as social media advertising, email marketing, video and podcasts, online reputation management, mobile marketing, blogging and more. It also has an in-house video and photography division.
Fanaras' determination, commitment and ability to find creative solutions has helped grow her business and expand its services in a tough economy, says her nominator and employee, Tara Bishop. "Her story of self-made success has the power to encourage other women entrepreneurs as they work to grow their own businesses," she wrote.
Along with founding an industry-leading company, Fanaras is dedicated to her community. For more than 20 years, she has volunteered with organizations such as the Boys & Girls Club, the Capital Region Food Program, the Business and Industry Association of New Hampshire, and many more.
Among a long list of other recognitions, she has received numerous Davey Awards, which recognize small businesses for their exceptional ideas, and has won multiple NHBR Best of Business Awards for social media marketing and public relations.
"Having founded and developed a successful woman-owned business, she has proven to be an advocate for women in business and in the workplace," wrote Jim Roche, president of the BIA, in a supporting letter. "The New Hampshire business community is better for having Linda as one of its most active leaders."

Q. What have been some of the biggest challenges to getting where you are today?
A. There were two primary challenges. First, owning a business, particularly a digital marketing agency, is challenging because there is constant change. When I started, traditional advertising was the focus, but now we have mobile apps, mobile-friendly websites, SEO, and SEM. It's more critical than ever to stay ahead of the curve with the latest digital marketing and public relations strategies. Second, our business depends on the state of the economy and the business growth goals of other companies. It is a balancing act, and since market- ing budgets are discretionary, they are often one of the first line items to be cut.

Q. Did you have a professional mentor?
A. During my employment at RealWorld Corp., I worked for Mary Lou DeWynGaert, who was in executive management. She was an incredible teacher and men- tor, and the most patient person I'd ever known. Early in my career, I accidentally mailed out 300,000 direct mail pieces; I was so nervous to admit my error that I was shaking. Once I was finally able to sit down and explain what I had done, her response was simply, "No problem, that's marketing. The more often they receive it, the more impact it will make." This was obviously an expensive lesson, but I was forever impacted by her calm and supportive demeanor.

Q. How do you balance your personal and professional lives?
A. It's definitely tricky. Being a mother, business owner, and mentor can be demanding. When you own a business, it sometimes owns you. I am constantly working to separate my work from my personal life, and live in the "now." Maintaining a work/life balance is a skill set that I continue to work on and will probably work on forever; until I retire, of course.

Q. What advice would you give to young women just starting their careers?
A. Make sure you find something you love and become an expert in it. You will be much more successful if you focus and stay passionate and dedicated to one area. Sometimes when you start out, you want to be and do everything. That's not possible, and the sooner you find a focus area, the happier and more successful you will be. Second, find a mentor who you can confide in and learn from. If you are lucky enough to find a mentor who you respect and value, you will always have the opportunity to learn.