Lebanon firm takes $100k pitch competition
AOL co-founder awards funding to FreshAir Sensor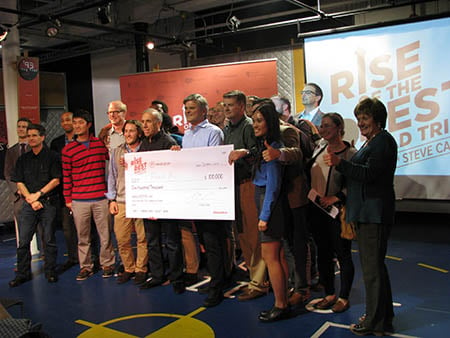 A Dartmouth College, Lebanon-based firm whose technology can detect even slight amounts of airborne molecules, including nicotine and marijuana, was declared the winner of the Rise of the Rest Pitch Competition held Thursday in Manchester.
AOL co-founder and CEO of Revolution Steve Case personally wrote a $100,000 check for FreshAir Sensor, which was one of seven New Hampshire tech firms that delivered four-minute pitches explaining why they should receive the funding.
Manchester was the second-to-last stop on Case's Rise of the Rest tour up the East Coast, with stops in Baltimore, Philadelphia, Buffalo, and Friday in Portland, Maine.
The tour will make 19 stops in total, as Case seeks to give recognition to smaller hubs of innovation.
Founded by Joe BelBruno and Jack O'Toole, FreshAir Sensor detects a single molecule in nicotine and burnt marijuana through a placed sensor. Connected to a mobile app and online platform, the sensor alerts hotel and property management owners in real-time of smoking within a single room or apartment. BelBruno is a chemistry professor at Dartmouth College. O'Toole graduated from the Tuck School of Business. The startup is based at the Dartmouth Regional Technology Center on campus.
FreshAir Sensor has already distributed a small amount of sensors, but plans to deliver a big batch in January, which the new funds will go towards.
The sensors themselves cost $100 each, with a $4 monitoring fee. Without any marketing or advertising, the company has been reached out to by over 1,000 customers seeking 1.6 million devices. The startup is also working on a sensor to detect formaldehyde.
The judges included Case himself, entrepreneur and inventor Dean Kamen, Julie Samuels of Engine and Matt Rightmire of Borealis Ventures.
Also as part of the event, representatives for different presidential campaign, most unofficial, gave 30-second pitches for former Florida Governor Jeb Bush, former Secretary of State Hillary Clinton, Carly Fiorina, Dr. Ben Carson, Sen. Ted Cruz, Rick Santorum, Sen. Marco Rubio, Sen. Rand Paul, and former Ohio Governor John Kasich. Dr. Carson's son appeared with a member from the campaign, announcing Carson would give $2,500 toward the prize.
Case also made stops at the Millyard Museum, Dyn, Alpha Loft and a luncheon in Concord with the governor, entrepreneurs and educators from around the state.
A 'game-changer'
At Dyn, he spoke about the coming third wave of the Internet, as companies work to make health care and education, for instance, more integrated with the Internet.
For each city, Case explained there must be "a balance of leaning into the future but being respectful of the past. We want to understand what built Manchester, and if you don't have some of that context for that understanding, it's hard to understand how Manchester will move into the future," Case told the crowd at Dyn's TechToberFest.
"Clusters matter, but that doesn't mean that clusters are limited to San Francisco, New York City, Boston, which is where the center of gravity right now is in terms of venture capitalism. You have to create a cluster, you have to create a critical mass, you have to create some network density. You can do that in cities that are smaller," said Case.
The most important step to encourage startups is to raise capital in the area, said Case. "It's not a level playing field if you're an entrepreneur," he added, noting that 75 percent of the capital goes to companies in the Silicon Valley, New York and Boston.
But the next wave of entrepreneurship is likely to come from areas outside of the main clusters, said Case. While the first wave was about building the Internet, which included AOL, and the second wave has been the rise of smartphones, Facebook and Twitter, the third wave requires Internet entrepreneurs to have a broader background.
"The third wave will be integrating the Internet more seamlessly and pervasively in every aspect of our lives, and the process revolutionizing, disrupting big sectors like education, health care, transportation, energy, food, government services, financial services and big sectors, and that's what I think will be taking off," Case told NH Business Review. "I think it's going to take a different entrepreneur who kind of has more of a bias towards partnerships and more of an understanding of policies and regulations … and takes the long views – perseverance."
When asked what ideas he was impressed with on this tour, Case listed the education technology and health focus of Baltimore, with John Hopkins. In Philadelphia, he also saw ed tech but also social enterprise. And the Buffalo winner was making strides regarding energy.
"In each city, there have been great startups showing great promise. What's been great to see is they're different from many of the startups you'd see in Silicon Valley, New York City," said Case.
What does $100,000 really mean to a startup in the Granite State?
"$100,000 is game-changing for startups here in New Hampshire," Jamie Coughlin, director of entrepreneurship at Dartmouth told NH Business Review. "Both given its size, both given the connection to Steve Case and his personal network, he becomes an investor of this. And I think you've heard the theme that the cost to actually launch startups these days is becoming less and less, hence why Manchester and New Hampshire is becoming a destination for this activity. $100,000 can truly move the needle for people to actually create a product, gain market traction, etc."