Lawmakers OK raft of business-related bills
Compromises could alter N.H.'s legal landscape for some companies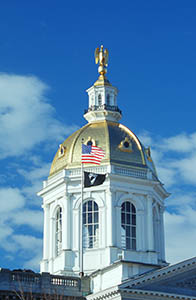 New Hampshire lawmakers on Wednesday passed almost 30 business-related bills in the blink of a legislative eye on the last day of the session.
They were compromises – often very complex – that could alter the legal landscape in which businesses operate.
Among them:
• Lawmakers have tried to come to grips with prepaid contracts each time a new home heating oil firm goes out of business, leaving customers – who bought and paid thousands of gallons of fuel – literally in the cold. This year, however, the difficulties of Fred Fuller Oil and Propane Co., the state's largest home heating company, really lit a fire under the effort.
But lawmakers, as well as the New Hampshire Bankers Association, could not agree on forcing oil companies to put money in an escrow account or a line of credit. They did agree on banning the marketing of such contracts long before they knew if they could afford to service them.
Under House Bill 1282, such contracts could only be marketed or solicited from the beginning of May to the end of October. The measure also requires companies that offer such contracts to register with the state, though without a fee.
Rep. Dan McGuire, R- Epsom spoke against the deal on the House floor, saying that it increased regulation of businesses, but the measure passed, 209-98.
• HB 532, which would allow municipalities to create districts to borrow and channel energy-efficient loans to businesses in an exchange for a lien on the property, passed, 205-132.
While the House version didn't have a cap, the final compromise did: 35 percent of equity, or $1 million, whichever is greater. And since the loans involved liens on property, the taxpayers aren't on the hook, said Rep. Ian Raymond, D-Sanbornton.
But Rep. Carol McGuire, R-Epsom, objected to the bill, saying that because it would raise the $60,000 cap it put taxpayers on the hook for "unlimited loans," resulting in "crony capitalism" and allowing large companies "to swing a deal other people can't get."
• HB 421 would add three more hours onto a Realtor's continuing education requirements, on top of the 12 hours they already have. The New Hampshire Association of Realtors' lobbyist Bob Quinn said his organization supports the law "because it also expands the definition of what constitutes acceptable courses. It should provide more diverse courses for our members to choose from."
Some House members objected, particularly Rep. Dan Itse, R-Fremont. Continuing education, he said "does nothing to insure competency. It's simply a moneymaking device for some members of the community."
But the House agreed with Rep. Lucy Weber, D-Walpole, that the education requirement added "an extra layer of protection for citizens."
The House passed the bill 201-140.