Latest DRED initiative addresses health care industry needs
Finding workers tops the list of participants' concerns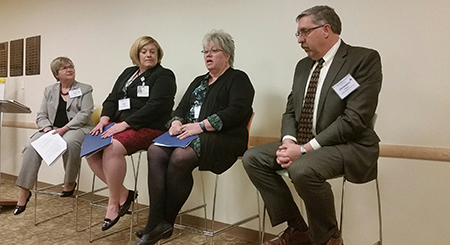 Health care, education and state government officials congregated at Dartmouth-Hitchcock in Nashua on Wednesday to launch the NH Department of Resources and Economic Development's third sector partnership initiative to hear the concerns and needs of the health care industry.
The Health Care Sector Partnership initiative aims to find solutions to issues concerning recruiting and retaining employees in the sector, which has been hit hard by the state's low unemployment rate and competing wages from nearby Massachusetts.
With its unemployment rate of 2.7 percent, New Hampshire's jobless rate is among the lowest in the country. In the Portsmouth area, the unemployment rate drops even further, to 1.6 percent, said Christopher Callahan, vice president of human resources for Exeter Health Resources, which includes Exeter Hospital.
Callahan, who was part of a panel of health care professionals at the partnership program, said he has invested approximately $300,000 over the past two years in training medical assistants at Great Bay Community College to fill positions. The 12-week program includes eight weeks in the classroom and four in clinical rotations. The program was developed in partnership with the college because Exeter Health Resources said it couldn't wait for two-year degree graduates to fill empty positions, said Callahan.
This spring, Exeter Health Resources and GBCC will add a 12-week program for medical office coordinators, with a two-week rotation.
D-H efforts
Participants stressed the need for apprenticeship-style training with two-year work commitments as well as covering part of the costs of higher education, which can be a barrier for underemployed people.
Dartmouth-Hitchcock was the first to offer a training program of the sort, said Callahan.
Sarah Currier, director for workforce development at Dartmouth-Hitchcock, said while the training programs can be costly for employers, a study by the U.S. Department of Commerce found a 40 percent return on investment.
Since implementing a program for medical assistants, she said Dartmouth-Hitchcock has seen a reduction in the number of dropped visits and an increase in last-minute scheduled appointments to fill openings, as well as timeliness with renewing prescriptions and scheduling blood tests.
Dartmouth-Hitchcock started offering training programs with local community colleges in 2013, with a 12-week program for medical coders, which later expanded to medical assistants, pharmacy technicians and sterile processing technicians.
Dartmouth-Hitchcock implemented the program because expensive housing in the Upper Valley area made it difficult to attract outsiders, she said. It has found its future workforce through high schools, community colleges and underemployed persons, mainly young mothers and immigrants.
But while the ROI can be significant, employers are still seeking state funds for assistance since the need is so dramatic.
Strategic sector
Last year, under former Gov. Maggie Hassan, the Commission on Health Care and Community Support Workforce issued a report with recommendations that included reinstatement of the DirectConnect workforce development program, previously funded through the federal American Recovery and Reinvestment Act, which provides help to workers who enter training programs as well as resources to promote peer mentoring, training programs and long-distance learning opportunities.
"As part of our work we did a listening tour of the entire state and heard stories that really deeply concerned the commission because it made it very clear to us that, yes we have a shortage of health care workers, but we're at a place where we really felt concerned about the safety of patients," said Susan Huard, president of Manchester Community College and chair of the commission.
Each biennium, DRED receives $2 million from the administrative fund of the NH Department of Employment Security for the Job Training Fund and WorkReadyNH. Businesses interested in sending employees to an existing training session or creating a new training session can apply at nhjobtrainingfund.org for grants ranging from $750 to $100,000, but that still only covers a sliver of the expense for some employers, Callahan told NH Business Review.
"We have somewhere around 76,000 people who are employed in the health care sector today, which puts it right at the very top of the list of any strategic sector we have in the state," said DRED Commissioner Jeff Rose. "So we need to make sure we have that workforce that's necessary and we see growth out into the future. We estimate there's going to be 11 percent growth in that sector between now and 2020."
Speeding up criminal background checks, reforming licensure boards and increasing the availability of data on the health care industry's needs were also among the participants' top concerns and priorities.