Labor strikes back by taking fight to the states
'An aggressive schedule of pro-worker legislation' remains on the agenda in Concord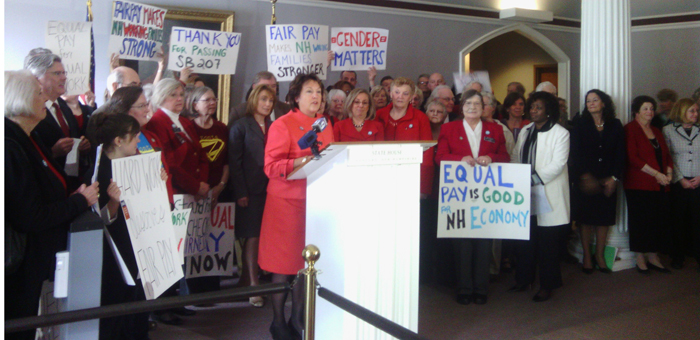 Gov. Maggie Hassan recently declared April 8 "Equal Pay Day" in New Hampshire. On that very same day:
• The U.S. Senate voted on a pay equity bill.
• President Obama signed an executive order requiring pay equity for federal workers.
• The New Hampshire House Labor Committee held a public hearing on the Paycheck Fairness Act.
Coincidence or not, the campaign for pay equity, stalled at the national level, seems to be succeeding in Concord. Even state Senate conservatives voted for a bill that would protect those who share information about their pay at work, a bill that will probably be passed by the House with a few tweaks.
And there are at least 10 important labor-related bills pending in the Legislature: raising the minimum wage, unemployment benefits and workers' compensation payouts; instituting prevailing wages on state contracts; prohibiting discrimination based on credit history, unemployment status or the threat of domestic violence; protecting temporary workers, those paid by pay cards, and those who criticize the boss on social media; and another prohibiting employers from asking for employees' social media passwords.
"This is an ambitious year for us," said Mark MacKenzie, president of the New Hampshire AFL-CIO. "It's an aggressive schedule of pro-worker legislation."
Conservatives see it differently. Sen. Andy Sanborn, R-Bedford, calls it a "war on employers."
Whatever it is, it is part of a national effort – a labor offensive, if you will – to push favorable legislation at the state level.
"There has been a shift back to the states – that's where the action is," said MacKenzie. "We've come to realize that nothing gets done at the federal level."
Indeed, "We have made a commitment during the last couple of years to work on the grassroots local level for proactive legislation," said Amaya Smith, a spokeswoman for the AFL-CIO.
Part of the offensive is reaching out to and working with various allies, like many of the women's groups that helped organize the pay-equity campaign in New Hampshire, as well as with progressive groups and community groups.
"It's really coming out of the devastation of two years," said Granite State Progress Director Zandra Rice Hawkins.
That's her description of the legislative agenda pushed through in 2011-2012 by the tea party at both the national and state levels.
After the Democrats recaptured the state House in 2012, Hawkins' organization and other like-minded groups held an "LSR (legislative service request) fair," to suggest bills for lawmakers to sponsor.
'Heartburn' for BIA
For Business and Industry Association of New Hampshire Vice President David Juvet, all this is part of the normal cycle after a party does well in an election, especially during the second year of a biennium, after the budget is passed and other issues come to the forefront that help both sides position themselves for the upcoming election.
This year, however, the BIA took the unusual stand of issuing a press release warning at the beginning of this session of an anti-business trend in the State House, highlighting several proposed bills dealing with labor.
Since then, Juvet said, some of the most worrisome bills have been defeated or neutered. A bill that would have prevented some employers from using criminal background checks in hiring, for instance, morphed into one that only applied to those seeking an occupational license.
Or another, which would have required employers to provide an enclosed facility so employees could breastfeed in private, wound up simply clarifying the right for anyone to breastfeed in public.
But there are other bills, said Juvet, that still give the BIA "heartburn," such as one that would increase the indemnity of workers' compensation from 60 percent to 66 percent. (That is one bill that the AFL-CIO did not speak in favor of.)
"It's just a straight assault, coming directly from the president, drawing lines to make class warfare his issue," said Sanborn. "He is pushing his legislation at the state level to avoid Congress."
Rep. Gary Daniels, R-Milford, former chair of the House Labor Committee, said he is dismayed at the bills that he says would impinge on employers' ability to hire and fire workers at will.
"The word 'discrimination' is really being thrown around a lot. It appeals to the emotional aspect of people, but the other side is it is telling employers who they can't hire and who they can't fire, rather than choosing from the most qualified. It gives an opening for someone who is rejected to file suit."
Sanborn, a Bedford Republican and chair of the Senate Commerce Committee – which handles labor legislation – is concerned about a number of bills involving workers' compensation.
"It's just a straight assault, coming directly from the president, drawing lines to make class warfare his issue," said Sanborn. "He is pushing his legislation at the state level to avoid Congress."
In a sense, Sanborn said, it is similar to what the American Legislative Exchange Council (a conservative group of legislators funded by the Koch brothers) is accused of doing, Sanborn said, only this time it's a liberal, not a conservative, agenda.
MacKenzie agreed that this push is partly in response to the work ALEC has done, "only this is our agenda. This is a working-family agenda."
But the national AFL-CIO's Smith said that the comparison isn't quite fair.
ALEC, she said, is more of a "cookie cutter," where "you just copy and paste" wording for legislation, whereas the AFL-CIO is working on themes that play out legislatively differently in different states, such as raising wages, fighting income inequality and family balance issues.
"I think that's a false equivalency," she said." The difference is that we have bodies on the ground, real people. They don't have the backing of working families. It's bottom-up as opposed to top-down that you will see from business groups."