Kuster introduces Workforce Development Act to promote job training
Bill would award $5,000 employer tax credits per partnership or trained employee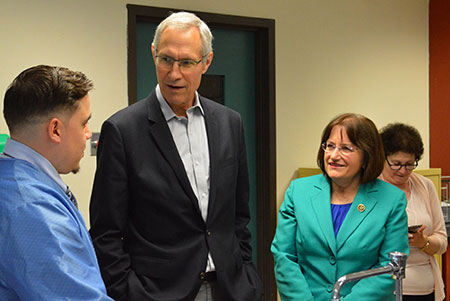 Congresswoman Annie Kuster introduced the Workforce Development Investment Act, a piece of tax reform legislation, at Nashua Community College yesterday. The bill – cosponsored by Congressmen Seth Moulton of Massachusetts and Jared Polis of Colorado – would provide employers with tax credits for training programs.
"We're always happy when Annie comes to town," said Nashua Mayor Jim Donchess. "The bill will be of great help to Nashua because it address three significant needs in our community simultaneously. It equips our employers with qualified local workers to fill the number of vacancies that currently exist in the more technical sectors of our economy."
The announcement was made during the Microelectronics Boot Camp, a 10-week training program established by BAE Systems and Nashua Community College.
Two and and a half years ago BAE Systems approached NCC to create a pipeline of workers in the microelectronics field, jobs that require using a microscope to connect microscopic components and pay $17 to $25 an hour, said Jonathan Mason, corporate community and continuing education coordinator at NCC. BAE Systems ended up donating $200,000 in equipment for the program.
"The first class was four people and now we have 10 people," said Mason. "We actually need more equipment."
The program has attracted other employers to become involved as well. Diane Gallo, general manager at Monzite Corporation in Nashua, serves as a mentor to the students in the classroom as well as providing turns of Monzite's facility. And MACOM, a Nashua manufacturer with clients in the aerospace and defense industry, has set up a separate job application specifically for students who have completed the Microelectronics Boot Camp, said Mason.
The Workforce Development Investment Act would provide up to $5,000 in annual tax credits to employers for each partnership with a community college, career and technical education school or other higher education institutions to improve workforce development. It would also create a credit of up to $5,000 per worker for qualifying employee training costs, including apprenticeship programs certified by the U.S. Department of Labor.
According to Kuster, workers who complete a registered apprenticeship program earn an average of $240,000 more than non-participants and pay an average of $85,000 more in taxes over the course of their lives, meaning a $23 return for every dollar of taxpayer money invested in the tax credits.
In February, the National Association of Manufacturers met with Trump to point out that there is not a lack of jobs but lack of trained workers for the high skilled jobs.
With partisanship apparent on Capitol Hill, NH Business Review asked Kuster what appetite there was for tax reform legislation that promotes job training.
"I think there's definitely appetite – Republicans and Democrats – on Capitol Hill," Kuster responded. "I'll tell you what I'm worried about right now is despite the talk from the new administration, the reality of their budget proposal was very distressing. A 40 percent cut overall [in] job training grants by more than $1 billion, which is contrary to any of the talk they've had about job creation, job growth and job training, so I'm going to be working hard in the coming weeks on our budget to make sure that job training programs, like this one, and the proposal we're putting forward are funded and people have the opportunity."
Kuster then referred to a middle-aged woman in the Microelectronics Boot Camp who was grateful for the opportunity, having previously worked for Osram Sylvania before her job was sent to Mexico.
"And then it was the unemployment office that got her in touch with Nashua Community College and is actually paying, this is her words, paying the tuition for her to get this training," said Kuster. "Those are the very types programs that will be cut with the proposed Trump administration budget cuts."