Kim Roy, 2017 Outstanding Woman in Business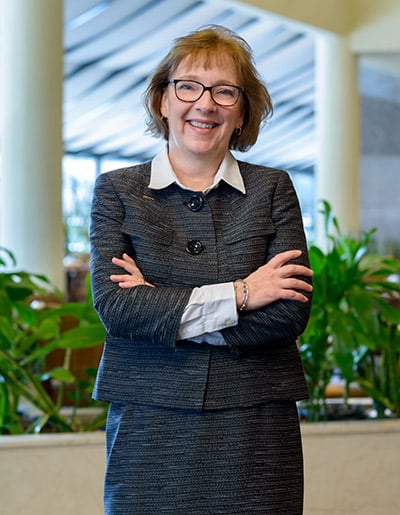 Over 30 years ago, Kim Roy was the sixth employee hired at the Radisson Hotel in Manchester. Today she is the general manager, a role she has filled since 2004.
On top of the regular schedule of activities at the Radisson Hotel, Roy has been with the hotel through nine New Hampshire primaries, with visits from every candidate and major news network. She recalls one year, in 1988, when Secret Service agents filled an entire floor. And then this year, when she was frantically helping employees in the restaurant prevent a smoky situation from setting off the alarm while "Hardball with Chris Matthews" was being filmed.
But, as Roy's nominator says, she exudes the "never let them see you sweat" credo, and Roy carries on managing the hotel with a certain calmness, yet ever quick on her feet.
Her hard work isn't over at the end of the day, either. Roy, her husband and her daughter swap chores on their 100-acre farm in Deering, where Roy has chickens, bees and sheep. She regularly shares goodies, such as homemade honey, lip balm and spun wools, with her employees.
Q. Your colleagues say you are quick to step in with whatever task is required. What does that say about your leadership style?
A. That's the thing. We're here together, in it together. I started when I was a bus girl at 14, and some of my favorite moments are when I take off my jacket and go to my roots. I remember when I thought, 'I've been here more than half of my life.' I did not think this was my path.
I've just always believed in hard work and being genuine, but I'm also a little driven. And in all honesty, my mother laid the groundwork for so many of us, because she was a general manager of a hotel when it was a field dominated by men. I can assure you the experience was totally different for her than me. I could have more fun than she did in the role, partly due to the times and who we are.
Q. Your nominator said you know all 180 employees by name and something about them. What does that say?
A. I think it's really important to connect with people. I think it's very important for me to know everybody's name on my staff. I remember way back when I was working at the front desk, and I had a woman who had just started training on the switchboard. It's difficult at the front desk – you're supposed to know everything about Manchester, about the hotel. A director of sales had called me down because the woman at the switchboard did not know who the director of sales was, and I said "And do you know who she is?".
Q. How did you get involved in the community?
A. I serve on the board of the Greater Manchester Chamber of Commerce and became the chairperson of the Leadership Greater Manchester steering committee. I picked that role because I was pretty passionate about the class.
I went through the class in 2013, and it's truly this privileged view of the city and the way things work and don't work. You do it with 35 other leaders in the community, and it's wonderful because there's so much cross-functional thinking and you meet even more people. It amazed me how many talented, passionate people we have around us that I would have never known without this program. And it brings you closer to those sectors, whether it's civic engagement, health, education.
Q. You seem to have a good relationship with the Manchester police as well.
A. As far as the police, I'll tell you, safety is a really big factor when you a run a building like this and you have millions of people through the building on primary day. There's so much activity you'd feel like the walls could breathe. So when you're thinking about the safety and the general public's power, first responders are key. The police are here for me and I'm here for them, as well as the fire department.
Q. What is your advice for young women just starting their career?
A. I would say being genuine is extremely important. Be true to others as well as yourself. I just believe in following dreams, that if you work hard toward something, things will come. I could have never dreamed of where I live now and what I do.
Here's what others have to say about this very deserving Outstanding Woman in Business recipient: