Kim Cadorette, 2018 Outstanding Woman in Business
Director of operations at BAE Systems in Nashua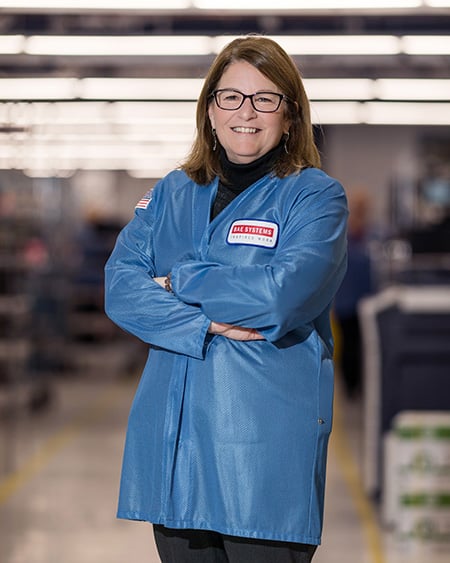 Inspired by her father's work as a draftsman at BAE Systems, Kim recognized early on the opportunity for upward career movement in the high technology field.
As a high school graduate, she began working for Sanders Associates, a Nashua manufacturer acquired by BAE.
At BAE, Kim's confidence, sense of curiosity and ability to collaborate as a team forged her rise from hourly worker to managing projects ranging from electro-optical to radio frequency technologies.
Now the director of operations for BAE's Electronic Systems division, Kim is responsible for the execution of more than $100 million in company investment to meet BAE's five-year growth expectations.
With those growth expectations in mind, Kim began expanding the manufacturing labor force in a challenging employment landscape. Not an easy feat.
Skilled workers are hard to come by. Kim led the creation of a 10-week microelectronics program at Nashua Community College, helping grow not only BAE but the manufacturing community as a whole.
Q. Working in a management but not technical role, how do you earn respect while relying on technical information from your colleagues?
A. It's two-fold. The first is trusting your team members and knowing they're very, very smart and that you're not smarter than them. It's the collective team that's going to be successful. You're the facilitator, you're the remover of obstacles, but it's your team that has the brainpower. And the second is, be a leader that is curious about your skill. Your team will teach you anything you're willing to learn. I don't think it was very hard to be both — that decisive leader but also having the ability to listen and understand enough so you can steer the ship.
Q. How did you develop your leadership style?
A. I think through experience. There's nothing like going through successes and failures to learn what works and what doesn't. In my experience being accountable for a team, failures typically happen because something wasn't understood or the team wasn't listening with the intent to understand. Something got lost in either having the team become comfortable enough to raise their hand, call out an issue or were moving too fast. I look back at those failures and I learn from them to make sure I know what I would do differently going forward in a new leadership position. I think that's the biggest thing, you have to have the technical knowledge and the techniques and skill in your craft, but, at the end of the day, a good leader allows the team to be honest and then collectively go solve the problem.
Q. What kind of experiences have you had as a woman in a male-dominated field?
A. I do remember experiences where I was intimidated when I walked into a conference room and 90 percent of what I saw was male. When you're a young female, there are people in the room who are male with 30 years of experience, so you have that double whammy. As I learned, you know your work, so have confidence and stand tall. Being a female in a male-dominated industry, you can't wait to get the opportunity to show your worth. You have to do that everyday. It's important to Have that confidence and have your peers, whether male or female, look at you as a peer. Young females unfortunately in this industry are just going to have to push through, but they're not alone. There are great role models.
Q. What advice would you give young women starting their careers?
A. As I mentioned, always be curious, know your self-worth and connect with a trusted role model. The third one I would add is know your customers. Your customers could be your external customer of the market you serve but it also who you serve as a leader. When you come to work everyday, who do you serve as that leader? For me, I made that connection with our manufacturing teams. I serve my customer and the warfighter, but I'm also a servant to the manufacturing teams, and I think that's provided a good balance for me. Remember to always have your eye on who your customers are, internal and external, who you are serving.
Video by Edify Multimedia Group