Katie Schwerin, 2017 Outstanding Woman in Business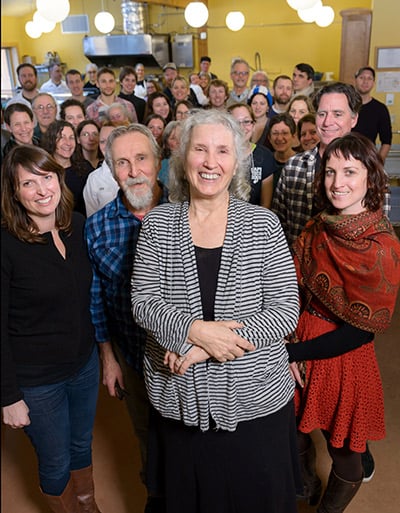 Working with her husband in a variety of entrepreneurial ventures, Katie Schwerin recognizes the complementary roles partners play. It was Bill Whyte who came up with the idea for a natural hand balm and formed W.S. Badger Company in Gilsum, but it's Schwerin who has helped set in place many of the processes to develop the culture and community that have come to define the natural personal care product company.
With family-friendly policies, free organic lunches and 10 percent of pre-tax profits donated to nonprofit organizations, Badger is a shining example of a benefit corporation.
That's because at the foundation of Badger is family. Two of Schwerin and Whyte's daughters work in the company, and Schwerin herself directly hires most employees, even seasonal workers.
Through serving as co-chair of the Business Ambassadors at Impact Monadnock, a community-led nonprofit, Schwerin pursues her passion for improving the lives of young children, an initiative that she has adapted the company around, keeping in mind what long-term impact they can have on the future.
Q. Did you and Bill have entrepreneurial inclinations before Badger?
A. We had several little business startups, such as a weekend oldies movie night. There was a theater not being used at Keene State College and we figured out how to create a little movie business. We did it for a couple of years; it was really fun. For many years, I also did craft fairs because it was easy with two small children in tow. It was not reliable income, but it provided a creative outlet and made some money.
Q. Badger has a lot of progressive family-friendly and other policies.
A. We really want to be a model company. A business can't just be about earnings for stockholders, it has to be about the community too. While profits are necessary to thrive, as a company we believe in money as a fuel and not a goal.
So it was natural to create a mission-based business. I've been focused on the charitable giving and development of the child care center and family-friendly policies, and we've been working to make companies in the region more family friendly.
I've also been connected most of my life with nonprofits. There's a huge role that Badger needs to play in the community and we have the employees and resources to do it.
Q. Why was it important for Badger to become a B Corp?
A. It's about a triple bottom line: people, profit planet. All of those things need to be taken care of in order to be successful in society. If things skew only one way, you're going to shortchange your employees and society. Becoming a B Corp is a way for us to measure, track and be public about how we benefit people and the planet.
Many young people going into the business world today want to work for socially responsible businesses. We have many employees who are Antioch graduates with degrees in environment studies. They're here because they want to work with a sustainable company.
Q. Why did Badger start its Babies-at-Work program?
A. An employee asked about bringing her baby to work. We did some research and discovered the Parenting in the Workplace Institute, a nonprofit founded by Carla Moquin. Carla was instrumental in helping us create the policy for our Babies-at-Work program.
It was successful from the start, and today we have welcomed 15 babies to the program. One of our principles is to "create a business environment that is respectful and supportive of all employees and the people we serve."
I think, in general, children and families need support. A young child at daycare from 7 in the morning to whenever the parents can leave their jobs is an unsustainable way to bring up our children. We want to help businesses connect the dots and understand that the future depends on the upbringing of our children, and that children need more time with their parents.
Q. Tell me about the entrepreneurship class you teach at the Monadnock Waldorf High School in Keene.
A. We start with a week of comparative economics so that the students have a framework for understanding economics in general. Then we have an entrepreneurship block that runs for three to four weeks where each student learns how to develop a business plan.
We visit local businesses to experience small and large companies and help spark ideas. Once they have completed their business plans and created PowerPoint presentations, they then have the opportunity to present those plans to members of the business community, their school, other students and their parents.
The students love this block, and I love teaching it, because they go into the world knowing they have a business idea and knowing what it means to start a business.
Here's what others have to say about this very deserving Outstanding Woman in Business recipient: