Kathryn Underwood, 2010 Outstanding Woman in Business
President and CEO, Ledyard National Bank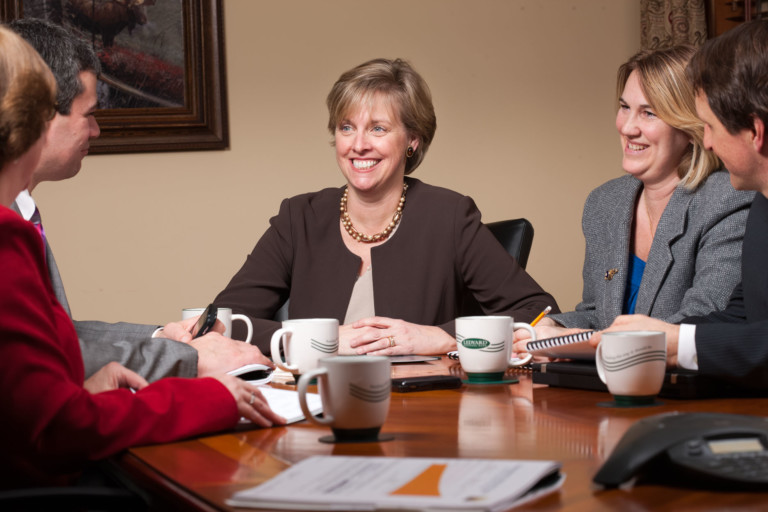 Kathryn Underwood has demonstrated just how integral to a community banks are.
She worked at Key Bank in Maine for 25 years, eventually becoming president and helping it to grow to $2.5 billion in assets.
As president and chief executive of Ledyard National Bank in Hanover for the past five years, Underwood has guided the bank toward continued growth in assets and total deposits, despite the worst economy since the Great Depression.
She currently sits on the board of the New Hampshire Bankers Association and has earned her certified financial planner designation to further assist clients.
One of her greatest achievements has been appointment to the board of the Federal Reserve Bank in Boston, helping to guide monetary policy that impacts not only small community banks but large financial institutions.
Underwood also serves with such organizations as the Hanover Area Chamber of Commerce, Kendal at Hanover, a continuing care retirement community, and the Upper Valley Corporate Council.
Underwood also has instituted "Ledyard Lend a Hand Day," when Ledyard employees provide hundreds of volunteer hours to local nonprofits and charities, giving support that goes far beyond just the financial.
Q. What made you choose your career?
A. At home, banking was frequently the topic of conversation. My dad was an international banking consultant — he traveled around the world helping banks. When I went to college, I was taking an accounting course, and my professor suggested I look further into a career with number. So I became a teller. I loved it.

Q. What was your first job, and what did you learn from it that prepared you for the future?
A. Really, the teller job was the one. I liked working with people and numbers. I really liked the industry.

Q. What do you love most about your career?
A. Interaction with people. In my position, I have the opportunity to work with clients, directors, employees and nonprofits. My favorite days are ones that I'm out of the office.

Q. What has been your biggest challenge on the road to achieving your success?
A. Being a working mom. When you also volunteer, when you're committed to kids, extracurricular activities, and work 60 hours a week minimum, it's not easy. You want to be good at everything. There is a struggle in that journey to balance everything.

Q. What advice would you give to young women just starting their careers?
A. Find a mentor, someone who will give you good advice and even challenge you when you need a push. Find someone to be on your side. I had a number of mentors who pushed me sometimes. One was my dad.
The day they asked me to be president of Key Bank, I was in the wealth management department and loved my job — I didn't want to be president. Basically, he said I'd be silly not to take the opportunity. And he was right — it turned out to be everything I loved about my old job and more.