Kathleen McQuiggan, 2016 Outstanding Woman in Business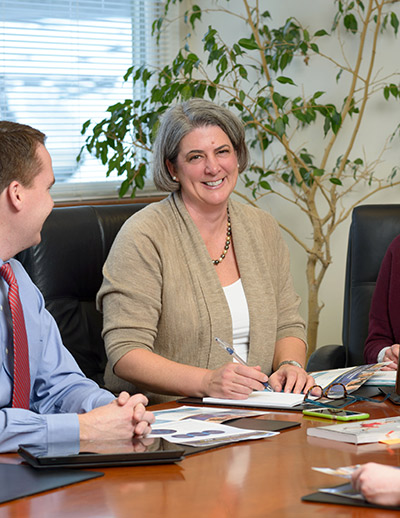 A secretarial position with Baltimore firm Alex Brown & Co. led Kathleen McQuiggan on a financial services career path on which she was often the only woman in the room. There were benefits to that: McQuiggan stood out among the crowd, and had different ideas to offer.
She also was fortunate to work for companies that took an interest in investing equally in their workforce. Early on, McQuiggan sought to learn about sales, and the firm happily replied with mentorship and training. Not long after, she was recruited by Goldman Sachs and joined its Chicago office covering Texas as a sales territory, before working for the firm in Boston.
After about 13 years, though, McQuiggan became focused on encouraging the promotion of women in the corporate world.
While running her own consulting firm, Catalina Leadership, she met Joe Keefe, CEO of Pax World in Portsmouth. In 2014, McQuiggan joined Pax World as senior vice president of Global Women's Strategies and managing director of Pax Ellevate Management. She was the driving force behind launching the Thirty Percent Coalition, the first effort to encourage national women's organizations and institutional investors to advocate for greater representation of women on corporate boards, and helped create the Pax Ellevate Global Women's Index Fund.
Q. Did you ever encounter an issue in your career because of your gender?
A. I look back on my career and can remember situations where I felt my gender was a hindrance due to some of the unconscious bias that some of the male leaders I worked for had. But I viewed it more so as placing me in certain situations that clearly motivated me to want to do more and to say, 'maybe this isn't the right firm for me.'
But quite honestly, I felt it was a huge advantage because I was able to differentiate myself and bring a different skill set to my clients and stand out versus some of my competitors.
I look back and say, 'It was me and 10 guys,' and I think what I brought to clients was enhanced by my gender – a different kind of problem-solving, innovation, different perspective and diversity of thoughts and opinions. That, I think, allowed me to be more successful.
Q. What made you focus on the increasing the number of women on corporate boards?
A. My journey really began while I was at Goldman Sachs. Goldman is an amazing organization, and as they were transitioning from a private company to a public company, they really were committed and very focused on embracing the human capital management side of the business and launched a lot of initiatives around diversity and inclusion.
This was in the late '90s, and while my day job was a salesperson, I was working with my clients and bringing a lot of companies public, and I noticed, over the years, it was a room full of men in senior management and myself, and it seemed it was a missed opportunity to not have more women making decisions.
Q. Joe Keefe was named by the Financial Times as one of the world's top feminist men. What did you think when you met him?
A. I remember meeting Joe for the first time and I said, "Oh my gosh. Finally, a guy that gets it." Here he was CEO of a company and realizing the benefits of gender diversity, a big believer in the business case, but also an innovator in financial services by bringing a gender lens to the investment side, to financial products.
Joe is passionate and a believer, and an early investor in women and gender diversity and creating financial product services around that.
Q. Did you have a mentor?
A. I was fortunate I had great people who took interest in me and my career. Mentors give you time, and sponsors get you promoted, and I think it's important to have both. Some of my best mentors were former managers I worked for that I still keep in touch with and are great at offering insights and perspectives. Even though we don't work at the same organization, they're still mentors today.
Q. What advice do you have for young women starting their careers?
A. Understand the value of relationship capital and having an extensive network – that helped me do my job better and solve my clients' problems. I would also remind women that everyone is in sales, and I know a lot of times people don't view themselves as being a salesperson, but we're ultimately selling ideas and concepts to our manager and to our clients.
And, it's important to take an interest in your financial future. Even my 10-year-old niece gets a lecture on her financial plan. A lot of decisions will be made around your financial well-being.
Here's what others have to say about this very deserving Outstanding Woman in Business recipient: