Juliana Eades, 2013 Outstanding Woman in Business
Executive Director, New Hampshire Community Loan Fund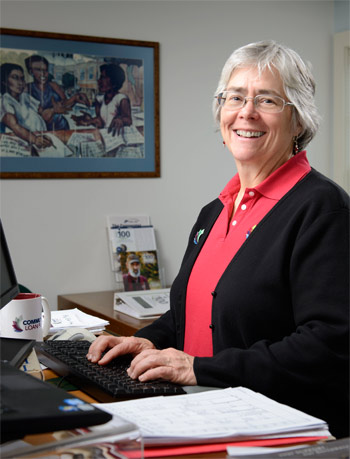 Julie Eades came a long way to end up in New Hampshire — literally. She moved to the state in 1977 after spending five-and-a-half months hiking the entire Appalachian Trail, which runs more than 2,000 miles from Georgia to Maine.
A few years later, while pursuing her MBA at UNH, the New Jersey native heard about an opening at a new organization called the Community Loan Fund.
She came on board as part-time director, soon became full time and has remained there ever since.
Julie just celebrated her 29th anniversary as founding executive director of the Community Loan Fund, which she has grown from seed to a bustling nonprofit with 50 employees that provides capital to those who couldn't otherwise get it.
It was one of the first community development financial institutions in the U.S. and has regularly been lauded as one of the best in the country.
The Community Loan Fund leverages money from individuals, churches, banks and endowments to lend to low- and moderate-income people around the state to improve their lives and communities. It has seven lending programs, which help people buy homes, grow small businesses, and build or expand essential facilities like childcare care centers.
The lenders "want us to do good things with their money and they want to get it back," said Eades. And they always have — the Community Loan Fund has always never not paid its lenders back. One of its signature programs lends money to residents in manufactured home parks so they can form cooperatives and buy their own parks. That gives them peace of mind knowing they won't be evicted if the landowner decides to sell. The Community Loan Fund has helped 103 communities in New Hampshire to buy their own parks, and it has been so successful it has spun off a national group, ROC-USA, that does the same thing. And because mortgages were practically impossible for these residents to obtain, the Loan Fund began offering fair, fixed-rate mortgages to owners of manufactured homes, which has led some banks to do the same.
As a pioneer in the field of CDFIs, Julie also helped create the national organization of CDFIs, the Opportunity Finance Network. In addition, two of the state's top nonprofits were spun off of the Community Loan Fund — Families in Transition and CATCH Neighborhood Housing.
The Community Loan Fund is a supportive workplace for women — its CFO is a woman, and the majority of its board and high-level staffers are women — offering college tuition assistance and a benefit package designed around family needs.
Q. How did you end up where you are today in your career?
A. I had been in the energy business — solar energy, energy conservation and construction — and, in the recession of 1980-91-82, that whole thing crashed. I did the all-American thing and went back to school, to UNH, and got my MBA, thinking when I got out I would go into the energy business, but when I got out there was no energy business. I was looking for work and someone I knew referred me to Michael Swack, who was the founder of the Community Loan Fund. They had just incorporated — they got a seed grant from the New Hampshire Charitable Fund to get this thing started, and they hired me to make it operational.
Q. Did you have a professional mentor, formal or informal?
A. It takes a village to raise an executive director. There so many people I have admired and sought help from: Michael Swack, who is still an emeritus member of our board — he's a professional in community economic development and he's been great; Mary Louise Hancock, who's 92 and a personal friend and she's been telling me what I should and shouldn't do for as long as I remember, and it's always good advice; and Gerardine Ferlins, who runs Cirtronics, who I think is one of the most awesome businesswomen in New Hampshire.
Q. How do you balance your personal and professional lives?
A. That's hard, but one of the things about the Community Loan Fund, particularly as the president, I get to set the tone and some of the rules so we try to have as much flexibility as possible. You have to do your job, but we allow as much flexibility as can be worked out in that context, so you can go home when the kid is sick or show up for the basketball game.
Q. What advice would you give to young women just starting their careers?
A. You have to know what your work style needs are. I'm not a very good 9-to-5er. I work hard, but I have a hard time punching a clock — I'm your classic unruly entrepreneur, but you know that about yourself, so make sure you're in situations that you can have that flexibility and bring your best self to what you're doing.
Q. What have been some of the biggest challenges to getting where you are today?
A. People lend us money, and we're not insured — there's no government guarantees — and they have to take a chance on us. We've never lost anybody's money, but it could happen. But, we're set up to try to be very responsible with it. Those lenders to us are really making capital flow in a way it wouldn't otherwise.