Joanne Conroy, 2019 Outstanding Woman in Business
President & Chief Executive Officer of Dartmouth-Hitchcock Health in Lebanon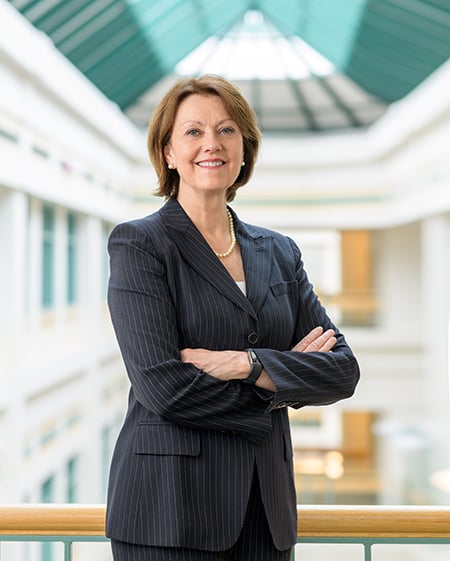 Before Joanne's tenure, Dartmouth-Hitchcock was undergoing significant challenges. It had recently announced it was laying off 84 staffers due to a $39 million operational deficit, and was downgraded by one bond rating agency while being placed on the credit watch list of another.
Joanne came to Dartmouth-Hitchcock after serving as CEO of Lahey Hospital and Medical Center in Burlington, Massachusetts. The first thing she did in her new position was to get the senior leadership team and board of trustees together to evaluate the entire organization.
It was through Joanne's leadership that the team identified priority areas used to create a Performance Improvement Plan.
The plan focused on operational and financial stability, employee engagement, quality and safety as well as strategy development and execution.
In Joanne's first 18 months, Dartmouth-Hitchock again ranked as the number one hospital in New Hampshire by US News and World Report, and Modern Healthcare named Joanne one of its 100 most influential people in healthcare.
Q. How did you become focused on gender equity and diversity in the workplace?
A. In 1984, when I was the vice chair of anesthesia, I was signed onto the diversity section of a strategic plan at the University of South Carolina. One of the issues was equitable compensation, so we did a study across the institution and actually presented that analysis and created a format to address inequities across the institution. I think the dean did not expect to get this! It was fascinating. Some people said, 'don't wave the flag for women' and I said, 'it's bigger than women, it's about gender and diversity,' and I found that actually accelerated my career in South Carolina, which was not on the cutting edge of gender and diversity because a lot of people don't want to step into that space.
Q. How did you become involved in the administration of healthcare?
A. I was actually drawn into this in the mid-90s and it started at the department level of the University of South Carolina. I was approached to help solve a very difficult financial problem in the department. I know some people, if they don't have a finance background, are nervous about getting into the space. The words are a little different and how we report things are a little different, but it's not rocket science: revenue and expenses, that's what it comes down to, and making good decisions based on what you prioritize and the services you need to deliver.
Q. How did you approach D-H Health and work to correct the financial trajectory of the healthcare institution?
A. First was employee engagement. It didn't take me long to realize the employees here had had a really rough four or five years, and they didn't feel good about their organization and that's so important to healthcare, the care they give — it's amazing how focused on the patients they were given the turbulence they were working with. I spent a lot of time with the employees — never underestimate the importance of financial stability in an organization. They need to know if they work hard, there's a job. I'm not sure if they felt safe. And the final thing was creating a plan and executing on it, because people had felt they had failed attempts on strategy and weren't going anywhere. So we focused on employee engagement and we made big challenges in our healthcare plan. We pay for diabetes medications and all of the test strips, all of the things people need to stay healthy for our employees. We spent a lot of time on the things that make their work environment positive for them. I spend a lot of time on communication. I have a journal I write and send out every single week to the entire employee base, not just on what I'm thinking about but what we're doing. Communication is important. The team was working on executing a financial performance plan so we had to let that continue, and we did a good job prioritizing on what was their core mission and not spending money on things that didn't give value to patients.
Q. What advice do you have for young women just starting their careers?
A. I always say be confident because I've seen so many talented women say, 'Well I can't apply for that job,' or 'I can't ask for the raise because I don't have this, this or this.' And I just tell them, a colleague that is a male does not hold themselves back because of that. They just need to appreciate they are ready to move up the ladder and don't ever fall into not having the confidence to ask to be considered for a promotion or ask for an increase in compensation if you're doing a good job. Number two: networking. Women don't always network as effectively as they could. But start building a network of colleagues outside the organization, and hold onto them. Networking not only gives you ideas of how to do to your job better, but they help you find your next job. And start thinking about five-year time blocks. Start making decisions with a purpose and for a purpose instead of doing what's in front of you. That's something men and women don't always do, but it's really effective in terms of goals and where you want to allocate your time.