Jeanine Sylvester, 2019 Outstanding Woman in Business
Founder & General Manager of Runner's Alley in Portsmouth, Manchester and Concord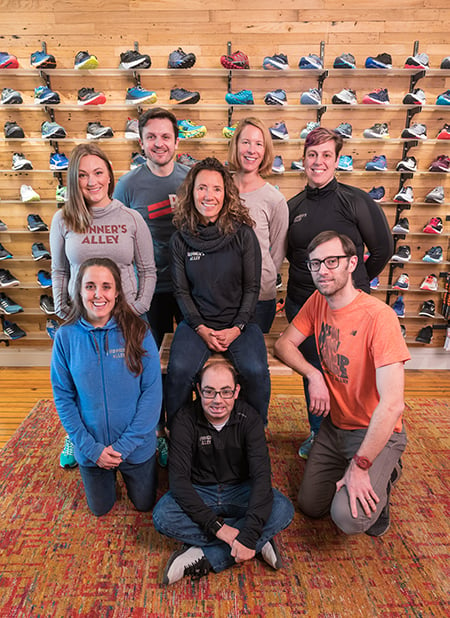 Jeanine Sylvester doesn't only run a successful business, she has assembled a community.
Inspired by a specialty running shop she saw on a trip to Denver, in 1997, Sylvester opened Runner's Alley in Portsmouth, later opening locations in Concord and Manchester.
To compete with the big-box competition, Sylvester's stores generated tremendous customer loyalty. She has hired and taught a staff of running experts who not only help customers find the right gear but also offer training tips and suggestions for coping with injuries.
Each store is a home base for a community of runners and aspiring runners who gather to run, train, learn, donate and volunteer.
And Sylvester herself donates more than 150 hours per year to help organize and promote two key races that support local charities: the Runner's Alley Redhook 5K, now the Cisco Brewers 5K, and the Seacoast Half Marathon.
Q. Was it challenging starting up a business?
A. In the beginning it was a little challenging because running specialty really was a male-dominated profession. We didn't think this would ever be something that was the sole supporter of our family. I think being a woman softened people that made them come into the store rather than the typical male that ran fast and only cared about how fast you were. We never focused on how fast you were – we were just focused on people being active. Our store was not intimidating; it was comfortable so you know whether you're running a 10-minute mile or five-minute mile, we want everybody to have a good experience. But with our vendors, in the beginning it was really tough. It took me a little while to become more aggressive because what you don't know is everything is negotiable when you start out. After I while, I figured out these people need me to sell their product and if they need me to sell their product, we need to negotiate, so it works for both of us. And then the busier you are the more you sell – your negotiating power becomes greater.
Q. Are there other women in the specialty running business?
A. Yes, I wish I could tell you the specific numbers. It was a male-dominated business and now it's probably closer to 50/50. There's a lot of women in this business now and I think women started to realize that women have more of a knack for merchandising and they tend to be a little more social than men so we start a lot of community events and group runs that bring a lot of people into your stores – ladies nights, whatever it's going to be. So there's a lot of tradeshows you go to and you meet other people there and eventually you meet other people in the business, and somebody would say 'I have a friend thinking of opening a running store in Connecticut. Can you talk to her about it?' So a lot of us become a network of helping each other and helping others that wanted to get into the business.
Q. What advice do you have for young women in your career?
A. I think one of the hardest things is whether you're male or female is just staying focused. It's really hard in today's world, there's so much available to us. When you have a storefront, so many different vendors are coming in to try to sell you something that may or may not be relevant to your business, and too much inventory can get you in trouble if you're not focused on what your customer needs. I would have loved to carry Mayo, these fun outdoorsy brands, but that wasn't my focus. I was running a specialty store, if I run these other brands, then I'm turning into a sporting goods stores, so it's hard to stay focused and differentiate yourself from the competition. The other thing I would say is to make sure you get involved in your community and know your business groups. There's a lot of support in your downtown whether it's the chamber or a downtown group, but having that support helps.
Q. How has the personalization of your store set you apart from the competition?
A. Even though online is so readily available, I think a lot of people still crave the contact with people and they want to come in. Runners can be very particular about what they want so they like to come in and talk with our staff. They know the staff uses the product and is very active and does the same things they do so they trust us – they know we're reliable.