Is NH tech employment trend cause for 'concern'?
New report ranks state 38th nationally in job growth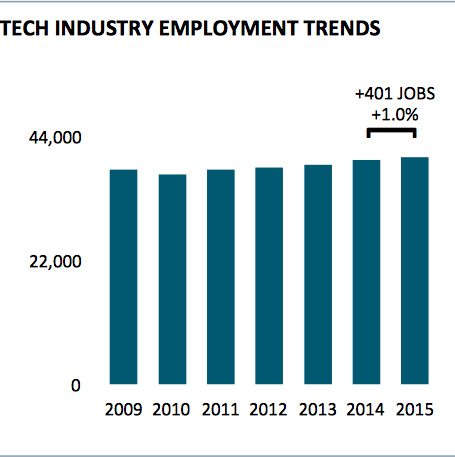 A report from CompTIA – the Computing Technology Industry Association – has brought new data to the debate on whether New Hampshire's tech sector is steadily growing or not growing fast enough.
According to CompTIA's Cyberstates 2016 Report, New Hampshire tech employment has averaged 1 percent growth every year since 2009, ranking 38th nationally. Just over 400 jobs were added since 2014. In comparison, the country as a whole saw 3 percent growth in 2015 compared to the prior year – "the highest growth rate in more than a decade," said the report, adding 3,700 jobs.
"The area of concern is growth and this report shows that we only grew jobs in tech by 1 percent last year, and have been on this slow growth since the data has been tracked," said NH High Tech Council Executive Director Matt Cookson. "When we look at this in conjunction with additional reports we receive on tech jobs listed and hires made, we are lagging in filling positions and that will inhibit the sector's growth until we can expand the potential job pool."
Just last November, Cookson told NH Business Review the ratio of jobs being advertised to jobs being filled was stable until January 2015, when "we saw the number of jobs being advertised significantly outstripped the jobs being filled by a 2-1 ratio."
Cookson listed software developers and applications, computer systems analysts, Web developers and systems software engineers as jobs that are in high demand, primarily in Manchester, Nashua and Portsmouth.
Those jobs pay well. According to CompTIA's report, New Hampshire ranked 13th in the nation for tech sector wages, averaging $100,682. Although below the national average of $105,351, they're still nearly double the average private sector wage in the Granite State.
CompTIA's report also showed New Hampshire ranks 33rd for employment stability.
'A lot of movement'
Dave Vigliotti, co-founder and managing partner at Technology Search Partners in Portsmouth, is witnessing more growth in tech positions available in New Hampshire, but not so much a short list of applicants.
The firm recruits workers in a 60-mile radius for mainly IT infrastructure and software development companies.
"We see a lot of movement. I think New Hampshire, especially the Seacoast area out to Manchester, is very prosperous right now," says Vigliotti. "What we are seeing is the typical candidate who lives in southern New Hampshire who maybe five or six years ago felt like they had to move down to Massachusetts to get a job, we're seeing a lot of those candidates migrate back to New Hampshire."
Mobile developers, software developers, business systems analysts and those working in network infrastructure and client management applications are in high demands as New Hampshire companies grow.
"There are lot of employers in southern New Hampshire that are now hiring again for that type of talent," he says.
Massachusetts leads the nation in concentration of tech workers, with 9.8 percent of its workforce in the tech sector.
New Hampshire is in the middle in terms of innovation, ranking 26th for the 306 tech sector patents granted by the state, up 9 percent from 2014.
Brighter picture
The CompTIA report also shows how the tech sector is driving New Hampshire's economy.
The Granite State ranks seventh nationally in tech gross state product, at $5.858 billion in 2013, and sixth in terms of number of tech establishments as percentage of the private sector, 8.3 percent.
While Massachusetts leads in tech worker concentration, New Hampshire ranks ninth at 7.3 percent, and tech salaries account for 14.1 percent of the private sector payroll.
"In short, this report confirms that while we have a strong tech sector," says Cookson, although he adds: "We must develop creative ways to find, grow and train more people on the skills needed in the tech workplaces today and into the future."