In N.H., SBA chief promotes startup assistance
'We're just celebrating entrepreneurship,' says Contreras-Sweet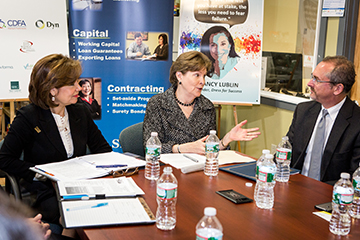 U.S. Small Business Administrator Maria Contreras-Sweet was in the Granite State on Monday to promote new resources aimed at boosting tech startups and incubators.
Contreras-Sweet met with U.S. Sen. Jeanne Shaheen and small business leaders at tech incubator Alpha Loft in Manchester. There, she discussed SBA resources and promoted the Growth Accelerator Fund competition. The competition awards up to $4 million to small business startups. The fund also includes $50,000 prizes to accelerators, incubators, co-working startup communities, makerspaces and the like.
"The role [of small businesses] is critical as we think about our economic prosperity," said Shaheen, who said two-thirds of the businesses in New Hampshire are small businesses.
"We're just celebrating entrepreneurship," Contreras-Sweet told NHBR in a meeting prior to the event. "Everywhere you turn from 'Shark Tank' on television to incubators sprouting across the country, it's like it's a movement."
"There's a lot more attention getting paid to entrepreneurship and new business ventures," said Greta Johansson, district director of the New Hampshire District Office of the Small Business Administration.
There are three different types of entrepreneurs, according to Contreras-Sweet: the hobbyist, the traditional small businesses community and "gazelles" – startups that can scale up.
"One of the things I wanted to do when I started was connect with where all of that is happening," said Contreras-Sweet, who assumed the role in April 2014. "And what we're finding is in many instances people are coming to our 68 district offices throughout the country or to our resource partners, but another place where they're going to that was not part of our ecosystem is what we call these growth accelerators or innovation hubs, some people call them incubators."
To reach out to these startup hubs, the SBA formed the Growth Accelerator Fund competition, which received 823 applications.
Fifty of the startups and incubators were invited to the White House where they were introduced to members of the U.S. Treasury, federal Department of Commerce, Department of State, U.S. Trade Representative and Ex-Im Bank.
"They got to meet each other, and it was really remarkable to see the dynamic of best practices being exchanged and all the good stuff that was coming out of that," said Contreras-Sweet.
This year the competition will accept 80 winners.
"We're hoping to get some strong applicants from this part of the country," she said.
Young entrepreneurs
Contreras-Sweet talked about some startups she had met that got the attention of larger companies seeking innovation.
She met with a man in California who developed a micro motorized system in a spoon to stabilize it, so seniors with trembling hands could eat with dignity. His idea got the attention of Google, which bought his company and is now working with him to further develop detection and sensors regarding touch.
Another individual she met with who is concerned about the environmental impact of Styrofoam, created a new packing material with mushrooms that can be used like compost. He's now working with Dell.
"What we find is in the young entrepreneurs – not that it isn't prevalent in all entrepreneurs – but just of late, we're really impressed with how many of them are looking at social impact," said Contreras-Sweet. "They really want to have impact investing, impact innovation. They want to better themselves and better the earth and the world we're living in, so in the spirit of Earth Day we want to celebrate these people who are really thinking about how they can change the world. They're so empowered and they don't see barriers."
The SBA also held a competition called InnovateHER, which encourages women to think of innovative products and services that impact the lives of women and families. Contreras-Sweet said she had hoped for just one or two events to be held – the SBA ended up with 100 events across the country.
The SBA is also interested in assisting hobbyists, those who have a full-time job, but are looking to make money on the side with a craft or skill.
"I love these farmer markets where people are selling their goods and their art and their jams and jellies," said Contreras-Sweet. "It's wonderful to see all of that."
SBA is teaming up with AARP New Hampshire, SCORE and the Center for Women's Business Advancement for a two-hour workshop in June to take participants through the steps of turning a hobby into a business.
"We believe through entrepreneurship you can change the arc of your life."