HR takeaways from the Patriots loss
The defeat is emblematic of what can happen to any employer at any time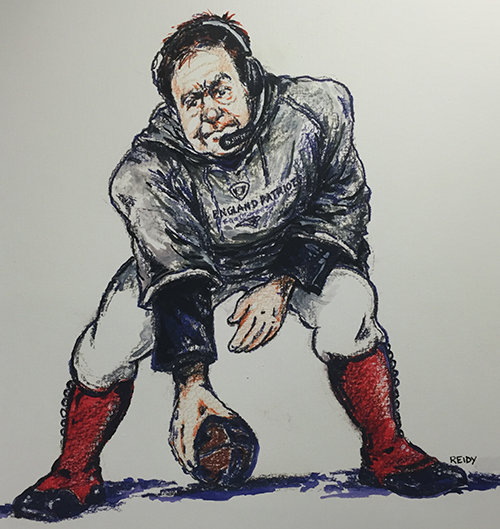 Monday morning, Jan. 25, in New England after the Patriots loss in the AFC championship to Denver left many fans, in a word, deflated.
With the words of coaching legend, Vince Lombardi, ringing in their ears, "Show me a good loser, and I'll show you a loser," many are looking for something to occupy their minds and take away the pain of that unexpected and anti-climactic loss.
Now, with many weeks of cold and snowy winter remaining, the buses with Red Sox spring training equipment yet to be loaded and the incessant waves of Super Bowl 50 promos already competing with political ads, sports fans in New England are in for a prolonged period of mourning.
Employers, in addition to taking down the Patriots Nation posters and canceling the pizza parties, will likely be dealing with a demoralized workforce and have to alert their EAP carriers to a spike in incoming calls for help.
In the still-smoldering embers of this loss, there are valuable lessons here, especially for human resources professionals, chief operating officers and CEOs, when thinking about workplace law compliance issues and risk management.
We live in challenging times. There are more laws and regulations that impact the workplace than ever before. Federal and state agencies are very active in their audits and investigation. Employees, rather than moving on or dealing with internal complaint procedures, now often seek relief by calling those agencies or filing claims in court.
With the risk of hefty administrative fines, civil penalties and jury verdicts, the stakes for noncompliance with workplace laws and regulations makes a loss in a football game seem truly insignificant.
Employers can learn some lessons from the Patriots that might help them avoid similar devastating losses when dealing with employment issues.
1. Overconfidence in past record and personnel can be a blind spot to shortcomings.
An HR professional recently told me that her CEO dismissed her efforts to change certain policies or practices by saying, "Please! I'm focused on more important issues. We have been in business for many years and we haven't been sued yet. Furthermore, we are a big employer and the state isn't going to bother us. I hired you as our VP of HR because you are tops in your field. With you on our team, we can't lose."
While the HR director was pleased that her boss had such great confidence in her, she knew that if the state audited payroll and personnel files they would likely find several glaring problems, and when they assessed their fines, like the offensive line of the Patriots, a certain placekicker, and a beloved quarterback, she would be held responsible for the loss.
2. Testing local policies and procedures in other jurisdictions can be risky.
With many clients in New Hampshire who also have operations in other states, I am frequently asked, "But we are a New Hampshire employer so our rules should apply there, right?" The short answer is likely not, if there is a different law in that jurisdiction and the employee seeks a more favorable hometown venue to pursue his claims against the employer.
Yes, there is a home field advantage with employment laws, not only with local judges but when local laws are applied to the situation. An organization with employees in other states would be wise to check compliance with the laws in that jurisdiction and not rest on governing law, jurisdiction or venue provisions in employment contracts or policies because they could be tested before a very unfriendly crowd down the road.
Oh, and one more thing, if you can win some disputes in say, Miami or New York, that might help you down the road too.
3. Reliance on a few key personnel is generally OK but in larger campaigns and litigations that may not be enough.
Football teams in the NFL are made up of 53 player rosters, with each player having a specialty or role. They are supported by an army of coaches, assistants, scouts, trainers etc. While the success of a team like the Patriots is often credited to the coach and quarterback, the reality is, as Tom Brady is still digging the Mile High turf out of his ears, those two alone can't win the game.
Key personnel in organizations can certainly help form strategies, shape policies and direct personnel, but when it comes to defending workplace claims, a team effort is required.
Weak links, like wayward supervisors or inattentive managers, just as with porous blockers, can mean the difference between success and failure. Employers, just like football teams, cannot rely upon one or a few key employees to manage compliance and help defend against claims. Instead, from top to bottom, employers need all employees to know of and comply with workplace policies.
4. Offensive firepower is fine when a company is growing and expanding. but a strong defense can carry the day when challenged.
Alexander the Great, Napoleon and other conquerors in history learned that unchecked optimism and thin supply lines can spell disaster. Likewise, there have been many teams over the years who relied too heavily on their offense to outscore an opponent.
Many commentators thought the Patriots would outscore Denver's anemic offense by at least three touchdowns. As we know, that wasn't the case. Instead as legendary coach Paul "Bear" Bryant Jr. once said, "Offense sells tickets, defense wins championships."
When a company is growing and expanding it can think it's invincible. This often translates into a relaxed approach to compliance with workplace laws and regulations, as well as unrealistic promises to employees.
While that may be OK for a while, when things get tough, the organization may be exposed to and ill-prepared for the scrutiny from enforcement agencies and claims from employees. In short, a balanced game plan of investment in growth while keeping a close eye on compliance is a better way to proceed.
5. On any given Sunday any team can win. Knowing this should help shape policies, strategies and risk management.
As you nurse your hometown pride and scan Netflix for some comfort, you may come across a certain football movie featuring Al Pacino as a gruff but realistic head coach. He is credited with the line, "On any given Sunday you're going to win or you're going to lose. The point is, can you win or lose like a man?" As I drifted between anger, disbelief, disgust and whining at the close of the Patriots game, I'm sure Pacino would have dismissed me with a snarl, but this too is an important lesson for employers.
No man is an island, Superman can be felled by a glowing green rock and all employers, regardless of their industry, mission, history or size, is susceptible to workplace claims.
While the Patriots will likely lick their wounds, rebuild their team and return to their winning ways next season, their loss is emblematic of what can happen to any employer at any time.
Whether it is a workers' comp claim that leads to an OSHA investigation, or a time clock issue that results in a class action, a handbook policy that is taken out of context and used as an exhibit or a holiday party that results in a sexual harassment, all employers are at some degree of risk. Therefore the time spent drafting or revisiting policies, regularly checking compliance with applicable laws and promptly responding to and resolving workplace complaints – while those efforts can't guarantee no problems in the future, that should help reduce risks to a manageable level.
Attorney Jim Reidy is chair of the Labor and Employment Group at Sheehan Phinney as well as a lifelong, but for the time being, a somewhat despondent Patriots fan.