How the Goffe's Mill Bridge was saved from destruction
Dubois & King, Stan Graton team up to move structure from Bedford to Wentworth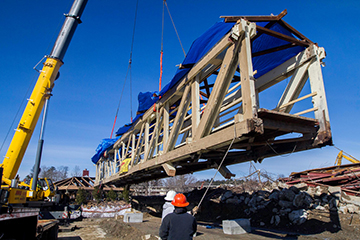 By acquiring and relocating Bedford's Goffe's Mill Covered Bridge, a citizens' committee from the Grafton County town of Wentworth saved the landmark span from the wrecking ball.
The Goffe's Mill Pedestrian Covered Bridge, constructed in 1962, connected the Wayfarer Inn to the Convention Center at the Wayfarer Inn complex in Bedford. The inn and convention center closed in 2010, and the site, including the bridge, was slated for demolition to make way for a shopping center complex, which will be anchored by a Whole Foods Market.
But the Bedford bridge avoided destruction when the Wentworth committee acquired it to replace an aging steel truss pedestrian bridge crossing the Baker River. That bridge had been condemned by the New Hampshire Department of Transportation as unsafe. Plans are underway to remove the structure this summer.
"The town very much wants a pedestrian bridge at the Village Common site to connect the two sides of the village," said the committee's chair, John Meade. "When we learned the Goffe's Mill bridge was being demolished, we made the effort to try and save it and move it to Wentworth."
Private funds were raised and the design-build team of DuBois & King Engineers, Laconia, and Stan Graton 3G Construction of Holderness was contracted to study the feasibility of reusing the Goffe's Mill Bridge and removing, transporting and erecting it in Wentworth.
According to Robert H. Durfee, vice president at D&K, "the Goffe's Mill Covered Bridge is in good condition. It is over 50 years old, but still has a lot of life in it. It fits Wentworth's needs and is a great reuse of the bridge."
Stan Graton, president of 3G Construction, which rigged the bridge for removal and transport, said the structure "was in a difficult location to access and lift out by crane. We had to strip off some material to get the weight within the crane capacity."
The bridge was safely lifted off its abutments on March 16 and transported to Wentworth on March 26 for storage.
But, as Meade said, "there is still a lot of work to do," adding that "the old bridge abutments at the Village Common site need to be modified to accept the Goffe's Mill Bridge. Repairs to rotten members on the bridge are needed, and the bridge needs a new roof."