How TEDx provokes thought
Millyard event serves up some 'big ideas'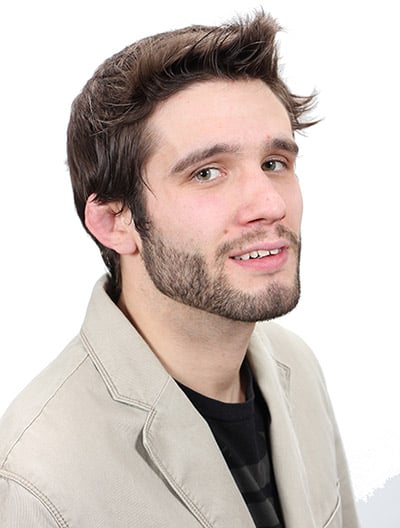 "Until they get there on stage, you don't really know what's going to happen. And that's the magic of it," says Eric Ratinoff, principal of The Mouse and the Elephant, NH Business Review columnist ("A Seat at the Table") and organizer of TEDx Amoskeag Millyard.
Many may have seen a YouTube video of a TED talk. On Saturday, Nov. 14, Granite Staters can enjoy the experience firsthand at the independently run TEDx, held at Southern New Hampshire University.
The 11 speakers, five of whom are from New Hampshire, range from an addiction scientist to a designer to a humanitarian activist, all of whom will discuss topics related to the overall theme, "Evolve."
"There are really engaging and thought-provoking people here in our backyard," says Ratinoff. "I chose to get involved because I didn't know what a TEDx event was, but from TED talks, I knew the goal was challenging people with big ideas, really creating a dynamic experience to be thought-provoking, and I thought that would be an exciting thing to deliver a great experience for the region."
Artificial intelligence
Daniel Faggella, founder of TechEmergence, will speak about the development of artificial intelligence and sentience in robots.
Faggella interviews researchers, startup founders, philosophers and futurists about scientific developments and ethical considerations. He has written articles that have appeared in TechCrunch, Xconomy, The Boston Globe's BETABoston website and spoken around the world.
"This presentation will be about the coming two to four decades and the grand predictions that are pretty far out among the higher level researchers in replicating consciousness on some level in a digital substrate, replicated to some extent in an actual machine," says Faggella.
According to Faggella, half of over 170 AI researchers polled had said there was a 50 percent or better shot of human level intelligence by 2014. The other half said 2040 or earlier, "so we're talking about something well in our lifetimes," says Faggella.
Most researchers polled also believe some degree of sentience would be possible from 2036 to 2060, with 2025 to 2035 the third most common response, which means many researchers believe some awareness in machines is quite likely, says Faggella.
"When it comes to conscientiousness, sentience, a pinprick, you feel it. Your childhood, you remember it. We have this subjective internal experience of our universe," Faggella explains.
The thought of robots having their own awareness, though, scares some people.
Faggella discussed cultural differences regarding the social and ethical implications of robots, for instance, interacting and caring for older adults.
The ATLAS robot, designed by Boston Dynamics with funding and oversight from DARPA, could perform search and rescue tasks in the future.
"In Japan, they seem to be open to the regular interaction with robots and treating robots as people," says Faggella.
But in America, researchers and inventors will have to balance the nuances of the eyes, voice and other characteristics so that they are not identical to humans but are cutesy and relatable.
Besides elderly care, robots could also be used as a worldwide database of symptoms and diseases to aid doctors in their diagnoses and treatment options – think IBM's Watson.
"Taking advantage of the financial markets has been one of the prime areas where AI money has been poured," says Faggella, who says Goldman Sachs is among those investors.
A lot of the initial funding is from DARPA – the federal Defense Advanced Research Projects Agency.
"There's unquestionably billions and billions of dollars when it comes to AI detecting missiles, developing autonomous gliders and land vehicles that can pick up on enemies or check points without needing very direct oversight," says Faggella.
DARPA funded and provided oversight for Boston Dynamic's ATLAS robot, a bipedal humanoid robot developed to perform search and rescue tasks. At DARPA's Robotics Challenge, six teams programmed the robot to complete tasks like opening a door or climbing stairs. Faggella says the goal is using the robot to rescue people from a burning building or a nuclear reactor, like the disaster that occured in Japan.
Emerging technology
Faggella's talk will focus on AI, but he also follows other emerging technologies, like virtual reality. He's visited and tested out the technology at Brown University and Duke University's elaborate VR labs.
"In terms of the disruptive way or shape or form, I see VR being the many technologies on the spectrum of altering the human experience, to some degree transhumanism," says Faggella. "VR has the potential to literally change the way we view and interact with the world."
Faggella envisions adoption of VR the way computers were adopted: first as a novelty item, but then becoming engrained as a part of work, education and then a way of life.
"VR can be seen as an emerging technology. Once it sits in its hooks, like computers have, it will drastically change the way we interact with each other and the world, maybe more so than desktops [have]."
It's the purpose of TED talks to have these discussions that make audience members wrestle with big ideas that challenge their views of the world, says Ratinoff.
The most challenging aspect for TED and TEDx Talk speakers is they only have 18 minutes to share all of this information. But there will be an after-hours happy hour, where audience members can meet and connect with each other, even speakers.
"It's exciting and rewarding to see how people react to the speakers and what connects with them," says Ratinoff. "Almost every year, you don't know who will connect with who, and having that variety of speakers creates an engaging day, and there's always something that really resonates with someone."