How can the state get more economic development out of higher-ed research?
New Hampshire's University Research & Industry Plan sets stage for more commercialization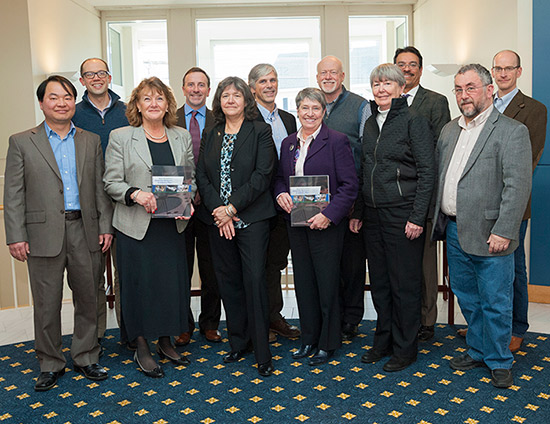 Connecticut, Ohio, Indiana, Arizona — these are just some of the states Anthony Gillespie, president of Keen Point Consulting, has evaluated for research and innovations that could spur economic development.
Now he's focused on New Hampshire, where he helped conduct 77 interviews and three industry focus groups to identify New Hampshire's top innovation clusters: information systems; advanced manufacturing; and biosciences.
Prepared with TEConomy Partners LLC, the New Hampshire University Research & Industry Plan — commissioned by NH EPSCoR (Experimental Program to Stimulate Competitive Research) and supported by then-Gov. Maggie Hassan — reveals more than 22,000 patent awards and applications were generated in the state from 2009 to 2015.
"I have to admit, working on this project over the last year, there's a lot going on. A lot of research activity is happening in the state, even from an industry standpoint," says Gillespie.
"What we were trying to do is have an outside objective, analytical perspective on what New Hampshire could do," says Jan Nisbet, NH EPSCoR state director and senior vice provost for research at the University of New Hampshire. "We found it was important it was derived from data and experience working with other states."
Releasing the plan in October, the NH EPSCoR committee has been working on implementing recommendations highlighted in the report, such as organizing industry-specific networking events and connecting with members of the state legislature to propose legislation.
Higher education efforts
UNH has been holding a number of networking events to introduce different industry sectors to university faculty and resources. Last year, events were held for aerospace and defense, data and networking and biosciences. This year, UNH is planning an event in the summer covering marine sciences.
"The idea is to put a lot of our professors and researchers in the same room with industry members so there's purposeful collisions and potential collaborations come out of it," says Ellen Christo, who serves as senior director of strategic partnerships at UNH. Participants spend part of the day getting tours of relevant spaces on campus.
"We're trying to make it easier for businesses to access the university, because frankly it's a complicated labyrinth, and a lot of businesses aren't aware of the resources that are here, that we have multimillion-dollar instruments that we can rent time on," says Christo.
Industry and education collide at UNH's Aerospace and Defense Technology Day. (Courtesy photo)
Dartmouth College has made some internal changes as well to aid its faculty in commercializing their research.
"Dartmouth is doing some innovative things as far as with their policies with respect to intellectual property," says Gillespie. "It's more geared toward startup activity, new company development."
Dartmouth professor and entrepreneur Tillman Gerngross led the IP change that took place in March.
"I think the people we're attracting are wanting to commercialize their own technology and do it their own way, and in some ways the college steps out of the way and wishes them well," says Nila Bhakuni, director of technology transfer in Dartmouth's Office of Entrepreneurship and Technology Transfer. "The structure of the transaction that has equity instead of fees and royalties is another element that was very thoughtful, because a lot of times, there's pressure to bring in certain kinds of revenue, and Dartmouth was saying, 'Let's support the company so they're taking the money and investing it in the technology so they will be successful.'"
Lack of funding
There is no single solution to aid commercialization, says Gillespie, but often there is the need for increased funding. Each state takes different approaches.
Ohio, for example, issued $2.1 billion in bonds over 13 years to foster science and technology innovation efforts. In Arizona, a philanthropic network was formed to channel money from successful entrepreneurs and foundations to support early stage startups.
New Hampshire's University Research & Industry Plan makes several recommendations, including a few key funding solutions to fill gaps, such as targeted pre-seed commercialization funds, establishing an angel investor tax credit, uncapping New Hampshire's research and development tax credit and increasing NHIRC (New Hampshire Innovation Research Center) grants that encourage joint research between higher-education institutions and small- and medium-sized businesses.
"Most states have venture funds or translational research funds," says Marc Sedam, associate vice provost of innovation and new ventures and managing director of UNHInnovation. He points to Maine, whose legislature doles out nearly $7 million annually through the Maine Technology Institute's grant, loan and equity programs. Vermont's legislature invests $4.1 million annually. But New Hampshire's NHIRC budget, once $500,000 annually in 2008, is now down to $275,000 and funds about eight industry-university research projects per year.
"If we have a piece of [intellectual property] and we want to start a company, the first thing we need out of the gate is translational research funding," says Sedam, who previously served as CEO of a startup that formed out of the University of North Carolina. "Right out of the gate, New Hampshire companies look around for money to advance their idea, and there's the NHIRC and pretty much no one else. The Community Loan Fund does, but the Community Loan Fund wants to see revenue," and that takes time for startups.
"The NHIRC is probably one of the most successful economic development grants in the whole state, and it's a tremendously good vehicle to encourage university and business research collaborations," says Christo, who manages the program on behalf of the state. "It certainly has borne out in our tracking of it that it's well worth the investment of the state because it comes back more than tenfold."
Businesses that received NHIRC grants in 2015 raised over $900 million in funds toward commercializing new projects, according to a 2015 NHIRC report.
Low-hanging fruit
A NHIRC award helped his company raise further angel funding, Jake Reder, CEO of Lebanon-based Celdara Medical told the authors of that NHIRC report. "Without it, we may have had to close our doors, or more likely, we may well have opened our doors in Vermont or Massachusetts," Reder is quoted as saying.
"There has to be effective communication with the legislators, and some of it involves really bringing awareness there and then really along the lines of where the state is focusing," says Gillespie. "There's oftentimes many issues states have to deal with, and it comes done to where does, from the governor's perspective, it fit into the state's budget – is it a priority at this time?"
According to Nisbet, newly elected Gov. Chris Sununu may have some proposals relating to the Department of Resources and Economic Development, which serves as the fiscal agent for NHIRC. Returning NHIRC funding to its pre-recession levels is one of NH EPSCoR's goals. Sen. Martha Fuller Clark, D-Portsmouth, told NH Business Review she will be filing a late bill to raise NHIRC funding after she meets with the governor and his budget adviser sometime before the end of the month.
"If we look at the past successes and have those expanded economic opportunities for the state and students, it's clear this is not an expenditure this is an investment," said Clark.
In the meantime, the EPSCoR committee has met with other groups involved with economic development in the state and plans to prioritize increasing the research and development tax credit and creating an angel tax credit.
"We look good in terms of patent activity, but if you look at the growth in R&D in the corporate and university sector, we're below the national average," says Nisbet. She adds that, "if we want to stimulate the economy, the state should make some 'strategic investments'" that historically have paid off in other states.
David Juvet, senior vice president at the Business and Industry Association of New Hampshire says his organization has voiced support for removing the R&D tax credit cap. In the last session, the R&D credit pool was increased from $2 million to $7 million. Since it is prorated depending on how many businesses file for it, the cap limits the amount that a business can declare and delays the credit allocation.
"The R&D tax credit benefits companies that are revenue-positive and allows them to continue to advance technologies and establish relationships with university and other research entities," says Nisbet. The problem is that "so many of the early-stage companies that come out of university research take quite some time to be revenue-positive."
Gillespie also points to the R&D tax credit as low-hanging fruit, while an angel tax credit could take more time to come to fruition.
"Because we don't have an income tax, it's more complicated," says Nisbet of the angel tax credit. "Most states, it's a tax credit on income tax."
Additional state funding, whether it's toward grants for startups or creating an angel tax credit are necessary for a healthy business ecosystem, says Sedam.
"What do you need to do to attract the type of outputs that everybody wants?" he says. "There is an incomplete alignment with the outputs the state says it wants and the investment it needs to make that happen."