House bill would require state, municipal contractors to use E-Verify for employees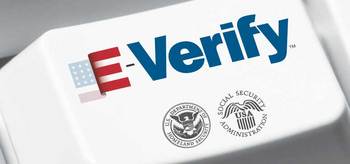 Should businesses that are contracted by the state of New Hampshire or a municipality be required to use the federal E-Verify system to see if their employees are eligible to work in the United States?
Not too many of those who testified at a New Hampshire House Labor Committee public hearing on Tuesday answered that question in the affirmative.
Certainly not Gary Abbott, executive vice president of the Associated General Contractors of New Hampshire, who represents the many highway contractors.
He called the proposal "a bill looking for a problem."
But Rep. Andy Renzullo, R-Hudson, co-sponsor of the House Bill 249, said the E-Verify requirement "would keep those who employ illegals from abusing the system."
Renzullo estimated that some 7,500 people are employed in New Hampshire illegally, though he admitted he had no evidence to back up that figure. Using E-Verify, an employer can conduct an instant Internet check to see if the person is employed legally, and that would enable employers to screen out those who can't legally work in the United States, said Renzullo.
While Renzullo said he would not be averse to amending the bill to require all employers in the state to E-Verify their workforce, it was probably not politically realistic to do so.
"All this bill does is it makes sure that taxpayer money is going to those legally entitled to work," he said.
Abbott countered that it doesn't make sense to pick on those who contract with the state, since they already attract the most scrutiny and are least likely to skirt the law.
Besides, he argued, this is just more government intrusion into a private business. Abbott said contractors who do defense work are forced to E-Verify their workforce. The problem is that they have to run the check on everybody, even if a small percentage is doing state contract work.
He said the system also sometimes kicks out people who can work legally, and they can't be hired until the matter is straightened out. That could take months, he said.
Abbott was also concerned about a provision in the original bill that would have banned contractors for state work if they willfully violated the law. But the bill's sponsors assured him that provision was changed in an amended version.
Abbott was joined by a crowd of immigrants and their advocates, all of whom claimed the E-Verify system was rife with errors — errors that take a long time to correct, especially for those who are unfamiliar with the language and the legal system.
"It's not just 1 or 2 percent," said Linda Snyder, interim director of the New Hampshire Council of Churches. "It is as high as 30 percent."
The main problem, she said, is that getting a new Social Security number into the system can take months, but the law only allows eight days to straighten it out. Employers in other states who are required to use the E-Verify system don't wait around for an error to be fixed, and by the time the immigrant worker corrects any problems, the job is likely no longer available.