Hope glimmers for regional east-west highway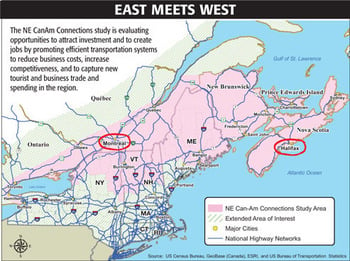 After 20 years of sporadic study regarding a potential east-west regional highway linking northern Maine with Montreal, a comprehensive review of northern New England's transportation routes is under way.
The Northeast CanAm Connections project is looking at both adequacy and opportunity in highway, rail, air and marine infrastructure, said Fred Michaud of the Maine Department of Transportation, sponsor of the project.
"We need to fill the 'hollow middle' between Maritime Canada and the Great Lakes if we want to compete in the global economy, which is huge," said Michaud. The engineering and planning firm of Wilbur Smith Associates, which has an office in Portland, Maine, and the Boston-based Economic Development Research Group began the study in 2006, with completion projected for mid-2008.
With regional transportation needs and opportunities analyzed, the team is now identifying strategic directions. As the work plan states, "The objective will be to establish the feasibility of a new multi-modal east-west Trade Corridor with seamless intermodal and international connections."
The region under study covers a huge stretch essentially linking Nova Scotia to Montreal, with Maine, northern New Hampshire, northern Vermont and northern New York state in-between.
Intermodal freight transport — the transportation of sealed, standardized freight containers via sea, rail and truck — is seen as the future of the shipping industry. Indeed, container traffic is forecast to double by 2020. (Port capacity is now measured in container movements, with one container defined as a 20-foot equivalent unit, or TEU. Truck and rail connections are necessary to move the containers from dock to destination.)
The initial phase of the study revealed gaps in roads, rail and air in the region. "We have five interstate highways in the region, but they go north-south," Michaud said. "We need to become a crossroads for east-west, north-south trade flows. Enhanced transportation is vital for intermodal shipment."
Private efforts
In the Northeast, freight arriving at ports is concentrated in New York and points south, with some activity in Halifax, Nova Scotia. Truck routes skirt the region north through Canada or east from New York to Chicago and Ontario.
Michaud would like to see development of the deep water ports in Searsport, Maine, and Halifax. "Ports on the West Coast are backed up. New York is congested. With increased ship traffic through the Suez Canal, we have an opportunity to attract trade."
Some 93 percent of New England freight is moved by truck, although producers pay 1.75 times what competitors pay in other regions. The study attributes some of the higher costs to fewer backhaul opportunities, lack of competition and longer average hauling distances.
Poor east-west road connections continue to make freight movement difficult, with truckers traveling a patchwork of two-lane rural roads across the region, say proponents of the intermodal project.
Peter Vigue, president of Maine-based Cianbro, one of the East Coast's largest construction firms, is attempting to remedy the problem by building a private toll highway for trucks through Maine. The proposed road would span 220 miles from Calais on the coast to Coburn Gore on the Canadian border. Funded by private investment, the road would be built and maintained without public funds.
Joe McKeever, vice president of Louis Berger's office in Manchester, N.H., said the engineering firm is partnering with Cianbro to design and build the road.
"This idea is based on a European model of private investment in major infrastructure projects," McKeever said. "Virginia, Texas and Florida all have private highways. So far, we've had a very favorable response. Private funding means cost-avoidance to the state and municipalities."
McKeever reports that preliminary engineering has been done and a financial feasibility study is under way, projected for completion in April 2008. Initial calculations report $1 billion as a starting cost estimate.
The road will be built to Canadian standards in order to accommodate Canadian trucks, which operate at higher weights than U.S. trucks. Long double trailers, not allowed on Maine highways, also will be permissible.
"We've also had a lot of interest from the tourist, so passenger vehicles will be allowed on the road," McKeever said. The road will be built on private land, using existing logging roads whenever possible. It will cross two rivers and state and public roads, where permission will be required.
Louis Berger and Cianbro hope to start construction in 2011, with completion in 2014.
Rail, another vital intermodal link, received mixed reviews in the study, with reports of lower per-ton mile shipping costs but a fragmented, insufficient system. Several railroads run short lines. For example, New England Central runs through Vermont into northern Massachusetts. Pam Am Railways (formerly Guilford Transportation) has lines across Massachusetts and up into New Hampshire and Maine. The St. Lawrence and Atlantic has a line from Portland, through Berlin, N.H., and up into Canada.
"Our railroads need to be modernized," Michaud said. "We need high-speed trains. If we can get freight to Chicago as fast as it can travel from New York, and at comparable cost, we can be competitive."
Michaud said he thinks updated rail systems would help local producers as well. "We can ship Maine potatoes out west, into new markets."
The study cites several regional advantages, including proximity to major economic centers, a skilled workforce and numerous border crossings to facilitate international trade. But challenges are evident — the region has high energy costs and is suffering from population and economic decline in most of its rural areas. Pulp, paper and wood products together account for 13 percent of the commodities distributed in the U.S. portion of the study area. The recent closure of pulp and paper mills in Maine and New Hampshire have had a great impact on both trucking and rail. Funding infrastructure improvements is difficult without identified revenue streams, but attracting new sources of revenue will be difficult without adequate infrastructure.
Michaud, however, has high hopes for regional and cross-border cooperation.
"The New England governors and the premiers of the Canadian provinces are meeting later this year to discuss transportation," he said. "Maybe we can thread this system together cohesively."